Have you ever walked outside to your car only to see that the tire was flat or incredibly low?
That is such a terrible, helpless feeling, isn't it?
You could call whatever roadside assistance you may have. But honestly, who wants to wait for 3 hours? (I did wait 3 hours on Christmas Eve once, ugh.) or more in the middle of the night?
This is where a handy little portable tire inflator can save the day! You can have that tire up and running in less than 5 minutes!
There is a wide range of tire inflators and it can be hard to find the right one.
I've done all the research for you! Check out my list of the best tire inflators and never be stuck with a flat again!
Best Tire Inflator
Best Overall
OK, so the name isn't the best, but the product is pretty awesome.
This tire inflator can inflate a typical car tire in less than 4 minutes. It has adaptors so you can also inflate sports balls, mattresses, toys, and bicycle tires.
I like this tire inflator because it has a wall mount. That keeps it neatly out of the way which ensures that I don't forget it's on the floor and run over it. I also like that it comes with a grab handle if you want to move it, and a little case for all the accessories so they don't get lost.
The Slime tire inflator has a thermal break safety feature. This means that if the unit should start to overheat, it shuts off to avoid damage.
Air hose is 29.5 inches in length and the green coil air hose is just shy of 15 feet. The power cord is 67 inches in length. This should allow you to reach all the way down the driveway!
The Slime tire inflator gets lots of thumbs up from users. Nearly everyone says that they loved everything about this compressor. Most users liked that this tire inflator was quiet, powerful (even working to inflate an RV tire to 90 PSI in minutes), and did what they wanted it to do.
A few users complained that this unit would be better if it had an automatic shut off. One or two mentioned that the unit appeared to be off by as much as 10 PSI.
Overall, I think that the Slime Tire Inflator is the best choice for the home whether you want to inflate your car tire or your kids floating alligator for the swimming pool.
Runner Up
Runner Up
One look at this compressor and you might think you've bought a backpack! It really does look like a backpack at first glance, but don't let the looks deceive you. This is a very versatile air compressor.
The Teromas Tire Inflator uses both AC and DC, which means you can plug it into the cigarette lighter of your car and pump up the tires from any location. This unit comes with 3 adaptors so you can inflate sports balls and bicycle tires as well.
While the company doesn't list an actual warranty, they do say that they will "do their best to help give you 100 percent satisfaction."
Many users liked this unit because it was simple to use and they really like the automatic shut off. Other thing users mentioned was that this was very compact and light. They didn't feel like it was too bulky to put in the car and that the air pressure display was hard to read.
Quite a few users didn't like the unit did not seem to be accurate. Both the digital display and the gauge both appeared to be off by several PSI according to some.
Another complaint was the air hose breaking within one to three uses. There were several complaints about this.
Although I think this unit looks super cool, looks aren't everything. The Teromas Tire Inflator seems to be a hit or miss. If it works well, you'll love it.
Best Budget Tire Inflator
Budget Option
If you are looking for a more budget-friendly option but you still want something powerful enough to inflate your car or SUV tires, this is the one for you.
The Campbell Hausfeld works on 120-volt household current. It includes all those extra inflator needles for sports balls and bicycles.
This unit has a built-in cooling fan which can prevent it from overheating. But it doesn't have an automatic overheating shut off valve. It comes with a 30-inch hose and a 10-foot electric power cord.
I like this handy little unit because it has a neat handle that helps you to carry it around. I also like the price.
Many other users had multiple problems with it.
Note that users complained of a smoking or burning odor from overheating, or that the unit worked only for a short time before stopping completely, and that it was very, very loud.
Sometimes you get what you pay for, so hopefully, if you buy one of these, you get a good one. If you don't, try returning it as soon as possible for an exchange.
I still believe that this unit is a good choice for the budget-conscious.
Best Tire Inflator for Off Road
Off-Road
You gotta love something as powerful as this compressor.
The Viair has up to 120 PSI maximum pressure. That should keep those ATV and off-road tire up to par!
This has a 16-foot air hose and a 10-foot power cord, along with a 3-piece inflation adapter tip set. The Viair doesn't use the cigarette lighter, but it connects directly to the battery. That is a far better and more stable set up.
Yes, you should run the car to keep the battery charged.
I like this air compressor because it offers a really great value in a small package. It doesn't take up much space, but it can really be a lifesaver when you are off-roading. The hose seems to be heavy-duty and the entire unit feels like quality, not lightweight.
Some users received DOA units or units that broke after one or two uses. Their big complaint is that you end up paying about $50 in shipping costs because the warranty does not cover shipping. That does seem rather inadequate.
A few other users noted that the fuse and the hoses are not replaceable. So if the fuse blows or the hoses wear out, you are out of luck.
There are less expensive and far more expensive units out there. Overall, I think the Viair tire inflator is the best choice for the money.
What is the Fastest Tire Inflator?
Fastest Inflator
Ok, folks, I know that some of you want the absolute fastest compressor out there for inflating a tire.
Milwaukee Electric has been around for many years, so you know they make quality items. This compressor can top off a car tire in under 1 minute (a tire requiring 28-35 PSI). This can fill an LT tire in less than 4 minutes.
This compressor has a 26-inch hose and comes with an automatic shut off valve, so you don't need to stand around for those 60 seconds.
The majority of users love this unit not only because it fills a tire fast, but because it was easy to operate and has a large digital display that is easy to read.
If you want fast, this is the tire inflator for you! It's very reasonably priced as well.
Who Puts Air In Tires For Free?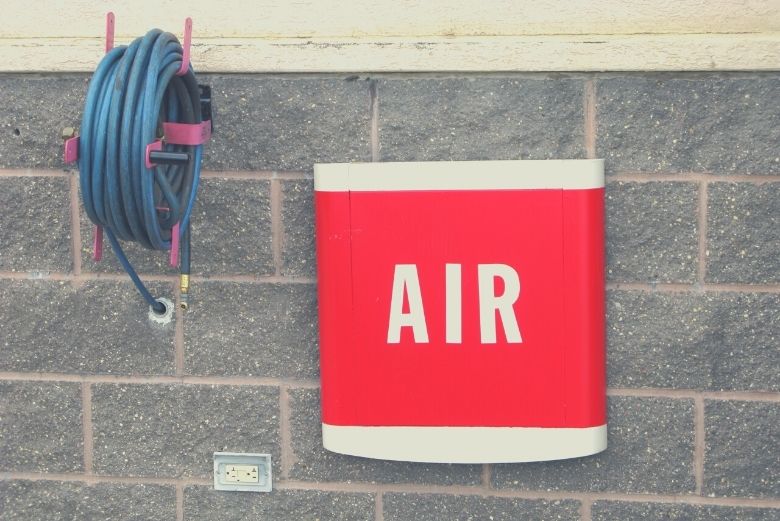 It's so annoying when you need a little air in your car tire and some gas station wants 50 cents or whatever the amount is. That's ridiculous.
A few states, such as California and Connecticut, have laws that all gas stations must provide free air, but stores, such as Kroger or 7-Eleven, don't (unless they have gas pumps).
A few companies are generous enough to offer free air, including:
Wawa
Quik Trip
Sheetz
Discount Tire
Rutters
Royal Farms
Gate Gas Stations
If you are really in a pinch, however, you can use FreeAirPump.com to find where you can get free air close to where you are. Bookmark this on your phone so you don't forget!
Keep in mind that the places listed in FreeAirPump are user-added, so they might be out of date or inaccurate.
At What PSI Will a Tire Explode?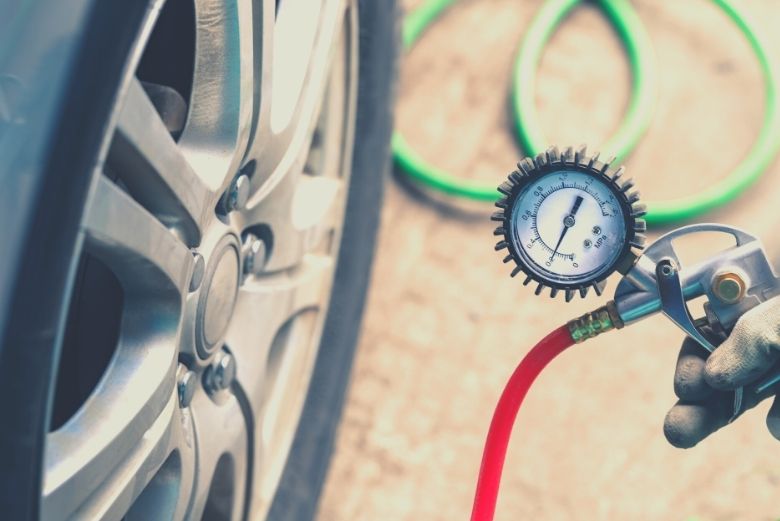 This will vary slightly depending on the type of tire and the weight placed on them, but in general, about 200 PSI.
Consider that most car tires are inflated to about 30-35 PSI on average. When the car is driven and the air in the tires has warmed up, and assuming you are driving at freeway speeds, the pressure inside the tire will increase another 5 pounds. Even if you overinflated the tire to a whopping 50 pounds, the chances of your tire bursting simply from pressure are extremely low.
Under-inflation is far more dangerous than over-inflation. Over-inflation will wear a nice bald patch right in the center of the tread. But under-inflation often leads to overheating, which can cause a blowout. An under-inflated tire can reach 200 degrees!
In fact, under-inflation is why tire monitoring systems were placed on cars. Over-inflation won't cause these systems to sound the alarm (or that little tire on the dash) but under-inflation will because it is under-inflation that is dangerous.
Why Do Tires Lose Air?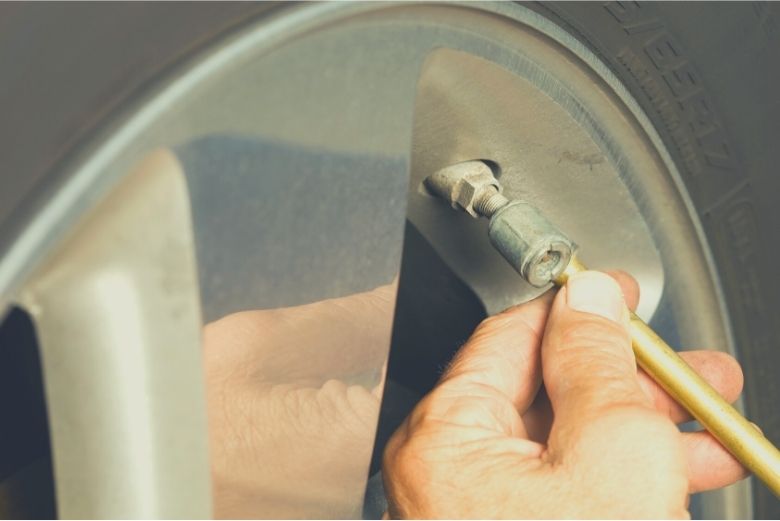 This is always an interesting question.
Most tires lose air naturally due to temperature changes. While the actual amount of air in the tire does not really change, cold temperatures cause air to contract and weigh less, while heat causes the air to expand and weigh more.
Other reasons that tires lose air include:
A bent or damaged wheel
A dry seal between the tire and the rim
Cracked or broken valve stems
Bead damage on the tire itself
Objects in the tire (nails, screws, etc.)
Road hazard (metal that cuts the sidewall for example)
Damage from hitting a curb (this damage can be to the rim or the tire itself)
Remember that keeping your tires properly inflated is one of the best ways to not only keep yourself safe but to make tires last as long as possible.
Always check the air pressure on a tire when it is cold. This means either first thing in the morning before you move the car or when the car has sat for a minimum of two hours.
Don't rely solely on tire monitoring systems in the car. These are extremely helpful but are subject to error or malfunction.
Conclusion
It's hard to draw a winner here since there are so many great features and prices.
If you are interested in the fastest tire inflator, go with the Milwaukee Electric. If price is your main concern, you are going to want to check out the Campbell Hausfeld.
Overall, when considering the price, convenience, and power, I still like the Slime Direct Drive Tire Inflator. I love the neatness of having it hang on the wall, the case for the accessories, and the handle so you can move it easily.
The Slim Direct Drive is quiet as well. So if you're trying to inflate that tire at 5AM to get to work, your neighbors aren't going to complain. It's got plenty of cord and hose length, so getting to all 4 tires on your SUV should be easier than you imagine.
Consider your needs or what you like in a tire inflator. I'm sure you will agree that the Slime has a terrible name, but it's an outstanding product.