Travel trailers and RV's are hot right now.
You can just pack up the trailer, gas up the truck, and hit the road.
If you are thinking about a 5th wheel you might have some questions about the hitch. How does it work? What kind of truck do you need? And most importantly, which is the best hitch for your trailer?
The good news here is that, if you already own a truck, chances are that all you need is the right 5th wheel hitch.
Nearly every full-sized truck (meaning ½ ton capacity bed and larger) can have a 5th wheel hitch added to the bed without issues.
One thing you gotta love about a 5th wheel is they have super spacious, comfy interiors that beat the heck out of camping!
Maintenance costs are generally less expensive than an RV and all you need is a truck with the right hitch.
Which 5th wheel hitch is the best for you? I've got you covered with this one.
Best Overall
B&W is a well known brand name when it comes to hitches of all kinds. B&W makes everything in the USA which is always a great selling point.
Many people say that this is the best 5th wheel hitch ever made.
The Companion attaches to the Turnover ball under-bed mounting system. This means super easy installation and removal of your 5th wheel without sacrificing reliability or stability.
Pros
This hitch can be used with a gooseneck system or it can hook directly to the 5th wheel.
It has polyurethane bushings that give a noise-free towing experience and a limited lifetime warranty.
That warranty shows you that B&W really stands behind their products!
Cons
Some users had missing screws and bolts from a sealed box.
One person said the unit is too heavy for one person to install.
Some users found this a bit difficult to install.
The Companion allows for easy front to back and side to side pivoting, along with a cam handle that allows for easy release.
You can use this hitch for trailers up to 20,000 lbs. GTW and 5,000 lbs. VTW.
While this is a bit heavy for the average person to take in and out of the bed, I still highly recommend the Companion by B&W as the best overall 5th wheel hitch.
Best for Short Beds
So, you want a 5th wheel but don't want to buy a new truck with a longer bed at the same time? No need to worry! The Curt Sliding hitch will solve that pesky problem.
Curt is another big name in towing. Their website says all products are made in Wisconsin, USA so you know this is quality made.
It also has an anti-rattle skid plate that helps keep vibrations and rattles to a minimum. The versatile fit is the biggest feature.
Most hitches only have 10 inches of turning clearance. The Curt Slider offers 12 inches. That's all the clearance that a short bed truck will need to accommodate a 5th wheel with ease.
Pros
The four height adjustments makes this super versatile.
The smooth moving rollers allow you to easily lock the 5th wheel into any position.
It provides 12 inches of displacement while most 5th wheel hitches only offer 10 inches.
Cons
I dislike the need to add shims to make the rolling carriage work properly.
I don't like the locking latch not having a claw but a smooth surface. That can allow for some movement.
Also, on some trucks, the mounting bolts are difficult to get to.
Keep in mind the 5th wheel hitch rails and brackets are sold separately.
This will handle up to 16,000 lbs. GTW and 4,000 lbs. VTW.
The Curt 5th Wheel Slider is the answer for anyone who wants a 5th wheel but doesn't want to buy a new truck with a longer bed.
Best for Ram 2500
Dodge Ram owners, if you are wondering which hitch works best for your Ram 2500, the Reese Elite is the answer.
This has a big 18,000 lbs. GTW capacity and 4,500 VTW. Like the others above, the mounting rails are sold separately.
It's designed for the OEM installed 5th wheel gooseneck kit that has rails installed under the bed. If your Dodge already has the 5 mounts protruding through the bed, this is the hitch that will fit perfectly.
Bring a dolly or a friend when you buy this because it weighs 110 pounds! That means its super sturdy, but it can also mean crushed fingers or toes if you drop it! If you plan on leaving it on the truck (and who would blame you) you can add a set of locks to it to prevent theft.
Pros
This unit will fit your Dodge Ram 2500 truck if it already has the mounting rails factory installed.
It offers a very easy engage and release system. This can reduce frustration!
It's extremely quiet which makes for a better riding experience. You can't say that about many 5th wheel hitches!
Cons
The main challenge is the weight. At 110 pounds, you will need help installing and removing it.
Paint bubbles seem to appear for many users after about two seasons.
A few users found the instructions confusing.
Always double check the application to ensure that this will fit your truck model.
Double check your year and model before buying. For the majority of Dodge Ram 2500 owners, the Reese Elite is one sweet 5th wheel setup.
Best for Ford Puck System
Like the Dodge Ram, Ford F250, F350, and F450s with an 8-foot bed use an OEM system called a puck system. This offers towing rails mounted under the bed right at the factory.
This fits on select Ford models so double check before you order. But this hitch by Curt fits a fairly wide variety of Ford trucks with a puck system.
It offers a very quiet ride because of the spherical axial bearing that allows the head to tilt in nearly any direction.
My opinion is the coupling indicator is the best feature of this unit. No more guessing it the trailer is fully hitched! This unit will show you if your 5th wheel is coupled, uncoupled, or if it is ready to tow. What could be easier and safer?
Pros
The main benefit is the coupling indicator which shows you the status of the coupling and trailer.
It also has a super quiet ride.
Cons
Some users stated that the rubber mounting squares wore out after only a few uses.
Nothing extra is required. Just assemble it and then adjust for the height of your 5th wheel. A torque wrench is handy, but not necessary.
If your Ford has a puck system and this model fits your year and make, you will find the Curt hitch well worth the investment.
Can You Tow a 5th Wheel With a Regular Hitch?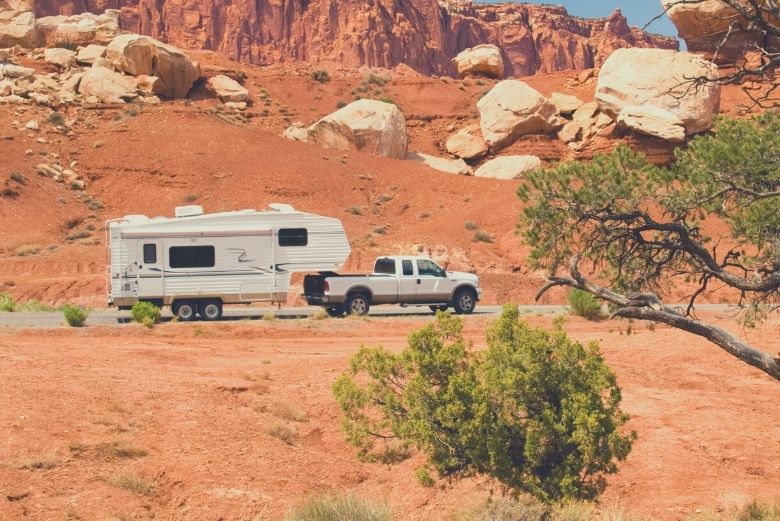 No, you can't tow a 5th wheel with a regular hitch.
It might be possible with some jerry-rigging, but no recommended. The truth is that a 5th wheel should only be towed using a full-sized truck or using a special hitch called a gooseneck for vans or large SUVs.
A 5th wheel, or even a smaller one, is quite heavy. Chances are that it will far exceed the towing capacity of your car or small pick up truck.
Always check the Gross Vehicle Weight Rating (GVWR), the Gross Axle Weight Rating, as well as the GTW (Gross Trailer Weight) and TW (Tongue Weight) of the 5th wheel and the towing vehicle before trying to hook up your new toy and go on an adventure.
Which is Better a Gooseneck or 5th Wheel Hitch?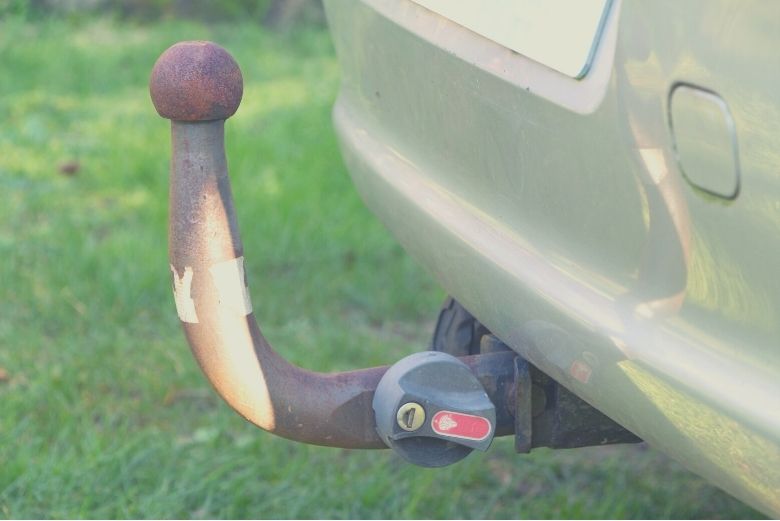 Generally speaking, a 5th wheel hitch is the best since it is designed specifically to tow a 5th wheel.
A gooseneck is a device that is made up of a shank and a set of 5th wheel rails. This was created to allow those with SUVs or large, heavy duty vans to still tow a 5th wheel.
If your SUV or van can handle the weight of your 5th wheel, then attaching a gooseneck is a great alternative to buying a new truck just for the 5th wheel.
Be advised, however, that you must check the weight ratings for your towing vehicle. You want to ensure that it can handle the weight of the 5th wheel.
If you are at all unsure about how to do this or where this information is located, check with a hitch installation company or where you purchased the 5th wheel.
Are 5th Wheels Easier to Tow?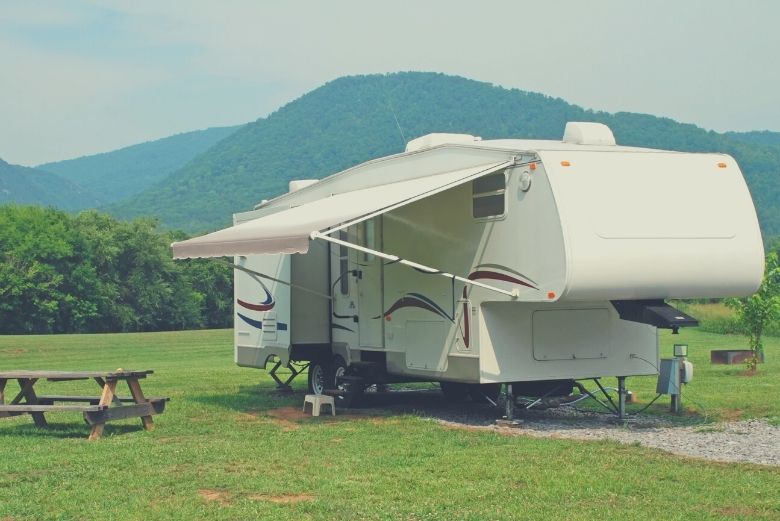 This is a matter of opinion. Not to mention how large a 5th wheel you plan on towing.
Hooking up a 5th wheel to the hitches that are designed especially for them is much simpler than hooking up a travel trailer. But since travel trailers are smaller, they can be easier to maneuver when backing up.
It's safer to tow a 5th wheel because the weight of a 5th wheel is centered between the axle of the towing vehicle. It's more stable and secure than a travel trailer.
When you consider that the majority of 5th wheels are over 25 feet in length, this can make turns and backing up rather awkward. Not due to a lack of stability, but the overall length of the trailer can make some spaces difficult to maneuver.
What Size Truck Do I Need to Pull a 5th Wheel?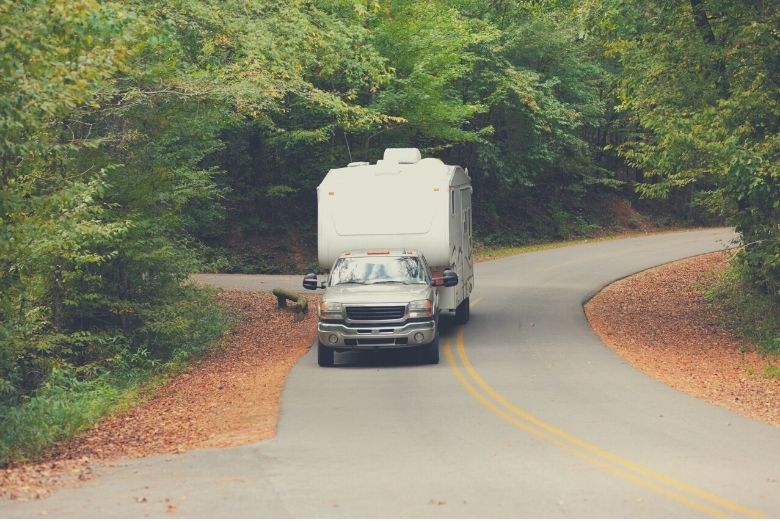 Yes, you can tow a smaller 5th wheel with a half-ton truck. But if you are going to pay for a 5th wheel and the hitch, then you might as well use a truck that is really suited for the job. I suggest a 3/4-ton or 1-ton truck.
Don't forget that the length of the bed also plays a factor when towing a 5th wheel. An 8-foot bed sometimes called a long bed by some manufacturers, is the perfect bed length for towing a 5th wheel. Since the hitch must stay in front of the rear axle, a shorter bed can cause clearance issues.
This doesn't mean that you can't tow with a 6-foot truck bed. It just means that you will need to pick out a hitch that is made for shorter truck beds.
Do 5th Wheels Sway?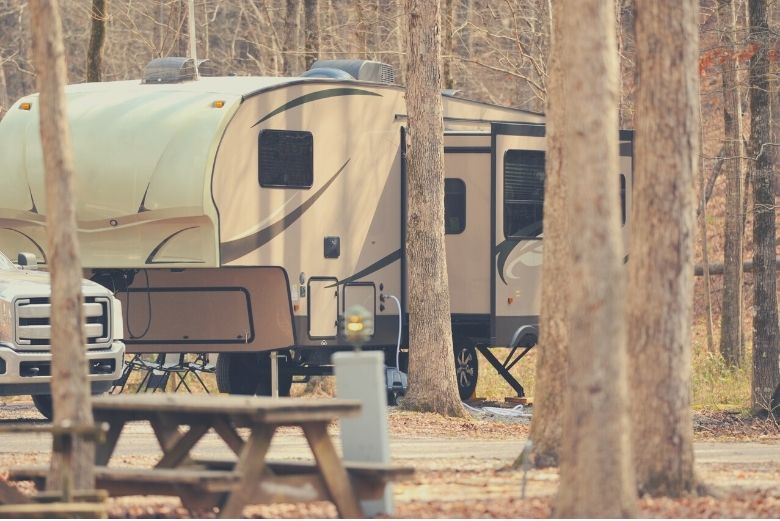 That is one of the beautiful things about 5th wheels, they do NOT sway!
There's a lot to be said about travel trailers. Especially that they are much cheaper than 5th wheels. But you will never have a swaying problem with a 5th wheel. That's something that a travel trailer can't claim!
This is because the hitch and the majority of the weight is centered between the truck and the 5th wheel axles. This makes for a sturdy mount that eliminates swaying.
If by chance you DO feel your 5th wheel swaying, you should check the tires on the trailer, the tongue weight, and the suspension of the towing vehicle.
The Verdict
There are so many great 5th wheel hitches! Some are designed just for Fords or Dodge Rams. But you can't beat the B&W Companion for overall versatility and sturdiness.
The limited lifetime warranty alone tells you that this is a high-quality unit designed to last. I like that it is made in the USA and that it is super quiet.
You can use the B&W Companion with your 5th wheel and truck or use it with a gooseneck system if you have a large SUV or Van.
With a 20,000-pound capacity rating, this should tow most 5th wheels. This unit is considered by most to be the most reliable, quietest hitch on the market.
Unless you have a short bed or a puck system, stop looking and get the B&W Companion hitch. You won't worry about your 5th wheel coupling and you will never worry again about how to best tow your 5th wheel.