Is there anything as pretty as a polished, shiny set of aluminum wheels?
Nothing else in my book!
But it's hard to keep them clean. Especially with brake dust, road tar, and dirt and grime.
When it comes to cleaning aluminum rims, you need to know whether they are coated or not. This will make keeping them clean much easier and you will prevent damage.
The good news about bare rims is that you can use a stronger type of polish to clean and remove the oxidation.
The bad news about uncoated aluminum, often called "bare" rims, is that they can oxidize quickly if you don't use a product to prevent this.
Sonax Wheel Cleaner Full Effect
Acid-free, ph balanced formula wont damage wheels

Full Effect sprays on fluorescent yellow, then turns deep red or purple as it dissolves brake dust

Simply spray on, let it dwell, watch for color change, agitate if necessary, and rinse with water.
Prices pulled from Amazon Product Advertising API on:
Product prices and availability are accurate as of the date/time indicated and are subject to change. Any price and availability information displayed on [relevant Amazon Site(s), as applicable] at the time of purchase will apply to the purchase of this product.
You might not have heard of the Sonax brand, but I bet your local car detailer has. It's been around for about 50 years.
It's not as well known as other names.
Sonax Wheel Cleaner has a lot going for it. It is acid free, which makes it safe for all types of wheels including chrome and aluminum. It has an advanced chemistry makeup that emulsifies even the most stubborn dirt while destroying oxidation.
I love that this changes color so you can see it work.
The spray is yellow right out of the bottle. But it turns a dark red or purple as it works to fight brake dust. I also think this is a great product because it's designed to use on dry wheels.
I always wash mine first, but you don't have to! Park your car overnight and use it in the morning.
This product is nothing short of amazing and I don't say that lightly.
Spray it on your cool, dry wheels, let it work for 5-10 minutes, then spray it off with a hose. Use a high-pressure nozzle or a power washer for the best results.
Pros
It's super easy to use
With very little effort, it's incredibly effective
It removes years of neglect and embedded brake dust better than others
Cons
It smells terrible
It can burn your skin if you don't wear gloves or rinse it off quickly
It can be more expensive than other brands
If it feels as though you've tried every type of wheel cleaner on the planet and your aluminum wheels still look old and tired, give Sonax a try.
You can spend more, but I have yet to find a better product to keep those wheels looking showroom new!
Mothers Polished Aluminum Wheel Cleaner
Mothers Aluminum Wheel Cleaner is formulated to safely and easily clean uncoated polished aluminum and anodized wheels

Works great on painted, clearcoated, color coated, steel, modular, chrome, custom or factory coated wheels and hubcaps

Its unique spray on, hose off design safely penetrates, dissolves and suspends all types of brake dust, grease, dirt, and grime, making rinsing a snap
Prices pulled from Amazon Product Advertising API on:
Product prices and availability are accurate as of the date/time indicated and are subject to change. Any price and availability information displayed on [relevant Amazon Site(s), as applicable] at the time of purchase will apply to the purchase of this product.
For those of you who don't want to trust your wheels to a brand you've never heard of, Mothers has been around for decades.
Mothers one of the biggest selling brands of car wash and detailing products on the planet.
When you want help keeping those rims super clean, but you don't have a lot of cash, this is the product for you.
Mothers cleaner will work on painted wheels, clear coated wheels, chrome, and other OEM coated wheels. You can spray on Mothers wheel cleaner and it will safely penetrate through brake dust and dirt so you can hose it off.
Like most wheel cleaners, you should wash the wheels first for the best results. Don't let this product dry though. Since it is so strong, it might etch the wheels!
For the money, this aluminum wheel cleaner works far better than expected.
Pros
It works shockingly well, especially for the price
It's very inexpensive. One bottle should last about 12 car washes
You don't need to scrub a lot
Cons
Very neglected wheels will need scrubbing and perhaps two or three applications
It also smells terrible
It can damage wheels if allowed to dry
This is a terrific wheel cleaner for the price. You can always trust Mothers products to do what it says.
This wheel cleaner is no exception.
Quality Chemical Mag Brite – Acid Wheel and Rim Cleaner
Unbelievable rim cleaner and degreaser.

High power! No scrubbing!

Apply to cool wheel and wash off!

Dirt and brake dust are no more! Not recommended for untreated aluminum wheels.

Allow hot wheel to cool before applicati
Prices pulled from Amazon Product Advertising API on:
Product prices and availability are accurate as of the date/time indicated and are subject to change. Any price and availability information displayed on [relevant Amazon Site(s), as applicable] at the time of purchase will apply to the purchase of this product.
Please take note that this product cannot be used on bare aluminum wheels.
If your wheels have a coating or a clear coat, you are good to go but do not use these on untreated aluminum wheels!
Mag Brite is a fantastic wheel cleaner that is truly a no scrub, high-powered cleaner.
This is so powerful that you need to be careful when applying.
Don't let it come in to contact with the paint. You should also wear gloves and eye protection, so you don't get a chemical burn on your skin or get it in your eyes.
This is a very powerful cleaning agent that is the best in its class when used properly.
This works wonders on that baked on brake dust. Add the Mag Brite to a spray bottle and be careful not to spray the paint.
Walk over to your hose and turn it on, then rinse it off. It really is that simple, no power washing required!
Pros
It's truly a "spray on, hose off" cleaner
It's very inexpensive
It's also incredibly powerful
Cons
Powerful chemicals mean this is corrosive and it can burn your skin and eyes
Overspray can easily damage the paint
Some users complain about a white film left behind
If you want the easiest, most powerful wheel cleaner on the planet, you want Mag Brite.
How do you remove heavy oxidation from aluminum wheels?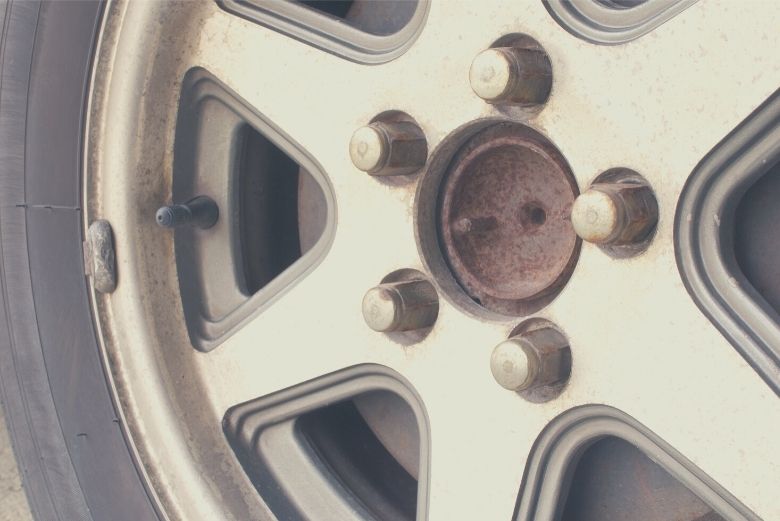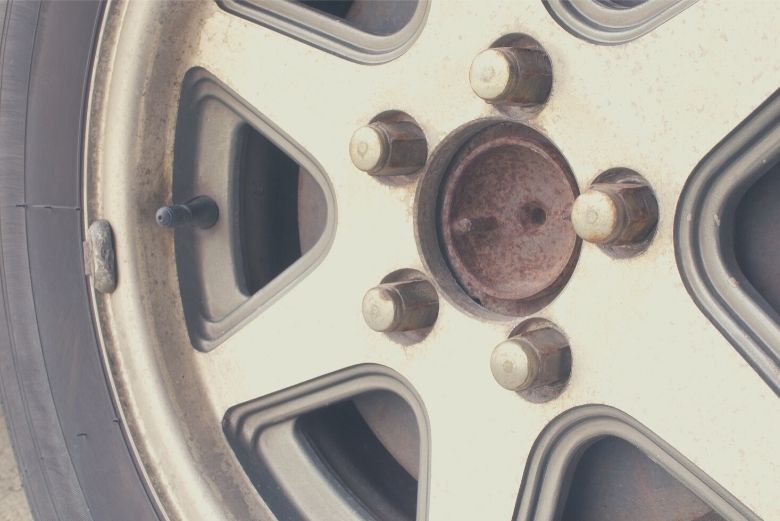 If your rims have heavy oxidation, I'm going to assume that it is a bare rim.
You need to polish them first using an abrasive cleaner that will remove all the oxidation. Then seal them with a protective wax. I like this Aluminum Polish from Mothers.
Wash the wheels first with some old fashioned soap and water to remove any oil or grime. That will prevent grinding in any dirt as you apply the polish.
Take some polish and start applying it to the rim. If the rims are pitted, you are going to need some real elbow grease or you can try using a polisher.
I've used foam applicators, like this one from Mothers, to save time and effort. This attaches to a drill and it made this tiresome chore much easier.
Once the polish starts to turn black, wipe it off before it dries. Do one section at a time. Once the rim looks pretty good, do one more layer of polish by hand to get any little leftover or small areas that the applicator did not reach.
Take a wet towel and remove all the polish that remains.
You can now do a quick coat of wax or other protectant to prevent the wheels from developing those heavy layers of oxidation. That can really ruin the look of your pretty rims.
How do you clean dirty aluminum rims?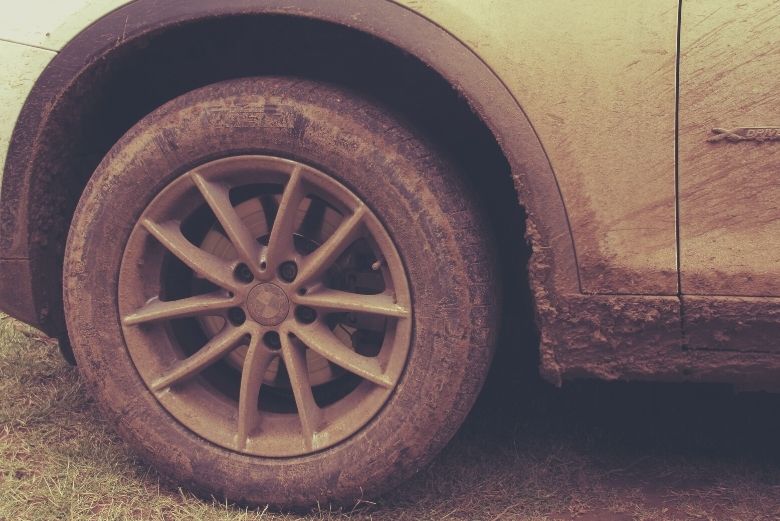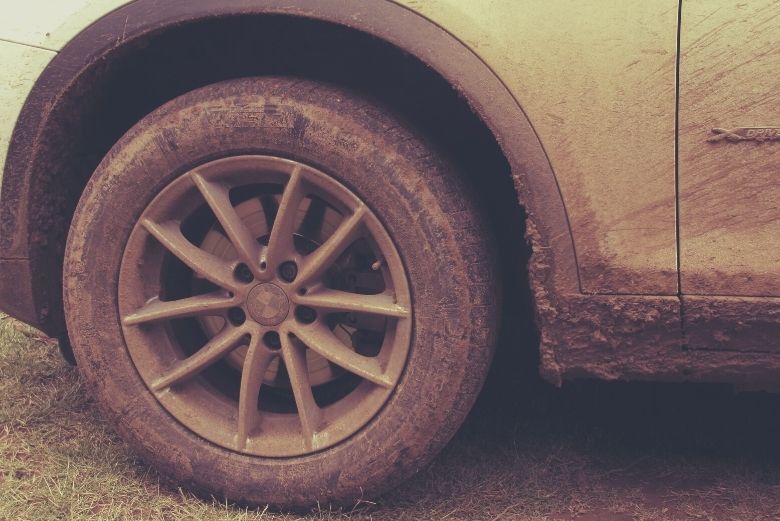 First, it's time to get the dirt and brake dust off. Brake dust is one of the worst enemies when it comes to aluminum rims.
The carbon fibers, adhesive, and minute metal shavings that come off the rotor make these items extremely corrosive. Brake dust is being made every time you touch the brake pedal, so first, this needs to be removed.
Take a pressure washer or a high-volume hose nozzle and rinse off whatever grime and dust will come off with water.
Spray each wheel and around each lug nut with one of the quality aluminum wheel cleaners that I recommend above. Use a quality wheel brush, such as Speed Master, that can fit in between any spaces, spokes, and around the lug nuts.
Keep the wheel wet while you are working. These cleaners are more than just a detergent. They also contain lubricating compounds to prevent the wheel from being scratched.
If you are working on the wheel and you notice that it is drying, give it a few squirts of water or add a little more wheel cleaner to prevent scratching.
If there is a big build up of dirt and grime on the wheel well, this would be a good time to clean those as well. Don't use your wheel brush. Get a sturdy, everyday bathroom or kitchen brush to do the job.
Once you are finished, rinse the wheels (and the wheel well if you washed those) and be sure to rinse around the lug nuts.
Then dry the wheels.
Never let the wheels air dry as this will cause water spots. If you haven't tried a microfiber towel, I highly recommend it.
This is a black towel that not only absorbs water but if it picks up a bit of brake dust or dirt, it won't show on the towel. It also leaves the wheels nice and shiny!
Keep this towel separate and use it only on the wheels for the best results.
How do I know if my aluminum wheels are clear coated?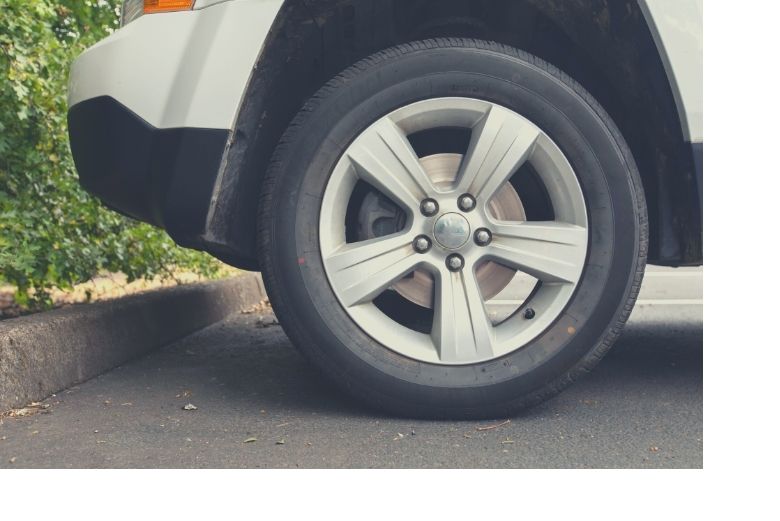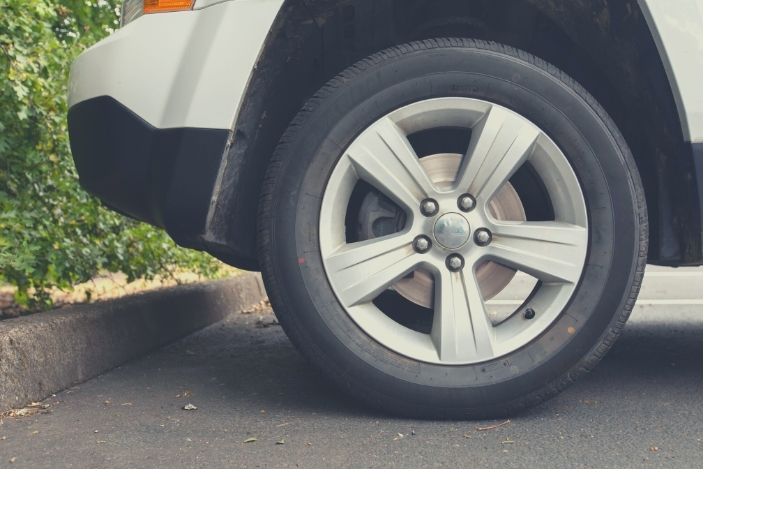 If your ride came with aluminum wheels from the factory, they most likely have a protective coating on them to prevent oxidation.
If you purchased aftermarket, ask the seller. You could also look at the manufacturer's website to find out if the wheels have been coated or not.
If you have no idea if the rims have a coating or not, you can find out by applying a very small amount of wheel polish in an inconspicuous location and rub it in.
If there is a black residue on the cloth, then the aluminum is bare and has no coating. The black residue is oxidation. If the cloth is clean, then there is a protective coating.
What household product cleans aluminum wheels?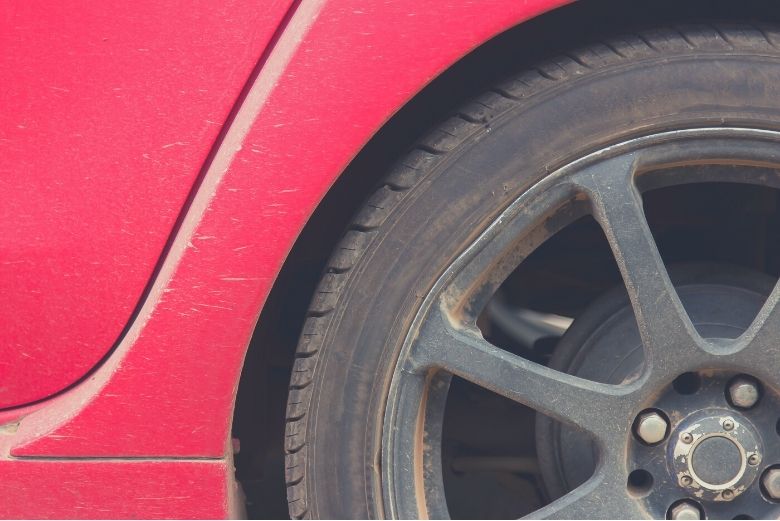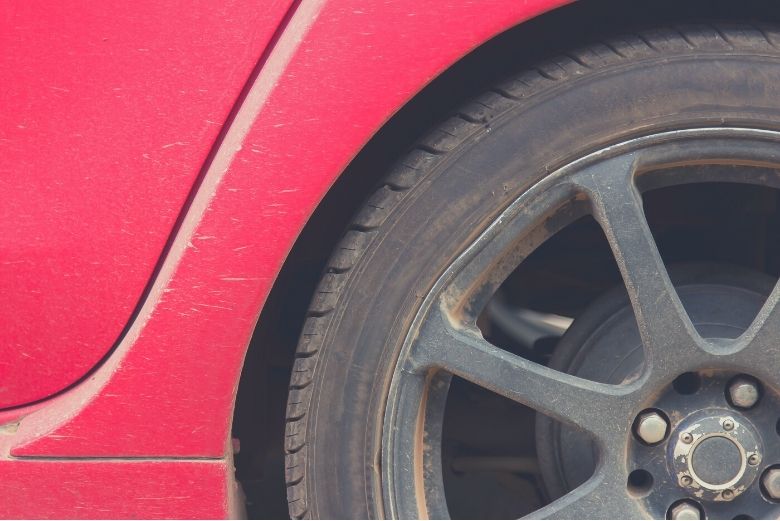 I'm sure there are those of you who like to use whatever you have around the house to clean your rims.
There are a few products that will work if the wheels aren't too heavily oxidized.
You can mix dish soap and water to wash the rims, then sprinkle a wet sponge with some baking soda. There are sponges made for dishes that are designed not to scratch Mr. Clean Dawn Non-Scratch. Baking soda is slightly abrasive but it's not going to hurt the wheel.
You can also try mixing equal parts of lemon juice and club soda. Use that same non-abrasive sponge to remove oil and dirt.
One of my dad's favorite metal cleaners was plain old Coca-Cola.
Pour a can or two into a bucket and use a soft brush or kitchen sponge to remove light oxidation and stains.
Be sure to rinse the wheels well afterward to avoid a sticky mess that will only attract more dirt.
Can you use steel wool on aluminum wheels?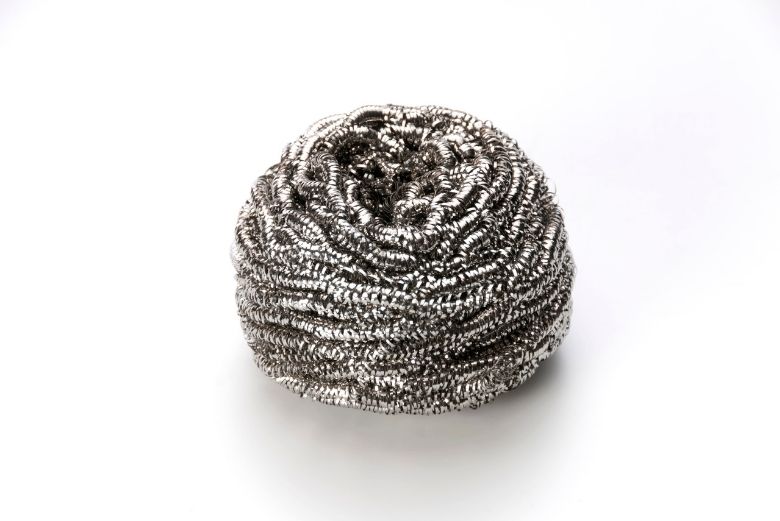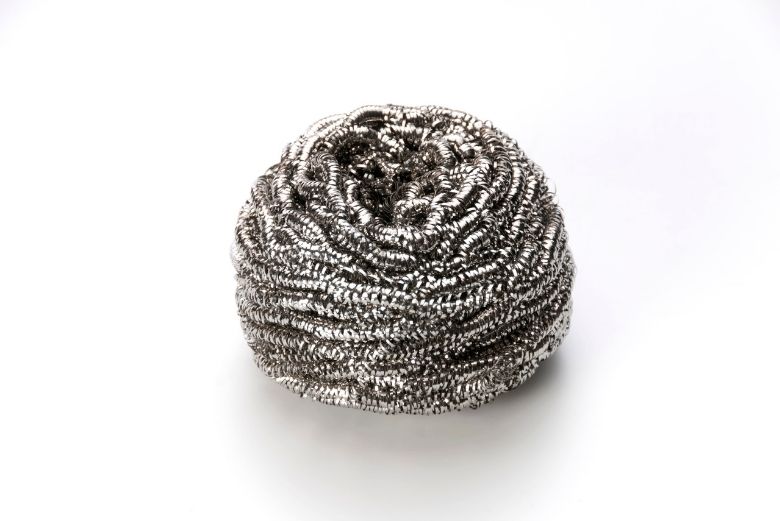 CAN you use steel wool on your aluminum rims? Of course, you CAN. But should you? NO!
Unless you want that "brushed" aluminum look. You know, the look of brushed steel that has a matte finish and looks scratched to hell.
Never, ever, EVER use steel wool on your beautiful aluminum rims!
Yes, some people say that it's fine to use steel wool. If you want to use it, try using it in a very small, inconspicuous part of the rim first.
If you think this works great for your rims, go for it.
But personally, I would never use steel wool on aluminum rims.
In The End
There are about as many wheel cleaners on the market as there are car wash and wax products.
Most people have their favorite brands, including me. But I was so impressed by Sonax Full Effect Wheel Cleaner that I've just switched brands.
It's hard to describe how awesome this wheel cleaner is! I used this on my wife's neglected wheels, and it made them look almost new!
I did zero scrubbing. I imagine that next time, with a little bit of effort, those wheels are going to shine like they just came out of the showroom.
It was so easy to use. A power washer is best to help break off all that baked-on brake dust. But if all you have is a high powered nozzle for the hose, I bet you will still be happy with the results.
While this might seem a bit expensive, users have said that you can clean the average 16-inch set of wheels about 10-12 times.
If you wash your car twice a month, that's at least 4 months' worth of super clean wheels! That would make this product very reasonable as far as price is concerned.
Do yourself a favor and try the Sonax Full Effect Wheel Cleaner and judge for yourself. I'm betting you will be just as astounded and pleased as I was with the results.