Are you thinking a sponge is a sponge, there is no "best" sponge, right? There are just synthetic or natural sponges, and that's it.
Am I right?
Well, if I am right, then you, dear reader, may be mistaken.
Let me explain why.
Have you used an old kitchen sponge, an old washrag or towel, or even a worn-out T-shirt to wash your ride?
The material in that rag can cause fine scratches in the paint. Or it sometimes harbors an extremely small rock or old hardened paint. That will really wreak havoc on your car's clear coat.
You can avoid all these things by investing in a special sponge or car mitt. It's designed to not scratch the paint.
Keep your sponge separate from other cleaning tools and use it only on your car. It's best to avoid having it pick up things that might scratch the finish.
Let's examine the options.
What kind of sponge should I use to wash my car?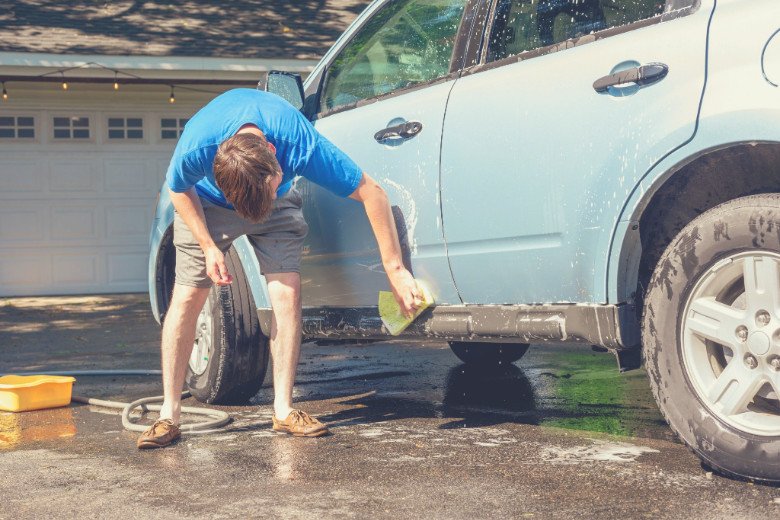 I mentioned earlier in this article about the sponges and other rags that you shouldn't use, as well as the reasons why.
As for what kind of sponge you should use, that is a personal preference. I can tell you this: make sure it's made or designed for your car's finish.
Don't buy a large "cleaning" type sponge and assume that if you keep it strictly for washing your car that it's OK.
I'm betting it will put fine scratches on the clear coat.
If the products above sound good but you wish you could put them all together in one product, I did find the Viking Long Pile Microfiber Car Wash Sponge to be the best both worlds.
This is made for your car's finish and it combines the soapy solution holding power of a sponge. It also has the soft outside of a microfiber towel while having longer fibers than your typical microfiber towel.
The inside is high-density foam and not a sponge, but you won't notice the difference. If you aren't sure which product above would work best, try this microfiber sponge. I bet you will love it the first time you use it.
Do microfiber towels scratch cars?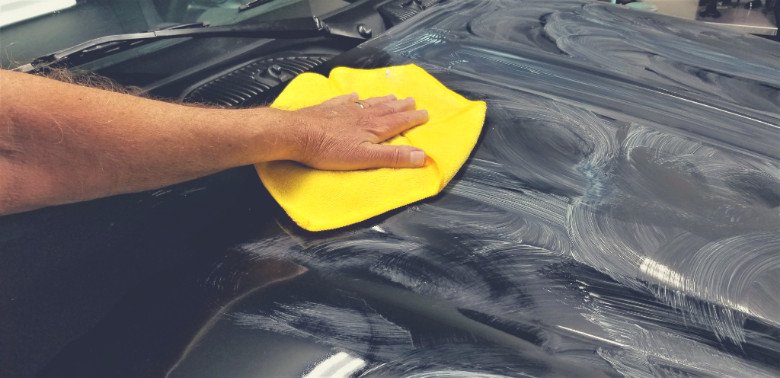 No, microfiber towels don't scratch cars. But a dirty one will.
If you've heard others say that their microfiber towel scratched their paint, I'll bet the towel is contaminated with something. Contaminants can be so small that you can't see them.
It could also be the car still had some type of grit or dirt on it and it got rubbed into the paint when they were drying the car.
Microfiber towels can't scratch the paint by themselves. Get some dirt on the towel or try to use it on a car that isn't 100 percent free from dust and dirt, and you will get scratches.
Always use clean cloths. Even if they don't look dirty, wash them after every use and store them where dust cannot reach them.
What is the best way to wash a car without scratching it?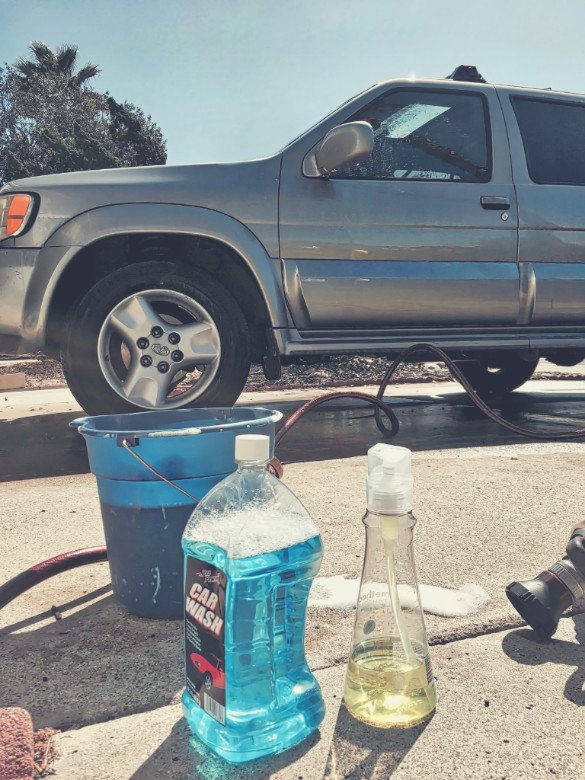 If you aren't going to use the Optimum No Rinse Car Wash, then you need to use the two-bucket system and use clean rags or sponges.
Rinse the car to remove as much dirt as possible. You don't need a pressure washer, but a strong stream from the hose should work. Spray problem areas, such as the rocker panels and the hood or grill with a product likeGriot's Garage Bug and Smudge to loosen and remove squished bugs and tar.
One bucket should have your soapy water, the other only plain water. Dip the sponge into the soap and wash one panel at a time. Rinse the sponge in the clear water, then dip it back into the soapy water. Rinse thoroughly when you are finished.
This is the best method of washing to prevent the sponge from picking up dirt and rubbing it into every panel. It also prevents swirls and fine scratches.
Do hand car washes damage paint?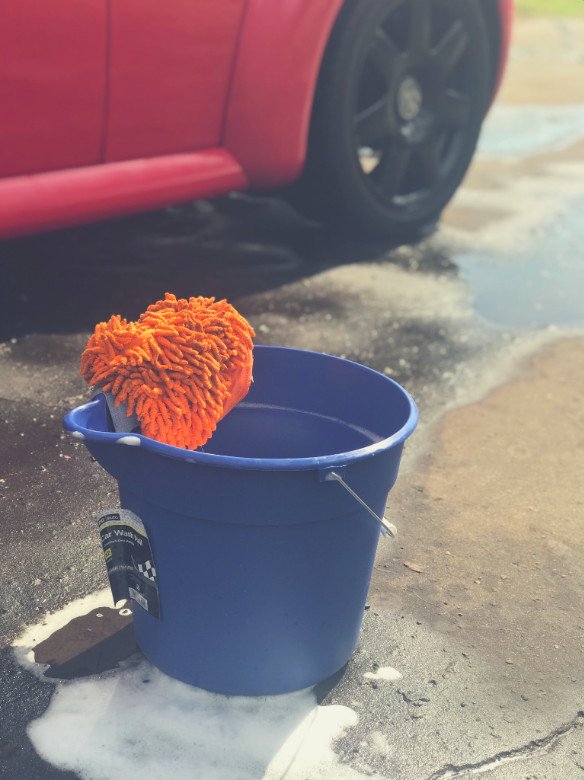 My recommendation is to wash yourself to reduce paint damage.
But if you take it to a hand car wash company, ask if they use the two bucket method.
If they are using one bucket or they run it through the automatic car wash then hand wash the difficult areas, I can guarantee that they are scratching the clear coat.
How do you clean car sponges?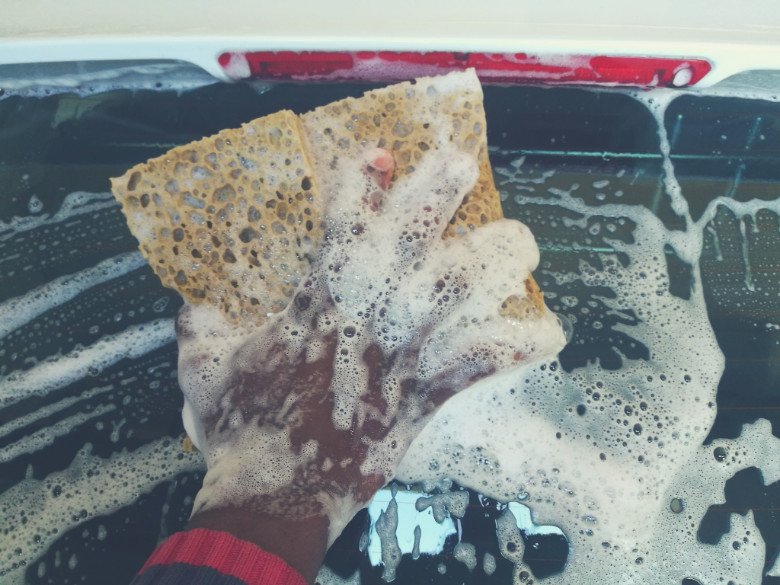 There are a variety of ways to clean a sponge after a wash.
Personally, I like to soak the sponge in a bucket of water with a bit of dish soap (usually Dawn because it's best at dissolving grease and oil). I let the sponge soak overnight or longer, then I rinse it using a strong stream of water until no more suds come out of it.
You can rinse the sponge in water until the water runs clear. You can also put it in the washing machine. That's hard on a sponge but it does a fairly good job if you don't add too much soap.
Or you can rinse it using a power washer. Again, that is hard on a sponge, but it will rinse it clean.
Conclusion
After going through the options, I've now shown you the best car wash sponges on the market. You've got a synthetic, a microfiber, and a lambswool option. Take your pick depending on the features and benefits of each.
Keeping a car clean can be as difficult or as easy as you want to make it.
Given the right information, you've got what you need to make a decision now!