Have you ever failed an emissions test because of your catalytic converter?
If not, are you wondering when one usually dies?
Today's catalytic converters are a three stage unit. It allows for the reduction of nitrogen oxide (also called NOx), into nitrogen and oxygen. It also changes dangerous carbon monoxide to the far less damaging carbon dioxide. It also reduces unburned hydrocarbons to the less harmful water and carbon dioxide.
Even with all our modern technology and the best cat converter on the market, your car will still put out some noxious fumes.
A quality cat converter can do so much to help clean up the air we all breathe.
The three chamber cat converter has been around since 1981. Unless you have a much older vehicle, yours is almost certainly using a three-chamber converter.
If you are thinking that a replacement cat is too expensive, you are correct.
These are highly specialized pieces of equipment that use precious metals. They don't come cheap. That explains why some thieves have taken to stealing them off parked cars!
Going without one means your vehicle won't pass an emissions test. You could be fined for removing yours and not replacing it (depending on your city, county, and state law). But perhaps worst of all, you would be adding to the air pollution problem every country faces.
Let's look at the best cat converters for the money and which one would work best for your ride.
My Winner
Take note right off that this is a NON-CARB compliant converter. This means that California peeps cannot use this converter. Your vehicle might be able to this MagnaFlow California Catalytic Converter.
MagnaFlow is the biggest name in exhaust parts in the industry. Made in the USA, and their 8 year, 80,000 mile warranty is proof that they stand behind their product.
This cat is made from stainless steel so it prevents rust. Seams welded close to the body give a tight bond that won't break from stress fractures. It works for both gas and diesel applications. The price is also very wallet-friendly.
Always double check the applications to be sure that this will not only fit your vehicle but that it is the appropriate cat for your location.
Pros
It's very easy to install
It's very affordable
The warranty is a solid one that most competitors can't match.
Cons
It won't work for those who need a CARB compliant converter.
It has a slightly different inlet and outlet sizes than what is listed on the website (very slight, but sometimes that makes all the difference).
It does not come with exhaust clamps if you need them.
Most users stated that they instantly noticed an improvement in mileage and less noise. Several mechanics have stated that this is the best, all-around cat you can buy,
For those of you who can use a non-CARB cat, you should be really satisfied with the results you get with the MagnaFlow Direct Fit Catalytic Converter.
Best for Performance
Alongside MagnaFlow, the Flowmaster brand is also another big name in exhaust parts. This converter is also NON-CARB compliant, which means it can't be used in California and possibly New York.
Always triple check your application and state laws before ordering.
The Flowmaster is a high flow converter that fits a wide range of vehicles. This specific one is a perfect match for 2004-2006 Jeep Wranglers.
This cat comes with both the upstream cats and the larger single downstream cat, along with the pipe clamp to join the two sections. Add an O2 sensor and you will be ready to ride!
Pros
It comes almost complete including the clamps
It has a decent warranty
It offers high flow performance at a reasonable price
Cons
It appears to need some tweaks to make it fit perfectly
If you aren't a mechanic, you might want to have one install this unit
The included clamps are not always the correct size or shape
For higher performance for your Jeep, the Flowmaster is the best cat you can buy for this price.
Best for Ford F150
This is a NON-CARB compliant converter for non-California vehicles. Walker does make one for California cars and trucks though. It's the Walker California Catalytic Converter.
This states that it can be used on New York vehicles as well, but double-check before you purchase.
The Walker Ultra EPA catalytic converter has a direct fit design that works well with most Ford F-150 truck models. It should fit other applications, such as Ford Expeditions, but check before you buy.
This cat has an OEM design, prevents the Check Engine Light from turning on, and it has aluminum heat shields to protect the undercarriage of your truck from the heat that cats generate.
Walker states that purchasers with receipts who did not buy the product from a third party are eligible for a warranty. But they don't state what that warranty is.
Pros
It's very easy to install
It has a bolt-on fit with no modifications required
No break-in time is needed.
Cons
This one has a vague warranty policy
No new bolts are supplied for the exhaust manifold
No replacement exhaust manifold gasket is included. Yes, you can reuse the old ones or purchase a new one, but it's just one more step you need to take.
For Ford trucks and other Ford vehicles, you can't beat the Walker Ultra-EPA converter. In fact, you'll be hard-pressed to find someone unhappy with the one they purchased!
How Do I Choose a Catalytic Converter?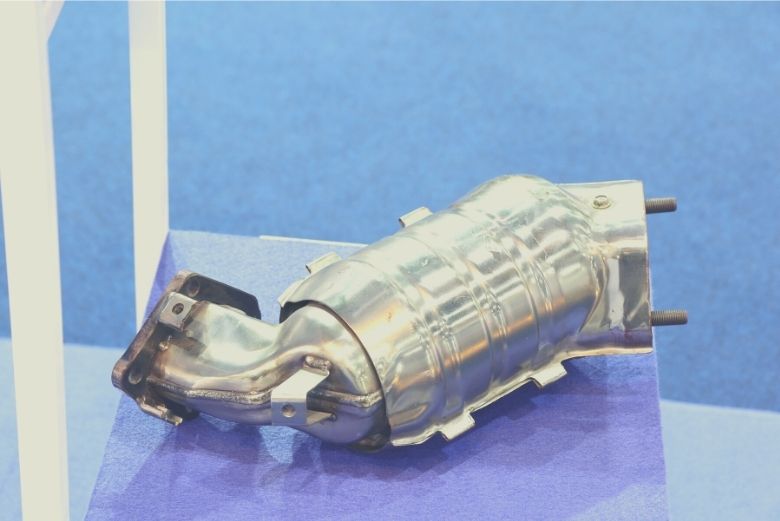 With so many cat converters on the market, it can be hard to know which one you should choose. Let's narrow this down to 4 easy to follow steps.
First narrow the range of converters by finding out which ones fit your vehicle. It's annoying to spend time checking out a part only to discover that it won't fit your ride. Amazon offers a car search option that seems to be very accurate.
Look in the engine compartment of your vehicle for a tag that says something like "Catalyst" or "Emissions." This tag should give you information about the factory specs of the vehicle. If the tag says "Vehicle conforms to EPA regulations" then you need a heavy medal grade OBDII converter. If the tag says anything else, such as "Vehicle conforms to California regulations" then you should choose an OEM grade OBDII converter.
Many California vehicles will state CARB compliant. This is the California Air Resources Board compliant, which means you need to be certain that the cat you buy is also CARB compliant.
If you have any doubts, call your car dealer.
Select the correct grade of converter. You will find that most converters are clear in that they say, "OEM grade" or "Heavy metal grade".
Select the Configuration You Prefer. Universal fit converters are what the name implies. They often come with adapters to fit an extremely wide range of vehicles.
Alternatively, you can choose a direct fit design. These are like OEM parts in that they fit the shape of your vehicles exhaust and there are no adaptors required. The Direct Fit will cost more than a universal fit, which will require some adaptation, including welding or cutting.
This might sound a bit complicated. But once you get started, you will see that choosing the right cat isn't as hard as it sounds.
Is it OK to Use a Universal Catalytic Converter?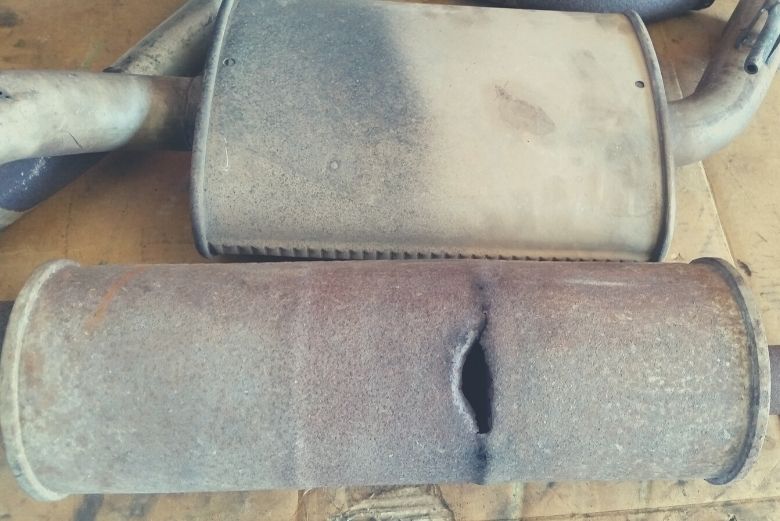 While universal cats are cheaper to purchase, they aren't always easy to install. You might also want to note that in California and New York, especially, universal catalytic converters are illegal to have on your vehicle.
If you have any doubts as to whether you can use a universal cat, call the service department of your local dealership. They should guide you to the correct information. Your vehicle's service manual should also indicate which catalytic converter will work for where you live.
What is the Average Lifespan of a Catalytic Converter?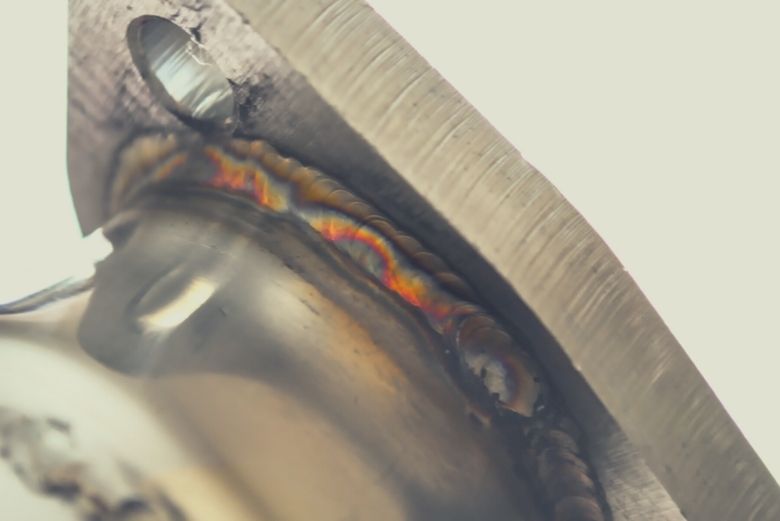 This is a difficult answer to pin down, especially if you are talking about an aftermarket converter. You will hear all sorts of mileage or years depending on who you ask.
The standard answer for an OEM cat converter (the one on the car when you purchased it) is 100K. But to be completely honest, I have never seen an OEM converter fail that quickly.
200k-300K appears to be a much more typical number, in my experience.
With aftermarket converters, the numbers get even more skewed. Some say that if an aftermarket converter lasts you 30K, you chose well. While others say that their aftermarket converter went 100K before taking its last breath.
Catalytic converters are expensive because they use precious metals to convert harmful gasses into less harmful ones. Gold, rhodium, and palladium are just some of the metals used. You would expect that the catalytic converter should go at least 50K before wearing out.
In my experience, most cats go bad when people don't take care of their vehicles or when the engine itself is past its prime and is burning oil. Cars that run rich and are expelling a great deal of unburned gasoline can wear out a cat much faster. The same goes for allowing the Check Engine light to stay on, and failure to repair the problem cause issues with the cat eventually.
Can You Put any Catalytic Converter on Any Car?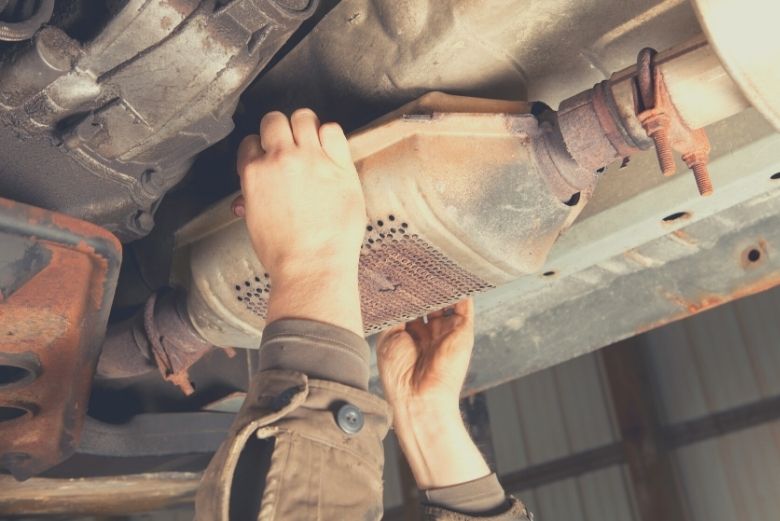 No, you can't put any catalytic converter on any car.
Here's why.
It will depend on the state where the car is being operated.
Each state has its own set of emission rules. California and New York currently have the tightest emission restrictions.
Purchasing a catalytic converter designed for a car in Montana will most likely fit your vehicle. But you won't be able to pass a smog check using that converter.
Always check the tag on your vehicle to see if you need a heavy metal grade converter. If you still aren't sure, check with an emission testing station or your dealership mechanic.
How Can You Tell if Your Catalytic Converter is Going Bad?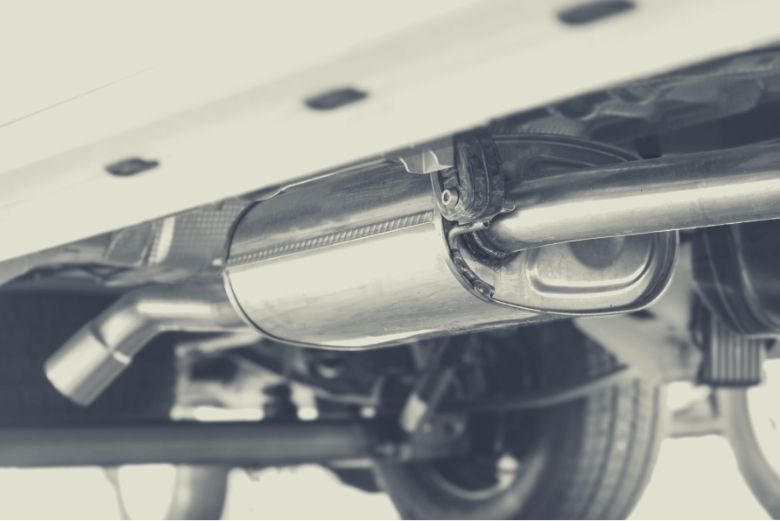 The old standby symptom is a strong Sulphur smell from the exhaust, but this isn't always true.
More typical and common signs that your cat is headed for the scrapheap includes:
Dirty looking or dark-colored exhaust
Reduced acceleration
Sluggish engine performance
Reduced gas mileage
Excessive heat from under the vehicle or heat you can feel being generated into the passenger floorboard
Difficulty starting the vehicle, or it may not start at all
The Check Engine Light comes on
The car may run very hot
Rotten egg smell from the exhaust (but not always)
Keep in mind that the rotten egg smell or Sulphur smell should accompany one or more of the other symptoms on this list. Just smelling Sulphur from the exhaust is not a definite sign that your vehicle needs a cat. Don't let a mechanic talk you into one based solely on this.
The Winner
There are so many catalytic converters on the market and not everyone is suited for every vehicle.
That's why I chose the MagnaFlow DirectFit as the overall winner.
This cat is super wallet-friendly. Not to mention, it has a nearly unbeatable warranty. At the risk of repeating myself, you want to be sure to turn in the warranty card. Otherwise there really is no warranty.
Check the warranty offered by other manufacturers and you will find that the 8-year, 80K warranty is outstanding.
There are almost no complaints about this cat when it comes to installation and even fewer complaints about missing parts or other issues.
You will still need to add an O2 sensor in most cases, but those are rather inexpensive.
I think that the MagnaFlow DirectFit is the best converter at a great price. What more could you ask for?