Chances are that you are getting ready to give your car, truck, or SUV a good wax job before the winter weather really hits hard.
Waxing is a great way to get protection. But waxing alone won't remove those stubborn swirl marks or reduce the appearance of scratches.
To do that, you need a buffer.
But who has $300 to spend on a quality buffer?
Don't worry, if you are like most people, you only buff out your car once or twice a year. At that rate, an inexpensive buffer will last you for years!
Not only that, but cheap buffers will stall out if you press too hard. Why is that a good thing? Because it will prevent you from pressing too hard and buffing all the way down through the clear coat to your paint!
Even so, no one wants to blow money on a product that won't last more than one or two uses.
Let's look at the best cheap car buffers that will do the job, won't cost a fortune, and should last for years.
Ryobi 6 Inch Corded Orbital Buffer
HIGH-POWERED: Works up to 4,800 Orbits Per Minute, perfect for applying wax onto cars

ERGONOMIC GRIP made of molded, notched rubber allows you to work even when it's wet outside

POWER SWITCH is conveniently located on the sides for easy operation
Prices pulled from Amazon Product Advertising API on:
Product prices and availability are accurate as of the date/time indicated and are subject to change. Any price and availability information displayed on [relevant Amazon Site(s), as applicable] at the time of purchase will apply to the purchase of this product.
Chances are you know the Ryobi name and probably own a few of their products. Sometimes it seems as though I should invest in some Ryobi stock I have so many of their products in my garage.
This is an orbital buffer. It's the perfect type for home use. But this isn't a wimpy little machine!
The Ryobi puts out 4,800 circles (or orbits) per minute!
Ryobi put an ergonomic rubber grip, so you don't lose control even if your hands are wet. The on/off switch is conveniently located on the side and a 76-inch power cord.
This set up comes with two pads, so you can use one for buffing and one for waxing and a decent 3-year warranty.
What more could you ask for?
Pros
It has a very economical price
It works well on paint and windshields
It comes equipped with pads, so just add a buffing compound and wax
Cons
The pads tend to come apart after a few uses so keep replacements on hand
Some feel that this unit did not have enough power to do the job
The foam backing pad came apart in a few instances, but this would be covered under the warranty
This buffer is a big brand name at an exceedingly small price.
For home use, this must be my favorite buffer.
BLACK+DECKER 6-inch Random Orbit Waxer/Polisher
ELECTRIC WAXER AND POLISHER — Perfect for buffing and finishing cars, trucks, boats, motorcycles and more

RANDOM ORBIT ACTION — 4400 orbits per minute leaves a swirl-free finish and shine

TWO-HANDLE GRIP — Reduce fatigue and work longer with comfortable double-handle grips
Prices pulled from Amazon Product Advertising API on:
Product prices and availability are accurate as of the date/time indicated and are subject to change. Any price and availability information displayed on [relevant Amazon Site(s), as applicable] at the time of purchase will apply to the purchase of this product.
Along with the Ryobi, Black and Decker is another name that everyone knows and usually has at least one or two of their products around the house.
This orbit buffer is a little less fast than the Ryobi, hitting about 4,400 obits per minute.
It has a slightly longer power cord at 10 feet. It also has a two-handle design that many people find comfortable.
This set up comes with a foam applicator and two polishing covers, which is enough to buff and wax your car. Black and Decker offers a two-year warranty, which is shorter than the Ryobi but still decent.
Pros
It works great with some users saying it works as well as higher-priced models
It comes complete with everything you need
It apears to be a popular item to use as a massage tool
Cons
The pads are only good for one use. Buy aftermarket pad sets, such as these for best results
Removing and replacing pads can be difficult
It lacks a speed control option
A few users have mentioned that the two-handle set up worked great for them. But a few others say that this allowed them to press too hard. Be careful how much pressure you use if you choose this buffer.
You can't go wrong with anything made by Black and Decker. But I feel that the Ryobi has some better options, a better warranty, and is easier to use.
WEN 6-Inch Orbital Waxer Polisher
High performance 120 V, 0.5 amp permanent magnet motor

4000 rpm

Ergonomically contoured palm and body-grip design for comfortable 1 or 2 hand use

Lockable ON/OFF Switch

Includes a 6-inch applicator bonnet and a 6-inch terry cloth bon
Prices pulled from Amazon Product Advertising API on:
Product prices and availability are accurate as of the date/time indicated and are subject to change. Any price and availability information displayed on [relevant Amazon Site(s), as applicable] at the time of purchase will apply to the purchase of this product.
OK, maybe you are down to your last few bucks and want a buffer. Or maybe you're just a lover of cheap stuff.
The Wen 6-inch buffer should do the job.
This unit doesn't list how many orbits per minute, but it does say that it operates at 400RPM. I like that it has a lockable on and off switch so you can't accidentally turn it on (or off). This set up comes with one applicator and one terry cloth cover. You will need to purchase more covers right off the bat. But covers, such as these, are inexpensive.
This Wen buffer has only a basic 1-year warranty.
But for the price, how can you go wrong? I like that this has a simple design that allows you to comfortably place both hands on the unit if you like working that way.
No handles like the Black and Decker, but you can still use two hands.
Pros
It has a super attractive price
It's very easy to use
It's great for lots of other jobs, including polishing furniture or boots
Cons
It probably won't last long
The warranty is very basic at 1 year
Some users claim that it is extremely underpowered
When it comes to tools, you get what you pay for.
If you don't want to invest the cash or don't have the cash for a better unit, the Wen buffer should get you through at least one years' worth of buffing jobs!
What is the Difference Between a Buffer and a Polisher?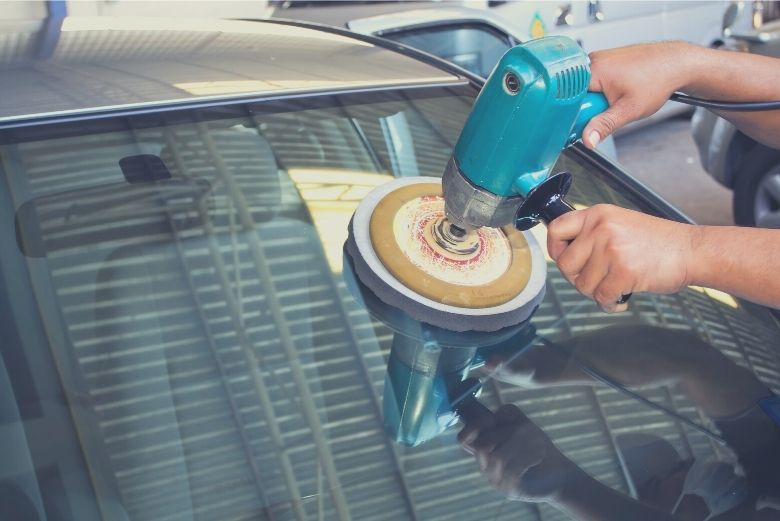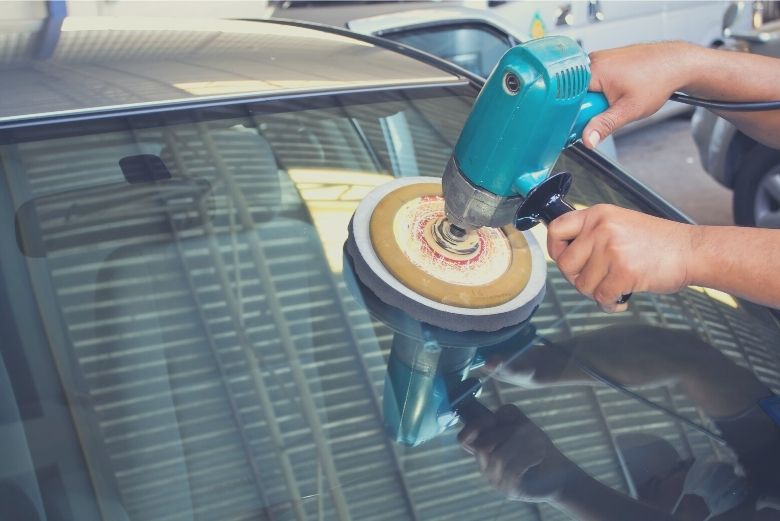 The only difference between a buffer and a polisher is the name.
Buffing and polishing are pretty much the same things. It just depends on which word the manufacturer thinks will sell best.
These machines are designed to make buffing or polishing your car easier than doing it by hand. With a buffer, you can remove or at least reduce the appearance of light scratches and swirl marks.
Rather than focus on the words buffing or polishing, you should look at whether the buffer you are thinking of purchasing is a rotary or an orbital one.
A rotary buffer is super powerful and it might not be for everyone. This product can remove heavy swirl marks and deep scratches.
This is achieved because the pad rotates making different sized circles within the diameter of the pad.
If you don't have experience with a rotary buffer, you might cause more damage than before!
An orbital buffer is a true home friendly (and user friendly) machine. Chances are that even if you've never held a buffing tool before, you won't have any problem using one of these.
Orbital buffers are designed to fix light to medium issues. They use soft, one-way circles that are safe for nearly everyone to use without fear of causing more paint damage.
Can Scratches be Buffed Out of a Car?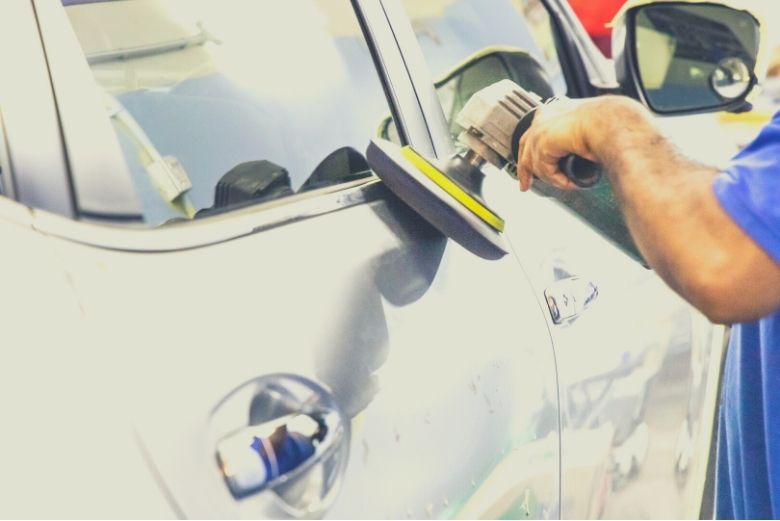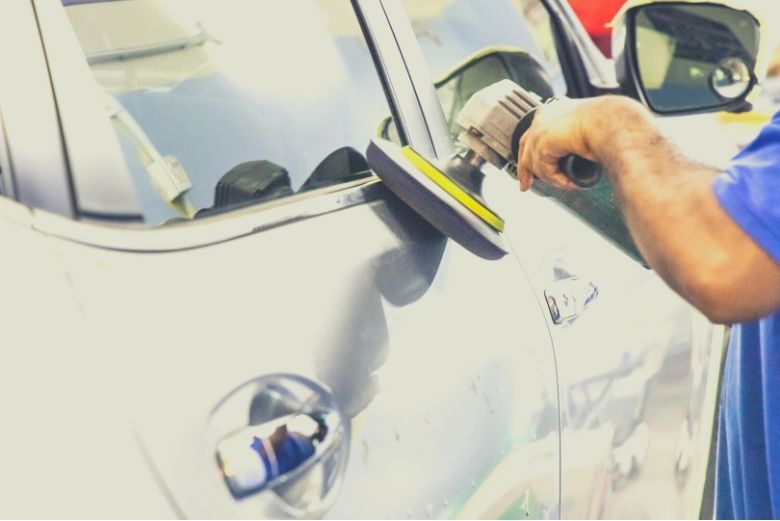 Yes, scratches can be buffed out of a car.
Your car paint has 4 different layers.
The metal base
The primer coat
The paint
The clear coat
You might have an older or classic car model without a clear coat, but most of all cars have a clear coat to protect the paint.
When a scratch happens, in most cases, it is only the clear coat that has been damaged.
If your ride has a really deep scratch, such as down to the metal, you should consider taking it to a body shop to be professionally prepped and repainted.
For most minor scratches, buffing the area using a buffing hand power tool is the best way to remove minor scratches and swirl marks.
Buffing removes a very thin layer of the clear coat, which removes the scratch.
Well, scratches are not actually removed. But they are hidden when you smooth out the paint surface.
If you aren't sure how deep the scratch is, you can always try to buff it out. If you can still see the scratch, it's time for professional help from a paint and body shop.
How Do You Buff a Car With a Buffer?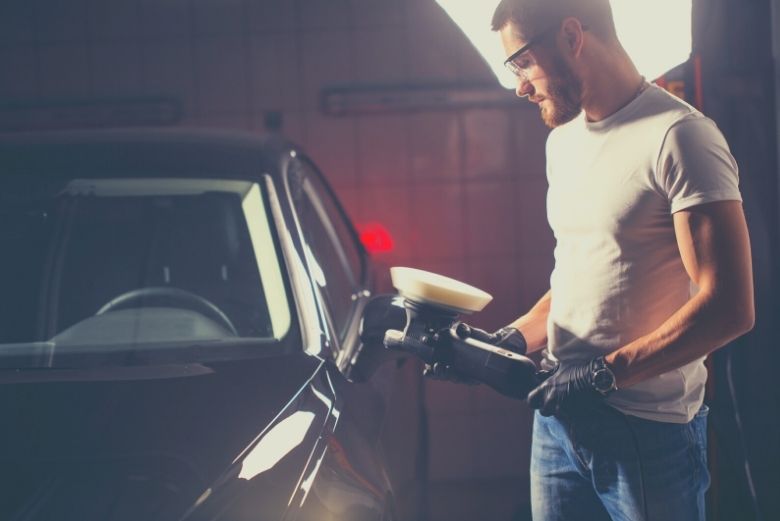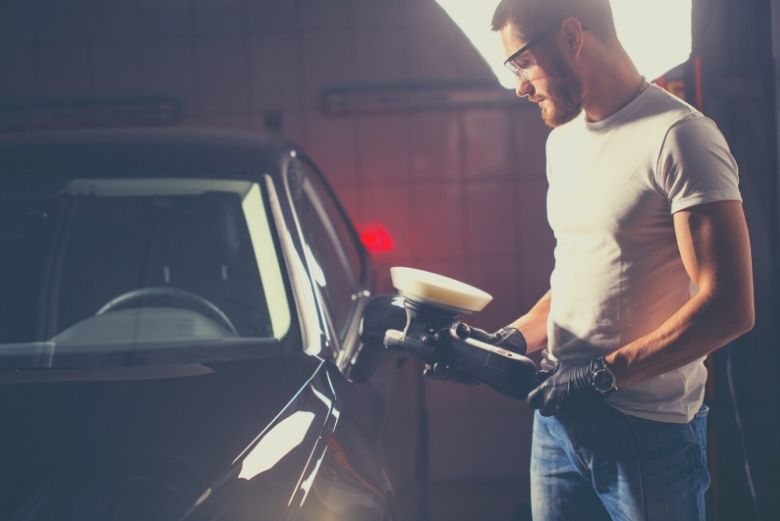 If you've already purchased one of the above buffing machines, you will need to pick up a few other items before you get started.
You should have:
Once you have these in hand, you are ready to get to work.
Step 1 – Wash the car using the two-bucket method and then dry it.
Step 2 – Put a generous amount of your chosen buffing compound on the buffing pad. Start buffing on a panel and monitor how much compound is still on the pad. Don't let the pad become dry!
Press the pad against the surface and hold it firmly, but not so firmly that the pad stops moving.
Move the buffer in a circular pattern. Don't let the buffer sit on any one area as you could buff yourself right down to the metal! You might want to go over deep scratches more than once, but don't just let the buffer idle in any one spot.
Step 3 – Put a clean pad on your buffer and add a generous amount of wax to the pad. You can use the buffer to apply a nice coat of wax with less elbow grease, but if you prefer, you can do this by hand.
Add wax to about ¼ of the car's surface, then remove it before starting on a new section.
Yes, this might be a bit time consuming. But since it usually only needs to be done once or twice a year, it shouldn't be a huge inconvenience.
How Often Should you Buff Your Car?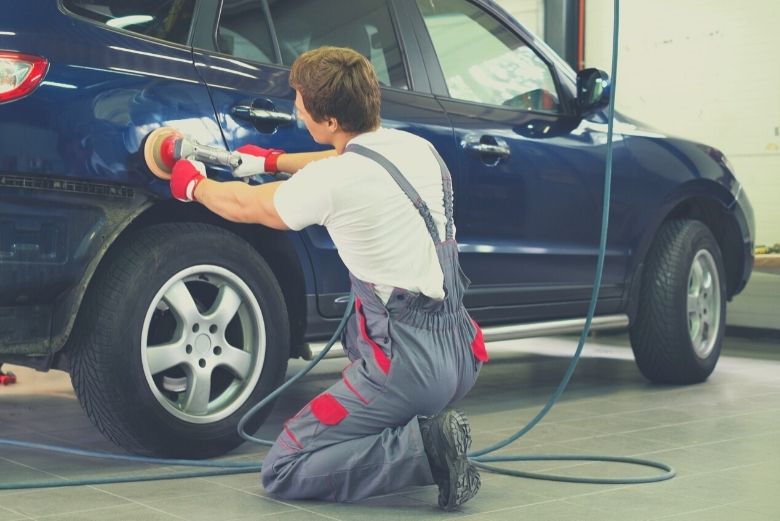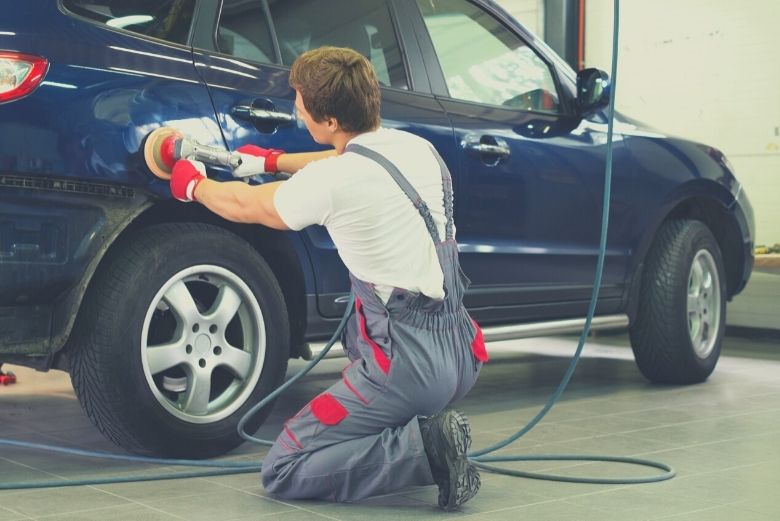 This would depend on where you live, where the car spends a lot of time parked, and how much you love buffing your car.
Most people find that once a year is enough to keep their ride looking sharp.
If your car spends a lot of time parked underneath trees, if birds tend to find your car no matter where you park it, or if you live near the ocean, you will find that two or three times a year is what you need to remove those imperfections and keep the paint looking great.
If you're not a fan of buffing and you aren't a perfectionist, you can buff your ride every other year.
This is a personal preference. In my experience, once a year is enough to keep the average car driver happy with the way their car looks.
Wrapping It Up
There are plenty of cheap buffers out there. If you want a name that you can count on, I recommend the Ryobi 6-Inch Swirl Free Buffer.
At this price, if you get 5 years out of a buffer, you got a great deal. Ryobi gives this a three year warranty, so you know you will get at least that from this tool.
I like that, in addition to the warranty, the Ryobi name stands for quality tools. I've used this buffer a few times and it's been perfect for me. While a few people say its underpowered, that hasn't been my experience.
Ryobi 6-Inch Swirl Free Buffer fits nicely in your hands and isn't so heavy that it is awkward to use. It's hard to find something not to like about this buffer! This is a good quality tool for a terrific price.
Want a sweet little buffer but don't want to pay a small fortune for something you will use once or twice a year? That sweet little buffer is called Ryobi.
Try it on for size, I bet you find it fits in your hand (and your wallet) perfectly.