America has a real love affair with shiny, gleaming chrome.
You can find it on just about everything. Bicycles, faucets, towel racks, outdoor furniture, and, of course, your car.
Nothing is quite as striking as clean, glistening chrome on your car. Whether it's the wheels, side trim, or mirrors, everyone loves chrome that has a mirror finish.
The problem with chrome is that it is a very soft metal. This means that it can easily be scratched. That allows water and oxygen to reach the metal underneath and allow rust to form.
This is especially true if you want to keep chrome rims shiny. Brake dust and the carbon fibers from brake pads are very corrosive to chrome. By protecting the chrome with a quality rust remover and polisher, you can keep your wheels looking like new.
If you are looking to keep the chrome on your window trim spotless or if you need to remove a little rust from those mirrors, a good quality chrome polish can turn dull and lifeless chrome into gleaming, shiny chrome in minutes.
You might be wondering which chrome cleaner or polish works best. I've used quite a few in my day and I'm here to tell you all about which chrome polish is worth the money.
Chemical Guys Heavy Metal Polish Restorer and Protectant
Heavy Metal Polish cleans and restores all metal surfaces

Great for chrome bumpers, stainless steel exhaust tips and aluminum trim

Removes light rust stains and oxidation from metal surfaces including billet wheels

Cleans and brightens diamond plate metal work
Prices pulled from Amazon Product Advertising API on:
Product prices and availability are accurate as of the date/time indicated and are subject to change. Any price and availability information displayed on [relevant Amazon Site(s), as applicable] at the time of purchase will apply to the purchase of this product.
If you haven't heard about or tried products from the Chemical Guys, you might be living under a rock!
This brand is well known for making quality cleaning products. They really do the job well and this chrome metal cleaner is no exception.
The Chemical Guys Metal polish will remove minor rust spots.
It works well on just about everything from bumpers to exhaust pipes.
It leaves behind a nice, bright, finish.
You can also use this polish on more than just chrome. That is a big plus. Try it on gold, copper, stainless steel, even aluminum. This will cut through the oxidation that dulls the finish and leave your chrome or other metal clean and brilliant.
Pros
The heavy duty cleaning action means very little buffing required. That means less elbow grease than others!
It leaves behind a mirror like finish
It dissolves corrosion on contact
It's also made in the USA which supports local business
I honestly can't find any other drawbacks to this product!
This won't work miracles folks.
If your chrome is heavily pitted, rusted, or has other damage, you will need to remove the corrosion and repaint it.
For oxidation and light rust spots, Chemical Guys have it all in this product! It's so easy to use, you could get your kids to clean your chrome for you!
P21S Polishing Soap
Package Dimensions: 4.25 L x 3.38 H x 4.25 W (inches)

Package Weight : 0.81 pounds

Country of Origin : Germany
Prices pulled from Amazon Product Advertising API on:
Product prices and availability are accurate as of the date/time indicated and are subject to change. Any price and availability information displayed on [relevant Amazon Site(s), as applicable] at the time of purchase will apply to the purchase of this product.
Who doesn't love big, shiny, chrome, dual exhaust pipes gleaming in the sun? Nobody likes to see them all dirty and oxidized.
Don't let the name put you off. This polishing soap works just as well as any chrome "polish".
When it comes to exhaust pipes, you know that they seem to pick up everything in the road. It could be tar and oil which act like a dust and a dirt magnet. Not to mention the exhaust residue that tends to cling right on the edges of the pipe.
I love that P21S is water based.
I don't have to worry about any residue washing into my backyard pond. This soap doesn't leave much residue to begin with. If you are concerned about the environment, knowing that this is water-based is a little peace of mind.
This polishing soap is the perfect answer for those chrome exhaust pipes. I love the lid that keeps the sponge applicator away from the product. P21S really cleans like the dickens removing road tar and oily dirt that plain soap and water simply will not remove. The sponge applicator will not scratch and the shine it leaves behind is terrific.
Pros
It removes oil, dirt, grime from exhaust pipes far better than plain soap and water
It removes oxidation with a bit of elbow grease
It leaves very little residue behind
Cons
It may not be powerful enough to remove rust or pitting
It also may not meet everyone's expectations for "clean shine"
I have found this product to be super helpful when it comes to keeping chrome exhaust pipes clean and shiny. But those who had neglected their chrome tips too long found that they needed something stronger.
If you want to maintain those bright chrome exhaust tips, this is the perfect product.
But if you've neglected them and you need to remove some light rust or pitting, you should go with the Chemical Guys Heavy Metal Polish listed in the Best Overall category.
Mothers California Gold All Chrome Polish
Quick and easy way to clean, polish, and protect any hard or decorative chrome finish, including chrome plating, PVD chrome, and even todays chromed plastics

This unique spray polish takes the grunt work out of keeping your wheels, trim and accessories their shiniest, anytime, anywhere

Just spray, wipe and buff to a brilliant shine
Prices pulled from Amazon Product Advertising API on:
Product prices and availability are accurate as of the date/time indicated and are subject to change. Any price and availability information displayed on [relevant Amazon Site(s), as applicable] at the time of purchase will apply to the purchase of this product.
All you chrome wheel lovers: Do you want clean, shiny rims all the time? Then Mothers is the product for you!
Mothers is another well known name in the industry for making great quality cleaning and waxing products.
This one is no exception.
Mothers makes keeping those chrome rims super easy!
No rubbing, no buffing. Simply spray on the wheels, let it work, then hose it off!
How much easier can it get?!
Of course, you need to have wheels that are not rusted, pitted, or caked with years of grime and brake dust.
If that's the case, you can use the Chemical Guys Heavy Duty Chrome Cleaner. Get them squeaky clean once more, then use Mothers for maintenance.
Brake dust is terribly corrosive to your beautiful chrome rims. You should clean them often. Mothers allows you to do exactly that, simply by spraying the rims, then rinsing the product off.
Pros
The powerful chemicals lift and suspend brake dust and dirt so you can just wash it off
It's super easy to use
It doesn't leave streaks
Cons
This is strictly for chrome and will not work with other metals such as aluminum or steel
It may harm your paint or plastic parts if you overspray
It can't be used on motorcycles
Some users say that this even removed heavy oxidation with a bit of scrubbing. For those of you who want the best possible product, it appears that Mothers can do it all.
Remember to avoid getting this product on anything else or it may cause damage.
I love anything easy to use. For making chrome wheels shine like there's no tomorrow, you can't make it easier than spray it one and rinse it off!
What is The Best Way to Polish Chrome?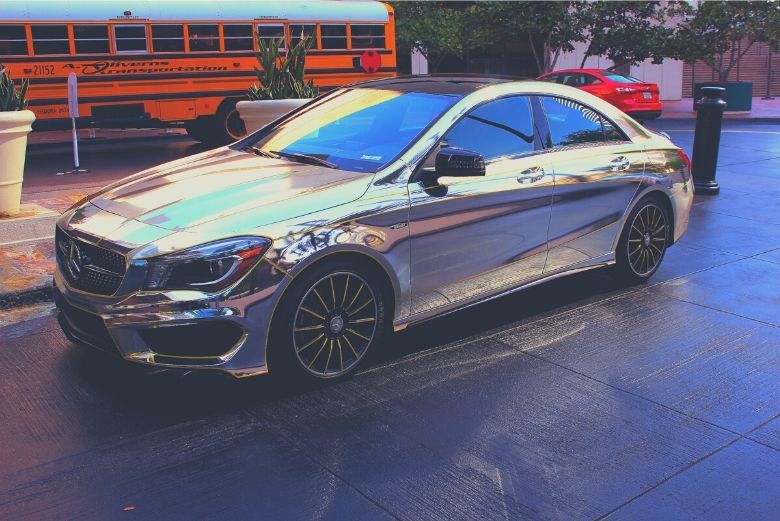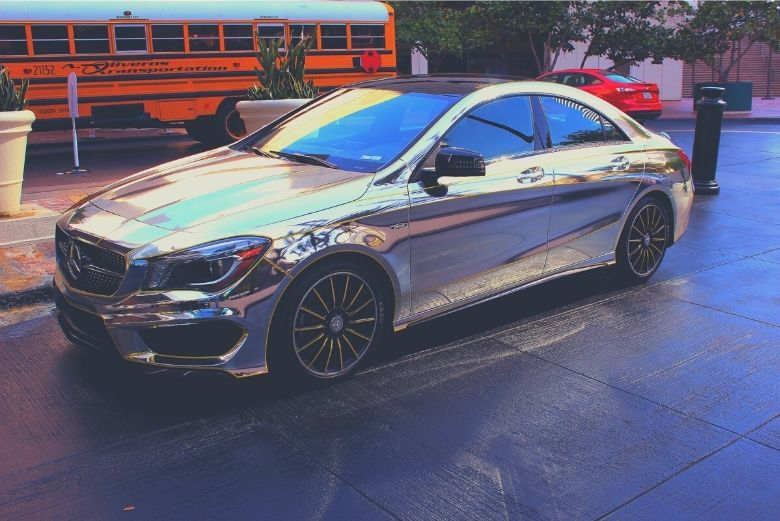 This is a great question.
It appears everyone has their own ideas about how to best polish chrome. Some of the answers will also depend on what chrome piece you are trying to polish. Chrome on a wheel rim requires a different treatment than chrome on an exhaust pipe or even chrome on a sink faucet.
The best way to polish chrome is to never let it become damaged (to the best of your ability anyway). The moment you notice that the chrome is not looking pristine, it's time to clean it.
Wash the chrome and dry it to prevent water spots. Use one of the quality chrome polishers listed above and you will always have chrome that is gleaming and bright.
I talk more in detail about how to remove rust and other issues below.
How Do I Make Chrome Shiny?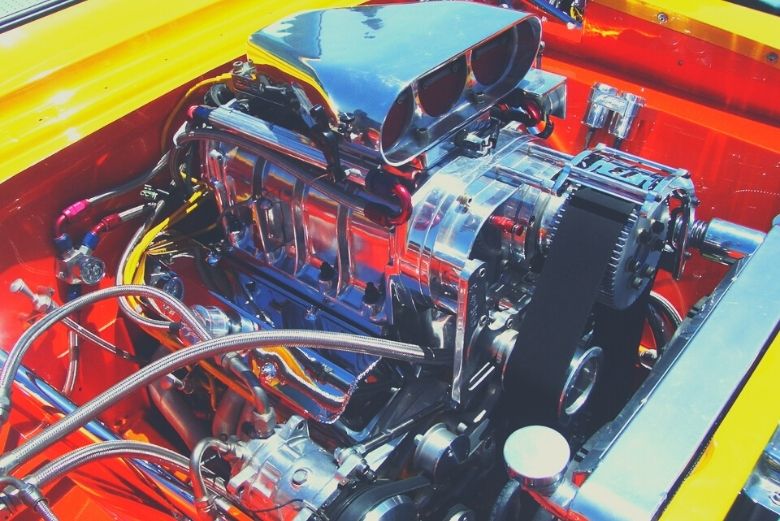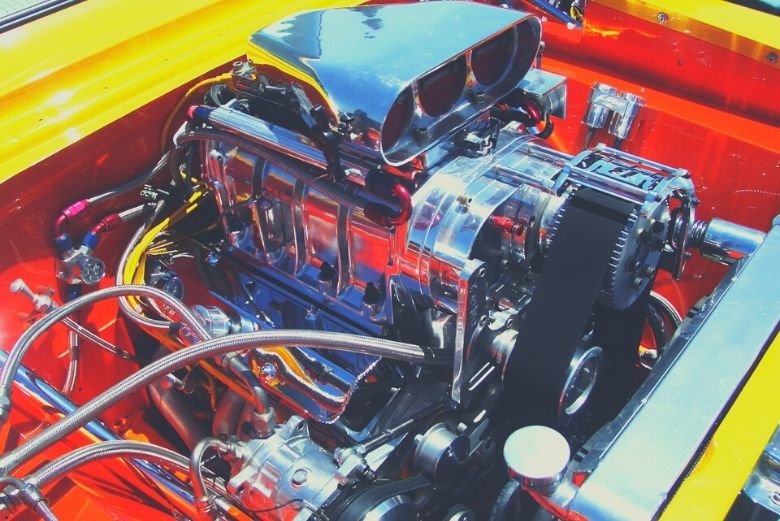 Making chrome shine like a diamond isn't as difficult as it seems. It's KEEPING chrome shiny!
That's the real challenge.
You should always wash chrome first using car wash soap (these are designed to remove grease and not harm the finish) and water.
Use a clean sponge to remove all dirt, oil, or other contaminants from the chrome piece.
Rinse well with plain water. Then dry.
This is where a quality chrome polish can help tremendously to remove any flecks of rust or corrosion that might be rearing its ugly head.
Chrome polish will remove these items while leaving behind a protective finish to prevent rust from forming again.
Not only that, but a good chrome polish will leave your chrome gleaming like new.
Does Vinegar Harm Chrome?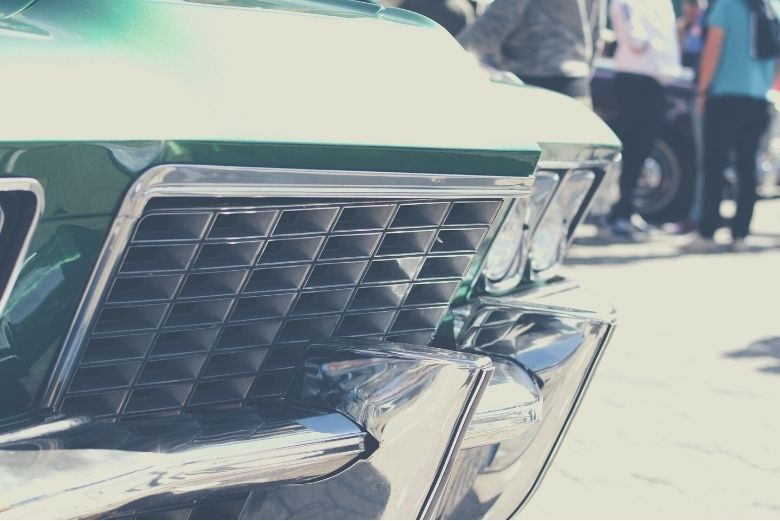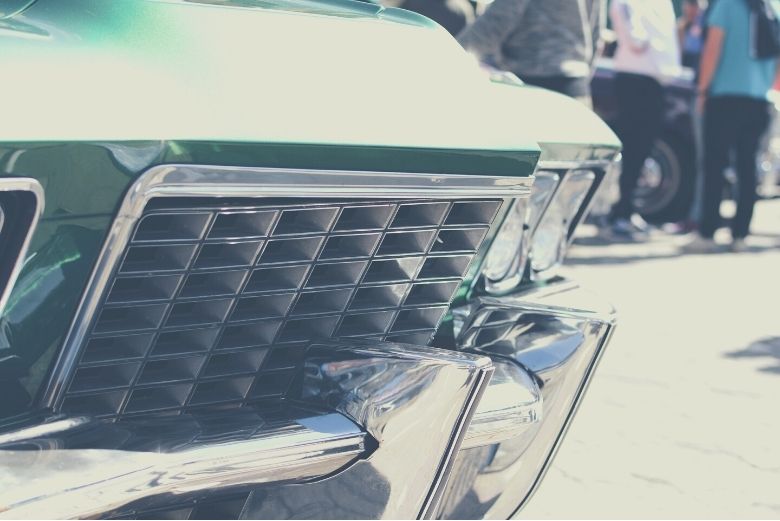 Yes, vinegar can, and will harm chrome.
While you might find quite a few recommendations for using vinegar on chrome to remove rust, the fact is that vinegar is an acid.
You can dilute it but it remains an acid. An acid will eat through chrome.
I've seen car enthusiasts leave a rag soaked in vinegar wrapped around a chrome part to "remove" the rust. Then the person discovered that the vinegar has eaten away at the chrome and exposed the metal.
You might hear some people say that vinegar is safe to use on chrome if you dilute it with plenty of water. Diluting it will certainly make it safer for sure, but it will also render it ineffective.
Using a quality chrome polish is a far better and safer way to remove rust from chrome parts. At the same time it will give it a protective shine that can't be beaten.
Does WD 40 Remove Rust From Chrome?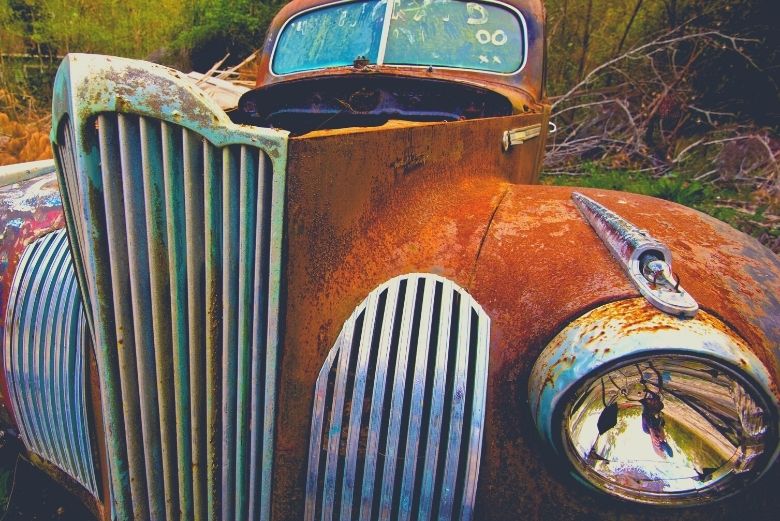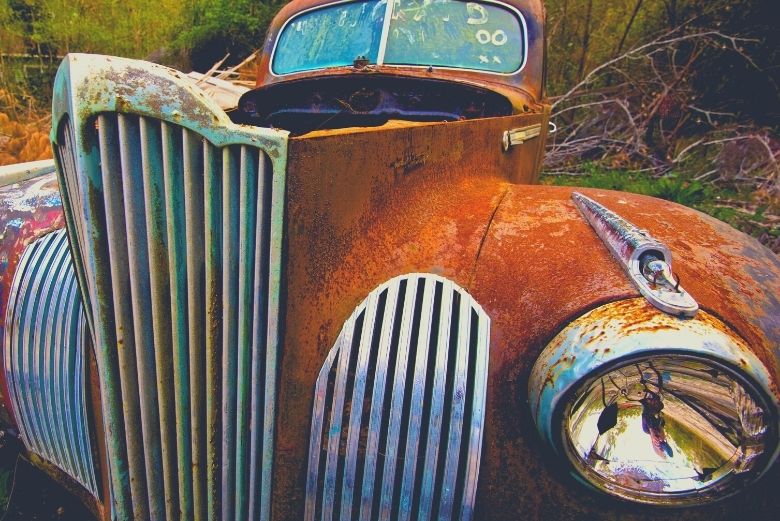 WD–40 Multipurpose spray can and will remove rust from chrome. But there is something you should know first.
Read the instructions on the label for removing rust from chrome.
They tell you to use a wire brush.
Yes, you read that right, a wire brush. Unless you are 100% precise to only scrub the rust, you are going to scratch up the chrome.
If you plan on repainting the part with chrome paint, then go ahead and wire brush that puppy.
But personally, I would NEVER use a wire brush on any chrome piece.
If you want to give WD-40 a try, I suggest applying it on a very small, inconspicuous area. If you aren't happy with the way things turned out, you won't feel bad about the unsightly appearance.
Conclusion
There are more chrome cleaners and polishers than you can shake a stick at. But the one that stood head and shoulders above the rest was the Chemical Guys Heavy Metal Polish Restorer and Protectant.
I love that this works really well when it comes to removing water spots on rims and exhaust pipes. This also works with stainless steel and I've used it on my kitchen knives to make the handles shine like new.
This product seems to melt minor corrosion away on contact. I hate all the rubbing and buffing to clean chrome. But the Chemical Guys required very little elbow grease.
That is a BIG plus in my book!
Let's not forget that the Chemical Guys products, including this fabulous chrome cleaner, are made in the USA.
There is another big plus in my book!
If you've tried other chrome polish cleaners and have been disappointed, you need to try the Chemical Guys Heavy Metal Polish Restorer and Protectant.
Use it and watch your chrome shine like a mirror once more!