Truck bedliners are quite popular because they are extremely useful. They protect the bed from corrosion, the pain dulling UV rays of the sun, snow, water, and other elements.
They also protect the bed from the damage that is caused through every day use. Think about cargo sliding around and all the dents and scratches! On top of all that, they look good!
The average bedliner can be fairly pricey though. Especially from the dealer or if you need to pay someone to mount it on the bed for you.
There are lots of DIY bedliner kits, both spray on and roll on. If you've been considering a bedliner but you've balked at the price, the DIY option is very attractive.
The best news of all is that DIY bedliners are easy for even a beginner to put on! The only problem you might have is choosing the best one.
I'm going to tell you about several types of bedliners and the pros and cons of each. That way you can make a more informed decision when you go to buy one for your ride.
Are you ready?
Have a seat, this won't take long. Afterward, you can buy and install your own DIY bedliner like a pro for way less than the average parts store will charge.
Best Overall
U-Pol Raptor Black Urethane Spray-On Truck Bed Liner
Easy to use: Add hardener - Shake - Spray

Custom Coat Bedliner Spray Gun

Abrasion and Stain Resistant

Protects against rust corrosion salt damp & extreme temperatures

Waterproof flexible helps deaden sound & vibrations
Prices pulled from Amazon Product Advertising API on:
Product prices and availability are accurate as of the date/time indicated and are subject to change. Any price and availability information displayed on [relevant Amazon Site(s), as applicable] at the time of purchase will apply to the purchase of this product.
U-Pol is one of the biggest names in DIY truck bed liner kits and for good reason. This kit comes with everything you need, including a regulator and a gauge!
This kit is very easy to use, which is one reason why it is so popular. First step is to prep the truck.
Then you add hardener to the paint, shake, add the spray gun to the top and you are ready to go!
This is a protective urethane coating that can also be used on other products, such as fiberglass or aluminum, but is designed for a truck bed.
Although this comes with a spray top, you can roll this on if you prefer. This kit is black, but if you want to order colored tints, you can do that as well.
I like this kit because it has everything you need and you can reuse the gun. This was so easy to use, and it looks great. It's also self-correcting so if you spray it on and there's a mistake, you can spray over that area and you won't be able to tell the difference.
What I Like
Everything you need is in the kit, so you won't be making trips to the automotive store
The 4-liter kit can do 3 coats on the average 6.65-foot truck bed
It's super economical compared to a drop in bedliner
What I don't like
A few users complained that the kit was missing pieces
Some users stated that the product only lasted a few months
Other users felt that the instructions were no at all clear
The overwhelming majority of people will find the U-Pol Raptor Black Spray-on Bedliner Kit to be everything you want and more.
It's easy to use and has a fantastic finish.
Runner Up
Herculiner Brush-on Bed Liner Kit
Includes 1 gallon of protective coating, application brush, 2 rollers for easy & even application

Tough, textured polyurethane protective coating

5 times thicker than other roll-ons

Skid resistant surface which wont chip, flake, or peel

Prevents rust - bonds and seals all surfaces
Prices pulled from Amazon Product Advertising API on:
Product prices and availability are accurate as of the date/time indicated and are subject to change. Any price and availability information displayed on [relevant Amazon Site(s), as applicable] at the time of purchase will apply to the purchase of this product.
If you're like a lot of people, you might have worries about overspray when using a bedliner kit. If that's the case, the Herculiner is the perfect answer since you roll and brush it on.
No spray gun required.
The manufacturer states that this kit is 5 times thicker than other spray or roll-on kits because it uses a textured polyurethane and rubber compound. They also say that this is gas, oil, and solvent resistant, which is good to know.
If you like a bedliner that has a bit of a shine to it, you will like the Herculiner brush-on kit. This kit has two rollers and one paint brush so you can get your buddies to help you out with the job!
The can holds 1 gallon of product, which is more than enough to put several coats on the truck bed.
I like that you can use the leftovers for other projects, such as tool handles. This sticks to PVC, most types of plastic, metal, fiberglass, metal, and wood!
Textured stair steps anyone?
What I like
If your truck bed has an old DIY bedliner coating, you can roll this right over it
It dries quickly, depending on the weather, usually in about 4 hours
It's very reasonably priced
What I Don't Like
Some users say that the supplied rollers are not high quality and that you should purchase better quality brushes and rollers
A few users complained that the product took 6 hours or more to dry
The product is very thick and needs to be stirred frequently
After all is said and done, Herculiner is a top-notch product that will get you beautiful results with no worries about overspray.
Best DIY Roll on Bedliner
Rust-Oleum Automotive Truck Bed Coating
Prevents damage caused by scratches, rust and weather with a durable, protective coating

Contours of the truck bed and protects with ultimate rust and abrasion resistance

Dries to touch in 1-2 hours

Apply by spray, brush or roller to re-coat or restore any metal truck bed
Prices pulled from Amazon Product Advertising API on:
Product prices and availability are accurate as of the date/time indicated and are subject to change. Any price and availability information displayed on [relevant Amazon Site(s), as applicable] at the time of purchase will apply to the purchase of this product.
Here's a brand name everyone knows and loves, Rust-Oleum. What makes Rust-Oleum different from other DIY bedliners?
This one is water-based!
You can use the Rust-Oleum anyway you choose, either with a roll-on, brush, or a spray gun. The manufacturer says that this will dry in about 2 hours. While the manufacturer says that this product is designed for metal, many users claim that it also works well on wood!
Rust-Oleum bed coating may be water-based, but once dry it is completely waterproof. While Rust-Oleum is well-known for manufacturing paint that can be applied over rust, that is not the case with this product.
You still must remove any rust before applying.
What I Like
It leaves a super tough coating on all metal surfaces
Clean up is easy with water
It can be applied with a roller, brush, or spray
What I Don't Like
Some users state that they didn't like the "rubberized" look
You may need more of this product for full coverage vs others
A few users complained that the product was thin and runs were a problem
If you like using a brand-name product and you like the idea of using fewer solvents, then you are going to love Rust-Oleum Truck Bed Coating.
Can I do my own spray-on bedliner?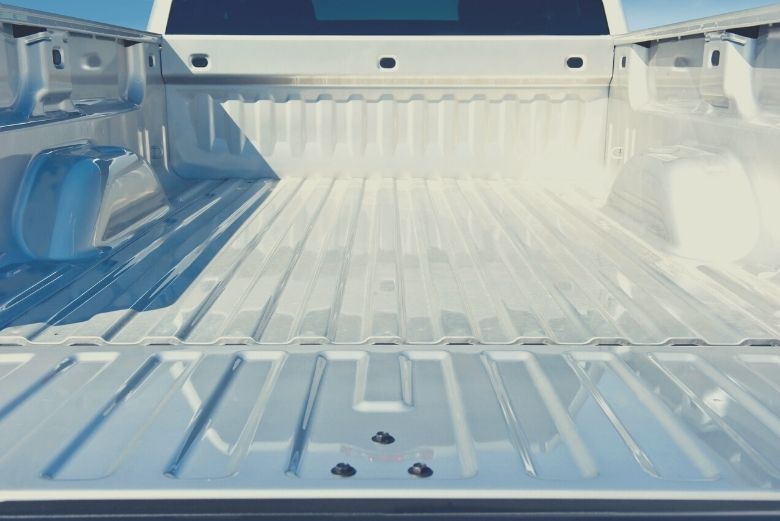 Yes, you can do your own spray-on bedliner with the right product.
If you have ever used a spray gun to paint a house or fence, then you can use a spray-on (or spray-in) bedliner.
These kits come with everything you need including the spray gun.
That way you don't have to worry about something coming out wrong. On the plus side, you can reuse that spray gun for something else later on.
It may not be a top-of-the-line paint gun, but I guarantee that you will use it a few more times for something else before it bites the bullet.
There are other brands of spray-on bedliners that literally use a can of what looks like spray paint. You would be wise to buy one of the Comfort Grip Triggers so you don't get cramps in your fingers from holding down that spray button.
Wash the bed really well and be sure that there is no grease, oily residue, or anything else that would muck up the job by getting underneath. If the bed has rust, you need to remove it.
Don't spray over rust!
Use a bit of sandpaper to rough up the surface of the truck bed (and the rails if you intend to spray those too) so the spray sticks to the surface.
Rinse it down again, the apply plastic sheeting to the rest of the truck to prevent overspray.
Follow the direction on the can exactly and you are good to go.
Are spray-in bed liners worth it?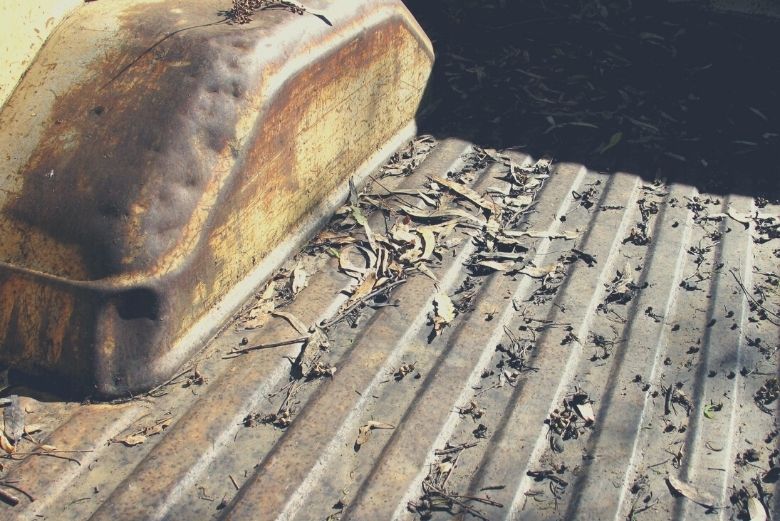 Yes, spray-in bed liners are definitely worth it!
The trick about spray-on bedliners is to find one that is an aliphatic coating. Aliphatic coatings maintain their color better than those that are aromatic coatings.
Yes, an aliphatic coating costs more. Unless you plan on selling your ride within a year or two, it is well worth the cost.
Does spray in bedliner stop rust?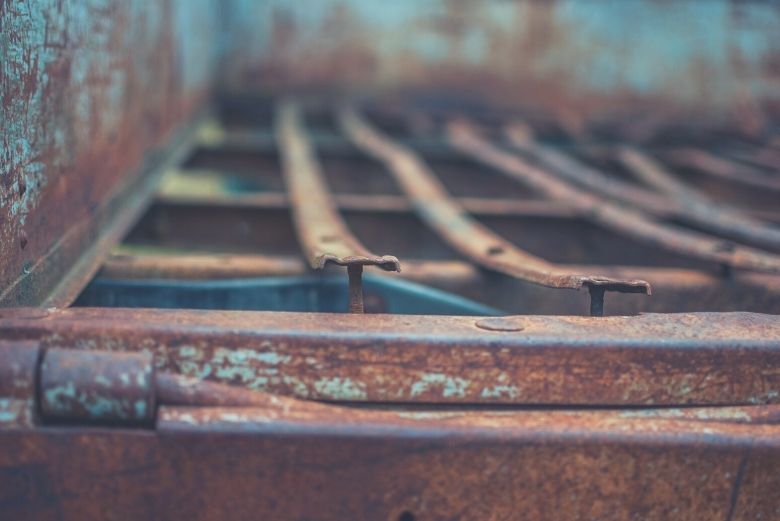 Unfortunately, a spray in bedliner won't stop rust if it's already started forming.
If the bed does not currently have rust, then yes, it will slow down any rust from forming.
Think of a spray-on bedliner as super thick paint. Painting any surface prevents rust from forming, but it will not stop rust from growing once it is already present.
You can protect the bed of your truck by using a spray-in bedliner and touching up areas that become scratched.
But if the bed already has rust, it will simply come through the bedliner within a few months.
Remove all rust before you use a spray-on bedliner. It's worth the time and effort!
How long does a spray-in bedliner take?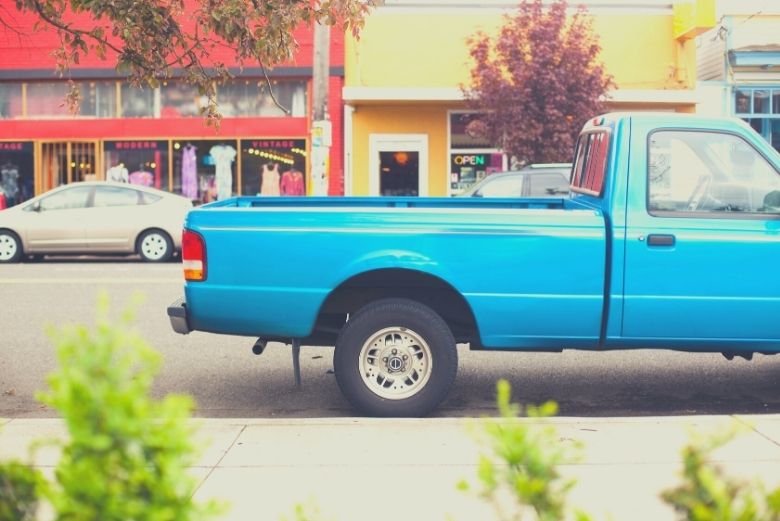 Once the bed of the truck is prepped and dry, the bedliner dries within seconds. If you want to use a double coat, give it an hour or so to dry.
Then apply your second coat and let it dry for 3-4 hours.
A DIY spray in bedliner should take you no more than a weekend. The prep work is far more time-consuming than the actual painting of the bedliner.
Do a really good job prepping the bed and you won't need to respray for many years.
My Winner
There are dozens of sprays on or roll-on bedliner kits. It's easy to become confused about which one is best, or which one does what you really want and will last like crazy.
That's why I recommend the U-Pol Raptor Black Spray-On Truck Bed Liner Kit. This kit comes with everything you need except for plastic to cover the parts of your truck that you don't want to be sprayed.
This contains 4 quarts, which should allow you to do several coats. I love the spray gun since it was easy to use. It might not be the world's best spray gun, but it worked fine for me.
I also like that you can color this bedliner if you want to. Most people opt for black. But for those who want a nearly invisible bedliner, you can choose to tint this material.
You will love the texture that U-Pol leaves on the bed of the truck. It looks like a much more expensive coating. Remember that the prep work is worth the time and effort if you want an outstanding bedliner.
U-Pol Raptor Bed Liner Kit has everything you need for a professional-looking bedliner without the expense of the drop-ins.