If you've been wondering whether you should invest in a nice little foam gun car wash device, let me be the first to tell you:
This is a very worthwhile investment!
You don't just want a foam gun; you NEED a foam gun!
I'm telling you, once you use a foam gun to wash your car, truck, or SUV, you will wonder why the heck you waited so long to buy one!
Foam guns make the dull chore of washing your car almost seem like fun!
Setting up the gun for the first time takes a bit of reading and you might need adjust the amount of soap you use.
But once you have your device set up and you no longer have to think about how much soap to add, you will look forward to washing your car.
Now that you are ready to buy a foam gun car wash device, you want to buy the best one, right?
I've got you covered. Everything you want to know about the best foam gun car wash is right here, just keep reading.
Best Overall
By now you know that the Chemical Guys make some outstanding products that you can rely on for quality.
The Torq Foam Blaster is no exception.
This foam gun has 6 adjustable soap settings depending on whether your car is super dirty or not very dirty.
This can help save money since you will use less solution. A simple turn of the dial lets you pick the correct choice. No complicated screws and pins to move.
This is so easy to use, your kids can do it.
The Chemical Guys guarantee that you will love their products, including the foam gun, or they will replace it.
This doesn't need a quick connect attachment either. It will screw directly onto your garden hose. Add the wash solution to the bottle, screw on your garden hose, and you are ready for a super easy, not to mention fun, car wash.
One thing I do like about this foam gun is that you can use it on other things as well.
I've used it to soap up my patio tile, then used the power washer to get a really deep, deep clean. I once used it to clean the siding on the garage. Anything that does double duty and is simple to use gets high marks in my book.
Pros
The dial is very easy to use and can save money on soap
CG has a 100% satisfaction guarantee or they replace the item for free
It's very solidly made and feels quite durable while using
Cons
There are multiple complaints that the bottle leaks after a few uses
This one does not produce as much foam as a cannon
If you follow the instructions, you should be more than pleased with this foam gun.
I know in the excitement of using a new toy we don't always read the instructions. But a quick 5-minute read will make all the difference.
The company recommends adding warm water to the soap solution to make more foam, for example. Many people will simply hook it directly up to the hose.
If you are looking to replace an old foam gun or you want the best foam gun on the market, the Chemical Guys Torq is the one you will be happy with for many years.
Best Budget
Adam's is another company that is well known for making good quality products that work. No frills is what my father would have called it.
Like the Chemical Guys, this gun will hook directly to the garden hose.
Adam's requires no special attachments.
However, unlike the Chemical Guys, this gun does not have an easy to turn knob to control the amount of soap.
But it does have three different metering tips that you attach to the inside of the soap foam holder. You can use this with no metering tip, but you will use considerably more soap.
You can also use this foam gun to rinse down your vehicle afterward. Simply disconnect the soap bottle.
Pros
It's very easy to connect to the hose
This is a basic gun with no fancy attachments
It's very economically priced
Cons
The metering nozzles are a pain to change
There are no measuring marks on the bottle so you need to guess how much 2 ounces of soap is
There are multiple complaints about leaks from various areas
If you aren't sure that a foam gun is right for you, this is a good choice to experience foam guns and what they can do and what they won't do.
For those of you who want to shower your ride with soap foam, but you don't want to pay a premium price, Adam's Standard Foam Gun is the perfect choice.
Best Foam Gun Soap
The best foam gun on the market deserves premium soap that is designed for maximum suds.
The Chemical Guys win again with this oh so sweet smelling honeydew foaming soap. Designed to work with the Chemical Guys gun, this will work in any standard foam gun.
It's safe for every part of your car, including glass and plastic.
I have even used this to wash my carpeted floor mats.
I love that besides smelling heavenly, it's super economical. You need just one cap of soap for 5 gallons of water. I can easily get away with one cap in my foam gun to wash my car.
No, the smell doesn't stay with the car unless you use it to wash the floor mats. It sure makes washing your car a whole lot nicer.
Pros
It's made with a pH neutral formula that lifts and encapsulates dirt and grime
It's super economical to use
It's safe even for gel finishes
It makes super thick sudsy foam
Cons
Extremely dirty cars might need a second wash, or a mitt used afterward
It's difficult to find anything NOT to like about this foam wash. Even if you don't own a foam gun, use it with the two-bucket method. You will still be thrilled with the results.
When you want the best, only the Chemical Guys Honeydew Snow Foam Wash will do.
Is foam car wash better?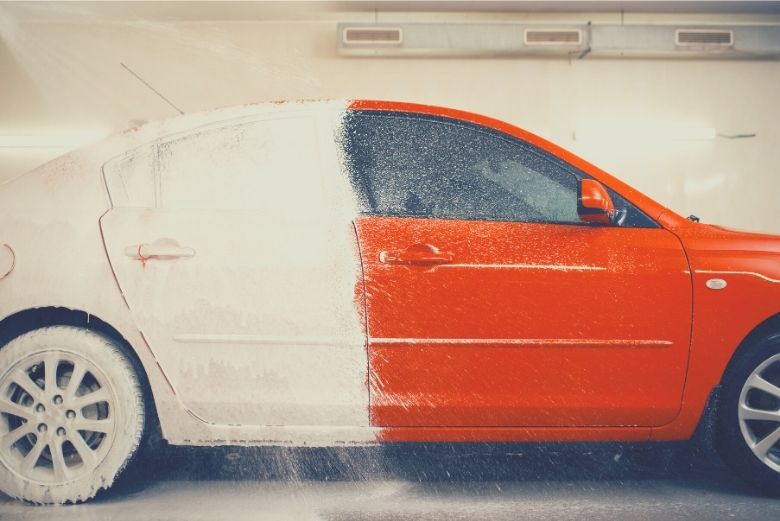 Yes, a foam car wash is better.
When it comes to washing your car, there are many variables. How dirty the car is, when was it last waxed, are you facing water restrictions, and, of course, personal preferences.
While my father, who was fairly particular about his cars, used plain old dish soap for washing.
I would never recommend anyone follow his lead.
There's a reason why you see most modern day automatic car washes use a foaming product.
They work!
Most foams contain a chemical that lifts and encapsulates dirt and grime. That helps to prevent you from picking it up with your wash rag or the car wash strips from holding on to this dirt and spreading it around.
The best way to use a car wash foam is with a gun that you attach to your garden hose. You can pre-rinse the car if you wish. But with a car wash foam, this isn't necessary.
Cover the entire car with foam and allow it to work for one minute, then rinse off.
You can use a wash mitt. But if you wash your vehicle often enough, you won't even have to do that.
Your vehicle might have some areas that have heavy duty grime, squished bugs, or bird droppings. You may need to cover these again and apply a bit of elbow grease to remove them completely.
But for the most part, a good quality foam car wash, such as the Chemical Guys Honeydew Foam Wash mentioned above, should remove the overwhelming majority of dirt and grime.
Can you use regular car wash soap in a foam gun?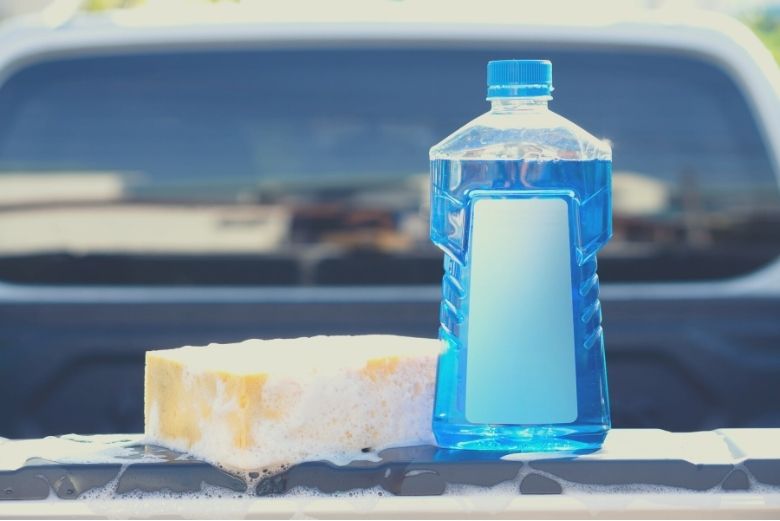 Any type of soap will work in a foam gun.
But be careful, some foam a lot more than others!
If you have ever accidentally put dish soap in an automatic dishwasher, you will understand what I mean!
Technically, any soap will work.
Car wash soaps are designed to be used in a foam gun. They work better than plain old soap since they are designed to lift and hold onto the grime, dust, and dirt.
That way you can just rinse it off. Regular soap will help loosen dirt, but it doesn't hold it in suspension. This means that you might scratch your car without meaning to, simply by washing it.
For best results with your car wash foam gun, use a soap that is designed for foam guns, such as the Chemical Guys Honeydew Foam Wash.
What is the difference between a foam gun and a foam cannon?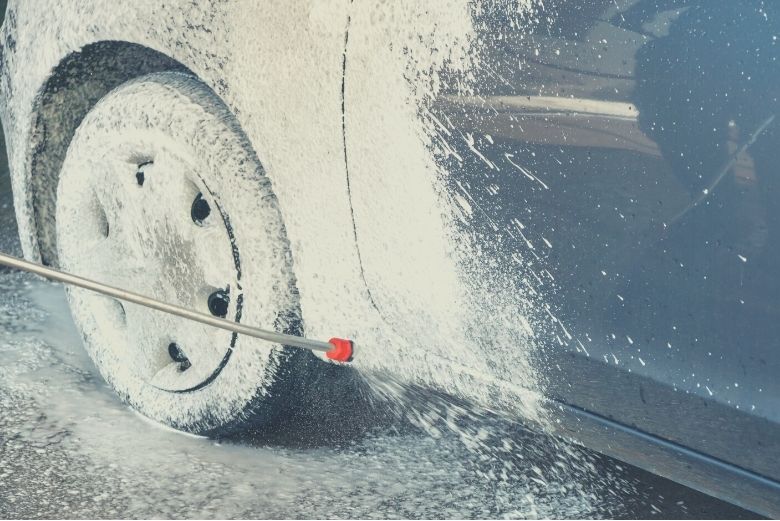 The main difference between these two items is how water gets connected to the device.
A foam gun is attached to your standard garden hose and uses household water pressure.
A foam cannon is attached to a high-pressure source of water, such as a pressure washer.
Is a foam cannon better than a foam gun?
Foam cannons will spray more foam than a foam gun. If you have a power washer, go for a foam cannon. If not, a foam gun will still get the job done.
If you have a large vehicle to wash, such as an RV, I can see where a foam cannon might spray higher to reach areas a foam gun cannot reach.
How much psi do you need for a foam cannon?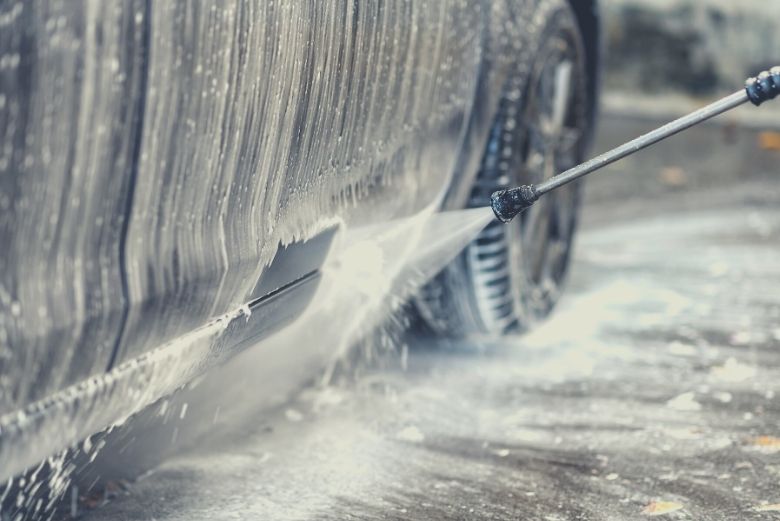 Depending on the model, most foam cannons require anywhere between 1,000 and 3,000 PSI. The average pressure washer generates between 1,400 and 2,500 PSI.
If you decide to purchase a foam cannon, be certain to read the water pressure requirements. See how much pressure your pressure sprayer puts out.
That way you won't end up needing to purchase a new, more powerful pressure washer in addition to the foam cannon.
Conclusion
There are more foam guns on the market today than you can shake a stick at.
Picking the right one to keep your car shiny and spotless can be difficult. But if you go with the Chemical Guys Torq, you cannot go wrong.
I love how easy this gun is to use! Some guns have complicated soap settings that require you to move a pin and "guesstimate" how much soap you will want to use.
The Chemical Guys must have realized what a pain that is so they invented a simple dial, like a volume knob, so you can easily change settings.
This can also be used to rinse the car when you are finished. While it does contain some plastic, many of the fittings are brass and aluminum, which means no rust.
You should be able to reach 95% of the painted surfaces on your vehicle and all the glass. This means you will have a cleaner car in the end!
Read the instructions and use the Chemical Guys Honeydew Foam Wash that I talked about above.
Car washing will no longer feel like a boring chore. You will actually look forward to washing your car!