When I was attending automotive trade school a grease gun was an absolute necessity. Every single car on the road had various Zerk fittings that needed regular lubrication.
While Zerk fittings are not as common as they used to be, older vehicles still have those fittings. Some bearings still require grease when they are serviced or replaced.
OK, I could brag here that I learned how to grease a bearing by hand. But dang, that took quite a bit of time! Using a grease gun is SO much easier!
In addition to your car or truck, grease guns come in handy for other applications and machinery that sometimes require lubrication.
It can be a bit tricky to find the right type of grease gun for your needs. The wide range of available options can be overwhelming especially to those who are new to this.
I've done some of the research here for you and I'm listing what I think are some of the best options for the home mechanic or DIYer.
Read over this list of the best grease guns on the market today and I'm sure you will find something that will work perfectly for you.
Best Overall Grease Gun
If you've checked out tools at all, then you probably know the DeWalt name. This is a quality name that you can trust when it comes to tools.
This is a powerful grease gun with a 10,000 PSI maximum output! I can't imagine ever needing that much power. But if you need it, it's good to know you have it on tap. The specs say that 10,000 PSI equals 5.0 full ounces per minute flow.
This uses the 20V DeWalt battery pack system. If you have other DeWalt 20V cordless tools you can use this battery pack. DeWalt says that this can supply enough power for 16 cartridges.
I like this grease gun not only because of the DeWalt name but the 42-inch extended flex hose makes adding grease in tight settings easier. This also has an LED light so you don't need to juggle a flashlight and the grease gun.
Not only that, but DeWalt stands behind their products. This one comes with a three-year warranty.
Most users loved this grease gun and found that it saved them lots of time and frustration. A few users mentioned that the instructions should mention that the gun needs to be primed before using it for the first time. If they haven't added that to the instructions yet, consider yourself told.
I should also mention that a few users who were accustomed to a manual grease gun, felt a bit intimidated by this tool at first. Once they got used to how it works, they said that they would never go back to their old manual grease gun.
It was difficult to find users who didn't like this grease gun. But I did find a few.
Their most common complaint was that they had difficulty understanding how to use it. One mentioned that if only half a tube of grease was used the unit wouldn't work until the cartridge was refilled.
I think that the DeWalt Cordless is the answer to all problems most people experience when trying to lube equipment.
Try it yourself and see.
Next Best Grease Gun
Lincoln Lubrication has been around since at least 1910. If I didn't own one of these, my father did. I have clear memories using this type of grease gun for the first time.
This is a pistol type, manual grease gun that isn't fancy but gets the job done. If you only have one or two items that you grease once a year, this will work perfectly fine.
It might be manual, but this will still pump 7500 PSI, which is far more than you really need. This unit comes with both an 18-inch flexible line and a 6-inch rigid tube. You will find that both are quite useful in most applications, so you don't need to buy anything further.
I like this grease gun because of its simplicity. You don't have to worry about dead batteries or lost connections. Simply pack it and use it. This also includes a filler nipple, which I like because it keeps the gun primed.
Being a manual pump is not without its problems. Many users complained that the unit leaked grease terribly. They had difficulty priming the unit or they had difficulty loading the cartridge. I can't say that these problems were all user error, but that is possible.
If you are new to grease guns, read some of the online instructions and watch some instructional videos before you use one. Like tying shoes, it isn't difficult once someone shows you how.
For those of you with basic needs, you will find this heavy-duty, manual grease gun works very well and is amazingly simple in its operation.
Best American Made Grease Gun
Let me note right off the bat, that this grease gun will NOT work with Zerk fittings. If you need one that does, try one of the guns listed above.
This gun uses vacuum and a spring to force grease into your application. There are no cartridges that can be used with this model. It is simple enough to buy bulk grease and fill the container.
Dualco is a Texas-based company that has been making tools for the US since 1960. It has an outstanding reputation for quality, which is something I always look for.
Users say that this unit has worked well for them in a variety of applications, from bicycles to toys, lawn equipment to garage doors. Anyplace you want a little squirt of grease and you don't want to dig out an entire tub, this is the perfect little tool.
As I mentioned, the Dualco won't work with Zerk fittings. Another company, SAE, also makes a manual grease gun that is made in the USA and will work with Zerk fittings.
The SAE unit offers 10,000 PSI max and 28 shots will give you 1 ounce of grease.
Users have said that this American made grease gun is a quality product and that you can feel the difference in how it is made. It's solidly built and made to last.
SAE really stands behind their products as this one has a 5-year warranty, the longest warranty that I could find on any grease gun!
Best Grease Gun Coupler
I couldn't go without mentioning this outstanding grease gun coupler by LockNLube. A good coupler and extension hose can really make or break your experience. What good is a grease gun that won't lock properly or can't reach where you want them to?
This coupler locks onto Zerk fittings and doesn't let grease leak out and around the Zerk. This is rated for 10,000 PSI, so it can take whatever your gun can put out.
LockNLube is compatible with all models of grease guns. Even if you have a gun you like, you might want to consider adding this coupler to your toolbox.
I also love this coupler because LockNLube includes a free spark seal kit with the item. Seals don't last forever. When it wears out you already have replacement parts (assuming you don't lose them) ready to fix your coupler. That is some outstanding customer service!
This is such an awesome coupler. Nearly all users were impressed with how well it worked for them.
A few users said that this coupler didn't work on their Zerk fittings or that it did not seem to lock onto the fitting as they expected.
The overwhelming majority said that they would buy this again hands down. When you consider the number of options available for sale, that is saying something.
No matter what grease gun you buy or have, buy the LockNLube coupler. You will not regret it!
How much PSI does a grease gun have?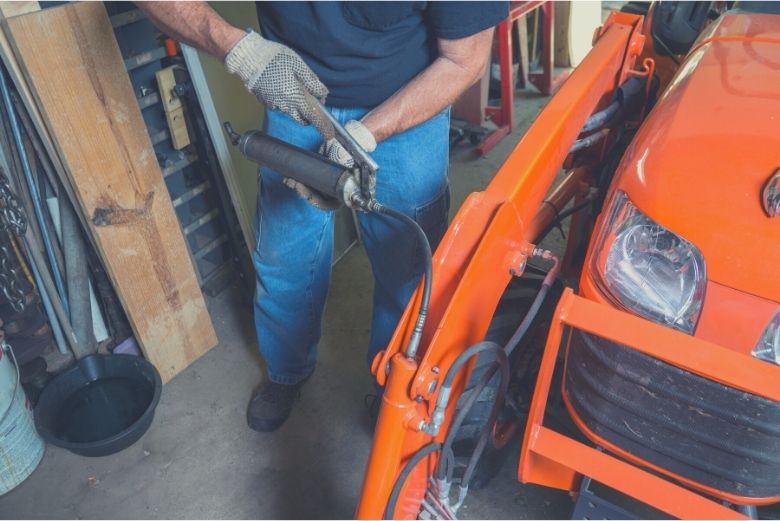 The PSI of hydraulic grease guns can vary tremendously depending on the PSI capability of your compressor, as well as the gun itself. Even battery-operated grease guns can pack quite a punch!
Some battery-powered units can deliver as much as 10,000 PSI. Hand operated grease guns can still deliver as much as 7,500 PSI, and a hydraulic grease gun can deliver as much as 15,000 PSI.
Most home users don't need that much PSI to get the job done. But it's good to know that you have it in case you need it.
How much is a shot of grease?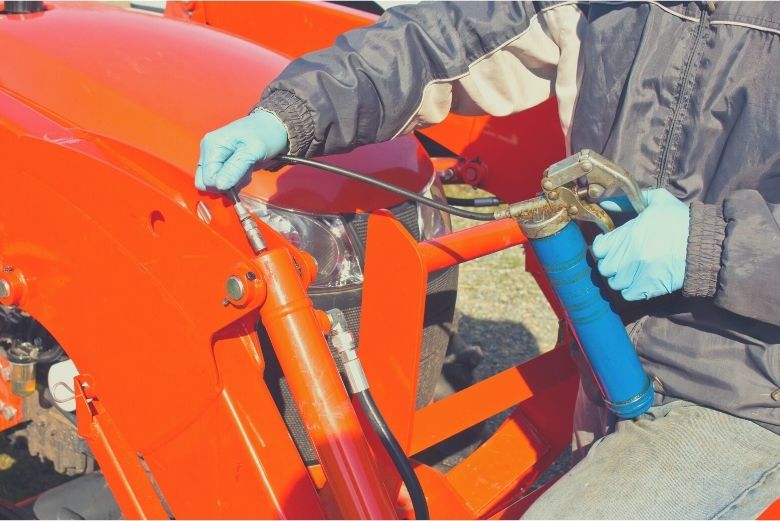 A "shot" of grease usually refers to one pull of the handle. This is because the amount of grease delivered in each shot can vary.
Grease guns are not an exact science. Grease guns can deliver anywhere from 0.1 ounces (which is common) to 2 or 4 grams.
Most grease guns can be calibrated so they put out a set or desired amount. See if your model allows for calibration.
A good rule of thumb is to use one stroke (also called one-shot) per inch of shaft.
If you are using your grease gun to lubricate bearings, you don't want to over lubricate. This can attract dirt and build up too much pressure over time.
For most Zerk fittings on ball joints and other front-end parts, excess grease is simply spat back out when you apply a shot of grease.
My father, who was very old school, would tell you to give whatever it was you were greasing one shot and then listen. Did the noise go away? Then you gave the part enough grease. If the noise came back in a day or a week, then it needed one more shot.
Not exactly the most accurate advice, but it worked for me on many occasions.
Are there different size grease guns?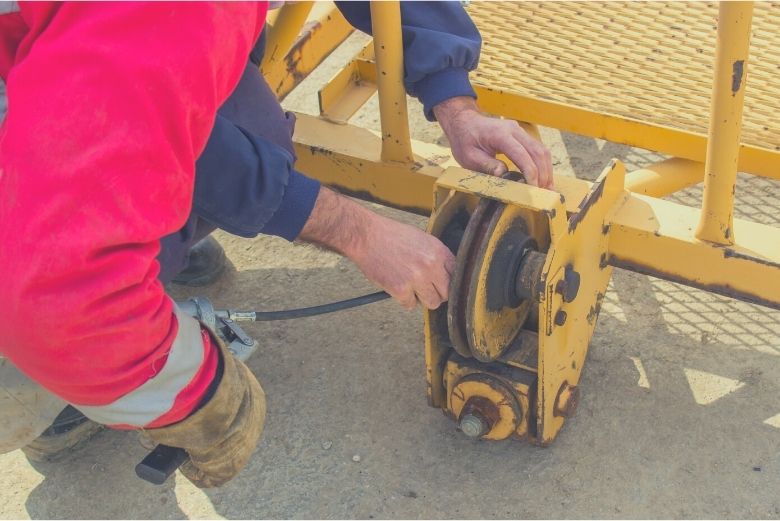 For the most part, all grease guns are the same "size", but some hold more grease than others. So, it's the cartridge or grease barrel that can vary, not so much the "size" of the gun itself.
When speaking of industrial use or Mack truck size use, there might be larger guns. When speaking of the average mechanic working on cars, SUVs, and light trucks, including the home DIYer, grease guns themselves are the same.
Are there different sizes of grease Zerks?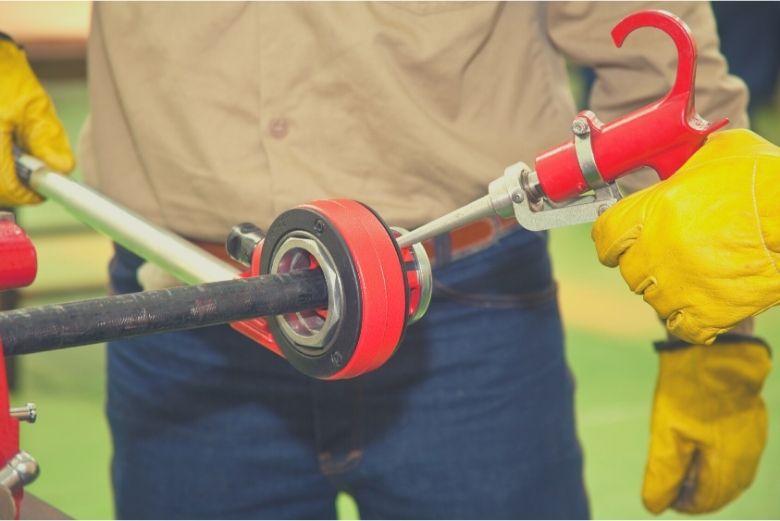 Yes, there can be many different styles of Zerk fittings. But for the most part, even though the fitting (thread pitch and screw base) might be different, the head is the same.
If you are replacing a Zerk fitting, yes, you will need to know if you need a straight ¼ inch, 28-inch thread pitch, or a tapered 1/8-inch fitting. These two are the most common Zerk fittings, but the head, where you insert the grease, will be the same size.
Conclusion
For the Best American Made Grease Gun, I'm going with SAE Products. For cordless, I am going to recommend the DeWalt Cordless Grease Gun.
Reputations matter when it comes to quality and DeWalt is well-known for making long-lasting tools. I also favor cordless whenever possible. This 20V system can be used with other DeWalt tools, which is another plus.
The three-year warranty could be better. DeWalt should stand behind their products and go the full 5 years that SAE does.
The super long, flex hose is another big plus, and the LED light is a nice touch. But I'm not sure just how useful that would be.
You really can't go wrong with certain brands, and DeWalt is one of them. First time users or old timers will find that this grease gun has everything you could want and then some.