When you think about it, the interior of your car probably takes a lot more abuse than the motor does.
Spilling food and drinks, everything on your shoes gets dragged into the car and deposited on the carpet or floor mats. Makeup incidents, hair, accumulating trash, dead skin cells, you name it. All of it ends up inside the car, making it downright disgusting after a while.
Even if you religiously remove trash and vacuum regularly, the interior needs a good cleaning every three or four months.
There are literally at least 100 products for cleaning the interior of your car. It can be really confusing, especially when your interior contains several types of material. Do you need a different product for glass, vinyl, leather, and fabric? We haven't even looked at all the different carpet cleaners out there.
Even if you've used that infamous black and orange product, you might want to switch things up. Is Armor All really the best product for interiors? While it is extremely popular, I've found quite a few other products that work better.
Let's get started with the best interior car cleaner so you can spiff up your ride this weekend.
My Winner
The name alone is pretty impressive, right?
I doubt this is actually used on aerospace projects, but I am impressed by how long this product lasts.
This is an awesome interior cleaner and protector that is designed to work for 45-60 days.
303 Aerospace does not attract dust and won't leave an oily film behind. This is more of a liquid sunscreen that cleans and protects just about every surface. Leather, rubber, vinyl, plastic, pleather, and fiberglass.
Note that 303 Aerospace should not be used on unfinished leather (like suede) canvas, or other types of cotton material. If you aren't sure, do a tiny test spot on the car before using it.
This protectant does leave a slight hint of a shine, but not enough so that you feel blinded by it. It has sort of a satin finish is what I would call it.
And it looks nice.
Pros
It cleans and protects in one application so fewer applications and time spent
It really lasts for weeks which again means fewer applications
It restores some original coloring to plastic. This doesn't mean it will look new, but it will help to make a slightly faded dash look newer
Cons
 It's is a bit pricey
It leaves a minimal amount of shine (if you want a very glossy surface, this isn't for you)
There are lots of complaints about the spray bottle not working or leaking
For superior protection for your car's interior, you can't go wrong with 303 Aerospace Protectant.
Runner Up
For a more wallet friendly option than 303 Aerospace, you can try Optimum Opti-clean on your interior. This product is a bit different. It uses soy-based polymers and lubricants rather than silicone based polymers.
This is a double-duty cleaner that you can use both inside and outside the car.
It's also a waterless car wash that cleans the outside, as well as a cleaner for the inside. This can be used on virtually every surface, including paint, rubber, vinyl, plastic, even glass.
Optimum leaves a thin film of non-greasy protectant behind. Your interior gets some relief from the damaging rays of the sun and extreme temperatures. Like other interior cleaners, Optimum will leave a low-gloss shine on the interior.
Pros
It does double duty as both a car wash and an interior cleaner. That's one less product to buy.
It's inexpensive compared to other products
It leaves a nice shine that isn't greasy
Cons
This can leave streaks if you use it on a black exterior molding
The spray bottle seems to leak for many people
If you want to try a quality interior car cleaner but you don't have a lot of cash on hand, you will be very happy with Optimum Opti-Clean.
Be sure to try it on the windows. I was super impressed by how it cleans and prevents mud from sticking to my windshield.
Best Dashboard Cleaner
Gtechniq is well known for being one of the top products that car manufacturers and detailers use for ceramic coatings and other car care products.
Matte Dash Cleaner is no exception to their quality lineup.
Gtechniq was founded by a quantum physicist. You know that this cleaner is not going to damage your dashboard or remove the color as some other products can.
Matte Dash is made specifically for dashboards and door liners. Whether they are made from vinyl, leather, plastic, or have rubber parts embedded, this product will clean and condition the surface. It will also protect the dashboard from the harmful UV rays of the sun.
This comes in a convenient squirt bottle and all you need is three or four squirts on a microfiber cloth to protect the dash. Also try it on the glove box or center console.
If you are very particular about keeping your car clean and dust-free, while protecting your car investment, you will love Gtechniq C6 Matte Dash Cleaner.
Pros
It's long-lasting (preventing dust from resettling for several weeks)
It's inexpensive to use
It really works. Very well I might add!
Cons
The only negative I had with this was just trying to find the bottle amongst all the other stuff in my closet!
If you are very particular about keeping your car clean and dust-free, while protecting your car investment, you will love Gtechniq C6 Matte Dash Cleaner.
What is the Best Thing to Clean the Car Dashboard?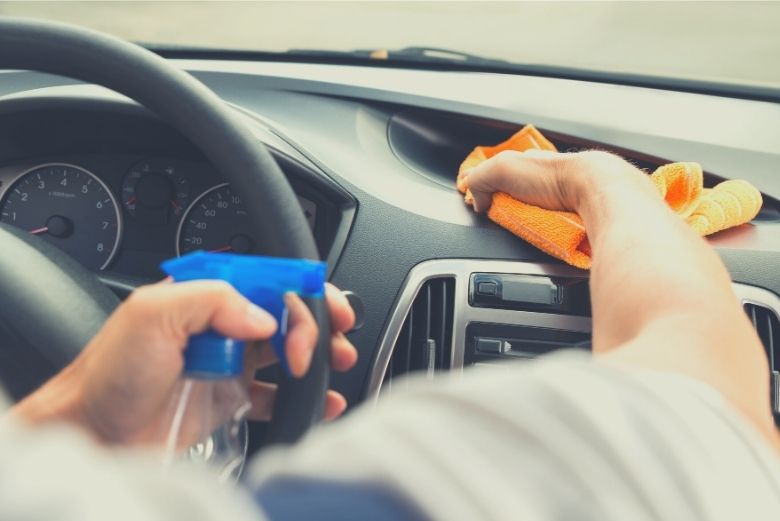 Before there were any real products to protect and clean the dash, most people simply used a little Windex that got sprayed on the dash when cleaning the windshield. When the dash cracked and split, they used those velour dash covers, remember those?
If you want to clean your dash the old fashioned way, you can use a soft vacuum attachment to collect any dust and debris. Use a damp cloth that was rinsed in a little soap and water, wipe the dash a few times, turn the cloth over several times, and wipe dry/biff with a microfiber towel.
Microfiber towels are great for cleaning nearly anything on your ride including the dash. But if you have some nasty grime (soda, for example) stuck on the dash, you might want to try an old, soft toothbrush to scrub that sticky stuff off before you add your protectant.
Using Gtechniq C6 Matte Dash cleaner is much easier than the soap and water method. It will offer your dash protection from the sun, something that plain soap and water cannot do.
What Do Car Detailers Use to Clean Interior?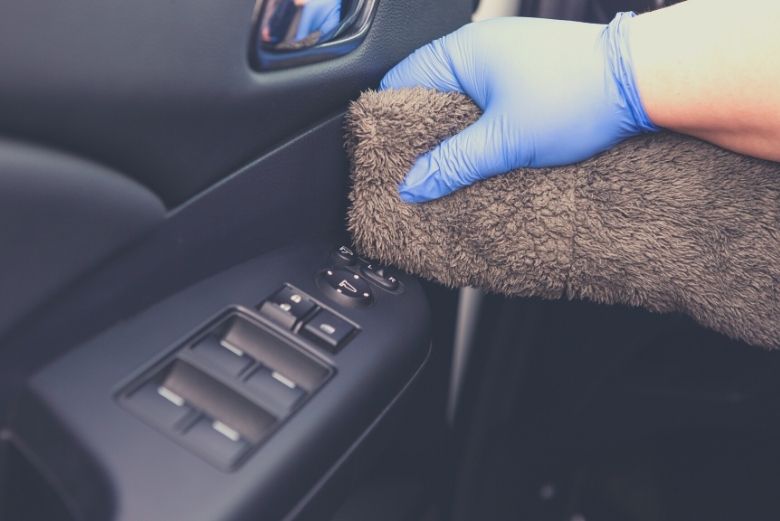 First off, let me stress that you should always do a test on car fabric to ensure that the product you want to use will not cause discoloring or fading.
Using a detergent (like dish soap or laundry soap) will pretty much remove any and all shine from your plastic and vinyl parts. This is why you should use a product made especially for cleaning and protecting the interior of your car, truck, or SUV.
You can ask 20 different detailers and you will probably get 15 different answers as to which is the best product to use. You should also remember that not all vehicles have the same types of material inside. You should look for one that you can use on almost all the interior parts.
The best interior cleaning products are alcohol and detergent free, clean a wide variety of materials, and offer UV protection at the same time.
303 Aerospace Protectant offers all that and then some. If you find that 303 Aerospace is a bit beyond your budget, Optimum Opti-Clean is a great alternative.
What Can I use to Clean the Interior of my Car?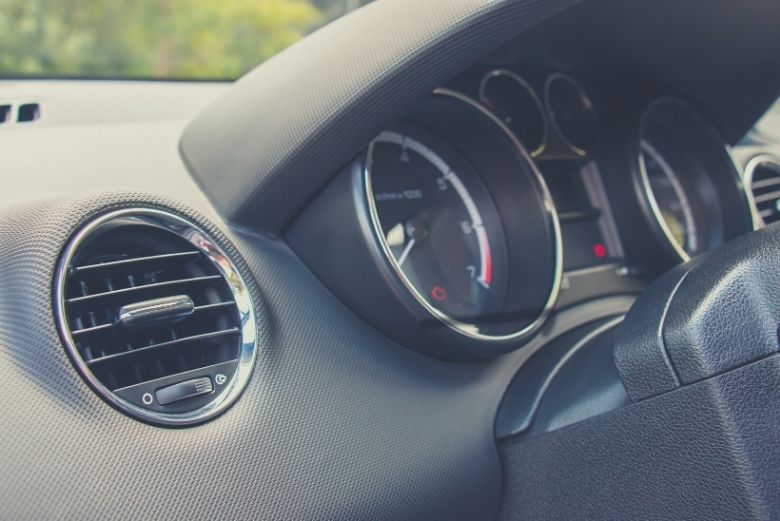 When it comes to cleaning the interior, you might wonder if you need a sponge, a brush, or just an old worn-out towel from the bathroom to get the job done.
To be honest, I think I saw my father use whatever was handy. But then again, there were not a lot of products offering better results back then.
When cleaning the interior, it's all about the cloth and the product. You can use the best microfiber towel on the planet but if you are using laundry soap to wash down the inside, you will end up with cracked, dull, and faded interior parts within a couple of years.
Alternatively, you could use the best interior cleaner. But if you grab that old cleaning rag from the garage, you could end up with scratches or unwanted substances all over your interior.
Use a clean microfiber cloth and the best interior car cleaner you can afford. Use the cleaner according to directions. If your interior is super dirty, change the cloth when you are about halfway finished so you don't just spread the dirt all over.
Can I Clean my Dashboard with Windex?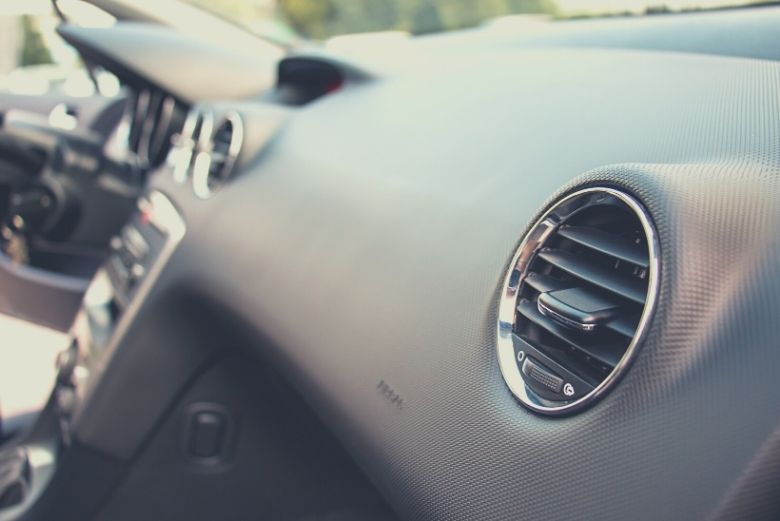 The fact here is that yes, you can use Windex to clean your dashboard.
People have done this for eons. You could also use dish soap, laundry soap, handwashing soap, or furniture polish. These are all products I've seen people use on their dash. I've also seen these same people end up with dull, dry, cracked dashboards or greasy dashboards that are magnets for dirt and dust.
Windex will certainly remove the dust and dirt. It won't do such a good job on real grime (mechanics greasy fingerprints for example). Using detergents and soaps to clean the interior will only leave you with a dull finish that looks older than it actually is.
But maybe you want a low gloss shine on the dash. Or you want to protect it from the harmful rays of the sun and prevent dust from sticking to the surface after a few days. If that's true, you'll want a product that will do all of that and maybe even a bit more.
I wouldn't use Windex on anything but car windows and mirrors, personally. You will be much happier, and your dash will last far longer, using a product such as Gtechniq C6 Matte Dash to clean and protect your dash.
In The End
Everyone has their favorite products.
But if you want to step up your protection and stop collecting dust and dirt on the interior of your car, you should take a break from that orange and black stuff and try 303 Aerospace Protectant.
Many interior cleaners work but they either dry out the material or they leave an oily residue that attracts dust.
303 Aerospace does not leave a greasy film behind nor will it dry out your dash or center console. You will be amazed when you realize how long this product lasts. Write down the date you use it and then take note of how many weeks pass before you start to notice dust or dirty fingerprints accumulating.
Not only does this prevent dust from attaching itself to your interior, but it protects those surfaces from the damage that the UV rays of the sun cause. No more fading, cracking, splitting, or flexible fabrics like leather becoming hard and brittle.
There are absolutely cheaper car interior cleaners out there. But you aren't going to find a better one. Try 303 Aerospace Protectant and prepare to be amazed.