You look outside during a cold winter or rainy spring day longing for great weather.
You can't wait to get in your Jeep and hit the road. The sun on your skin, the wind in your hair. Then you remember that the hardtop is still sitting on your Jeep.
If you have a hoist, it's no problem! You can have that hardtop off, all by yourself, in about 10 minutes or less!
Oh wait, you don't have a hoist? Well, it's time to change that!
A hoist is the best and easiest option for removing and storing the hardtop from your Jeep.
This device attaches to the ceiling of your garage and lifts the hardtop off as easy as 1-2-3. The hoist keeps the hardtop up near the ceiling where it is out of the way and safely protected from the elements.
You don't want just any old hoist for your Jeep, you want the best available. I've done a little research and come up with a list of the best hoist options for your Jeep, no matter what year or model you have.
That beautiful weather is going to be here soon. You'll want to have that hoist ready to go!
My Winner
If you are looking for a great hoist to lift and store your Jeep Hardtop, you can't go wrong with this one from Harken.
Be certain that you know in advance how much your hardtop weighs and how long of a hoist you will need. This kit includes 10- foot leads that can hold up to 145 pounds.
You can use this with all Wrangler and Gladiator Jeep models.
The kit includes a patented system that lifts all ends of your hardtop evenly, regardless of the weight distribution.
Pulling the hardtop off in one movement will help prevent warping.
I like this kit because it does what it needs to do without a lot of fancy equipment. It has self-locking cleats that will prevent your hardtop from dropping if you should accidentally lose the rope.
Harken stands behind their product with a 5-year warranty.
This kit has stainless steel hardware, ball-bearing pulleys, and double braided rope for quality and durability.
Pros
This kit fits average sized garages with 8 to 10 foot ceilings
It's easy to install and use
Harken provides an outstanding 5-year warranty
Cons
Some users feel that the instructions are not clear
A few users complained about missing pieces
Some users state that this is easy to lift the hardtop, but not as easy to release it when you want to put it back on your Jeep
If you are looking for a hoist that has no fancy frills but is made from quality materials, you want the Harken Hardtop Storage Hoist for your Jeep.
It will get the job done and work for years.
My Runner Up
Let's face it.
Some of us just want the best and we don't want to monkey around manually pulling and releasing cables and pulleys.
We want to press a switch and it's done!
The Partsam Electric Hoist can handle an incredible 440 pounds.
That should deal with ANY hardtop, no matter how large or heavy.
You will still need to strap it onto your hardtop and remove the screws that hold your hardtop down. After that, all you do is press a button, and your hardtop is lifted up and out of the way.
It's a cinch!
This has 38 feet of line if you use a single line or 19-feet if you double the line. Either way, this is far more length than you will probably need. That is unless you are storing your hardtop in a warehouse!
The Partsam Electric hoist features zinc-plated steel wire that is super durable. The remote cord is a generous 4.9 feet in length.
This does come with only a 1-year warranty, so take note. But if you use this for more than 2 years, I think you've gotten your money's worth out of it considering the price.
Pros
It's super easy to install and use
It's a fantastic value for the money
It lifts very quickly
Cons
Lifts very quickly. This isn't always what you want and can cause issues sometimes.
It has a short 1-year warranty
The installation instructions are limited
An electric hoist that holds up to 440 pounds for less than $150? It's a solid option in my mind.
My Budget Pick
StoreYourBoard Cargo Box Ceiling Storage Hoist
Modification will be required. But for the price, this is a solid option for most garages. You'll need some additional straps to accommodate a Jeep hardtop.
Buy Now
Learn More
We earn a commission if you click and make a purchase at no additional cost to you.
01/25/2021 07:14 am GMT
OK, so you want a hoist for lifting and storing your hardtop, but you have zero bucks to spend right now.
Introducing the StoreYourBoard manual hoist.
This is definitely a DIY project for those who don't mind spending a bit of time modifying or adding things to make this work for your hardtop.
The StoreYourBoard is rated for 60 pounds. Add some larger and higher quality hooks and it may support more weight.
If you've got a lightweight hardtop, this might work for you.
You can replace the thinner straps with some wider straps if you need to. This uses a center strap to keep both the front and rear parts of your hardtop in place, so you can lift it off as one unit.
You should note that this hoist is not specifically designed for Jeep hardtops.
But heck, I know lots of Jeep owners using things that were not designed for their Jeep!
Pros
It's very affordable
The installation video makes it easy to set up
The sleek design saves space
Cons
It holds only 60 pounds
It might need some modifications to work with your hardtop
It could also be difficult for some users to work
For those of you who pride yourself on being a professional DIYer and for those who want to save some serious money, the StoreYourBoard hoist is just what you've been looking for.
How do you lift a jeep hardtop by yourself?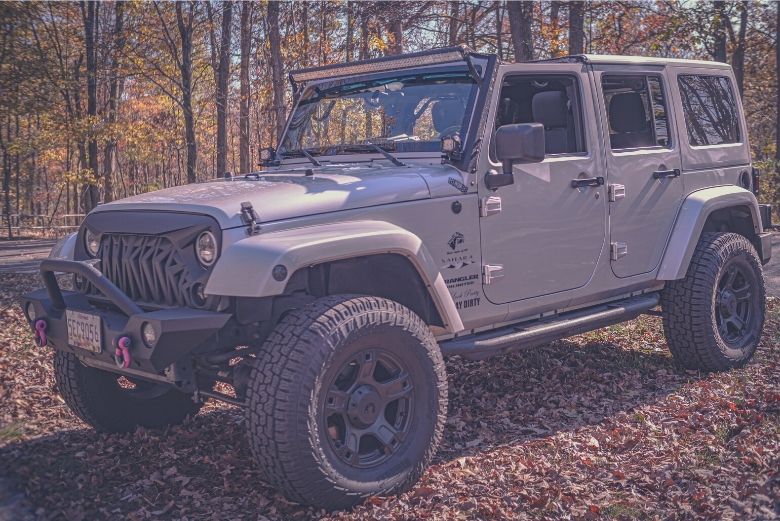 This is a very difficult task for most people.
Even if your hardtop is lightweight, it most likely still weighs at least 85 pounds. The top should be lifted off in one sweep, not picked up on one side, then picked up on the other.
You'll first need to remove all the screws, securing panels, doors (if required) wiring harness, and rear windshield washer tube (your Jeep many not have all these items).
You will still need either 4 ratcheting harnesses or tie downs (like the ones used to tie downloads on a pickup truck) and then a garage or other form of support.
Rather than try to explain this, this video is not very long but offers great instructions:
Depending on how long you need your tie down set to be, CAT is an excellent brand that comes in various sizes.
Can you store a Jeep hardtop outside?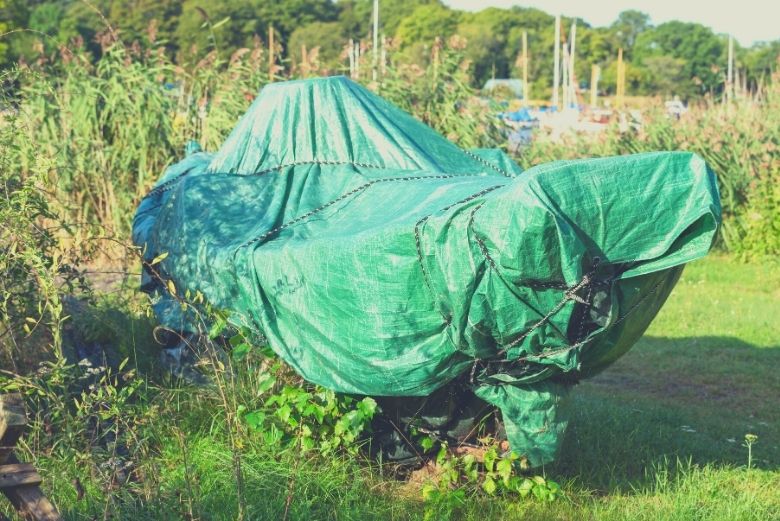 Yes, you can store your Jeep hardtop outside.
Keep in mind that just because you can, doesn't mean you should.
If you absolutely have no other options, you can store your hardtop outside if you add some protection.
You'll want to keep it off the ground and on a stable, level surface to prevent warping. You can use something as simple as a wood pallet to set the hardtop on.
Cover with a tarp to protect it from the elements.
Consider storing your hardtop in a shady location to prevent mold from growing. If it rains in your location, put something in the center of your hardtop before you cover it, so the rain runs off the tarp.
This can be something as simple as a plastic 2-liter bottle filled with some sand.
Although there aren't too many reported cases, mice have been known to make a home inside the wiring area. Consider putting a trap or two inside and check them at least once a week.
Some users make their own hardtop holder from a few 2X4's or pallet pieces. They add a set of wheels so they can move the hardtop around.
Add a cement block or tree stump to support the front and you've got a place to store your hardtop.
As you can see, there are a lot of things to keep in mind when storing your hardtop outside.
If at all possible, consider using a hoist to store your hardtop in the garage or other location so it is safe from the elements and rodents.
How much does a jeep 4 door hardtop weigh?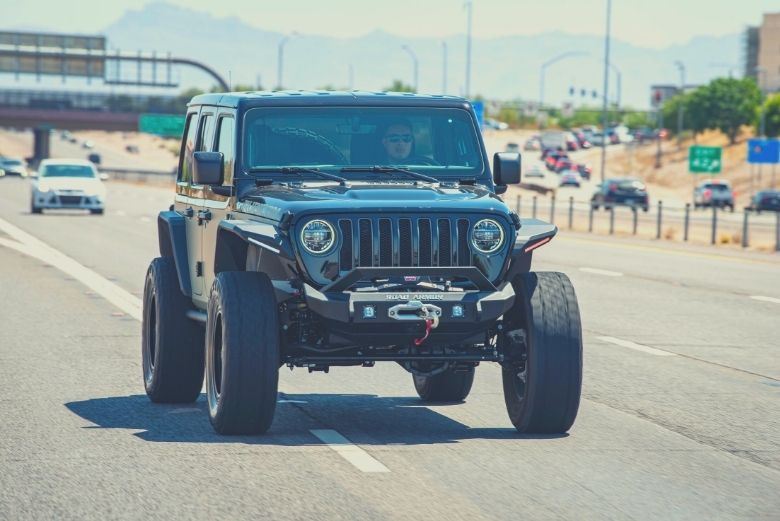 Depending on the model and year, a Jeep hardtop can weight anywhere between 100 and 200 pounds.
For example:
Mopar Hardtop Kit for 2020 Jeep Gladiator: 85 pounds
Smittybilt Safari 2-Piece Hardtop for 2007-2018 2 Door Wrangler: 150 pounds
Smittybilt 1-Piece Hardtop for 1997-2006 Jeep Wrangler: 240 pounds
Factory Jeep Wrangler Unlimited Hardtop: 140 pounds
The dealer or the manufacturer of your hardtop should be able to provide you with the weight of your hardtop. That way you can be sure the hoist can handle the weight.
Where should I store my jeep hardtop?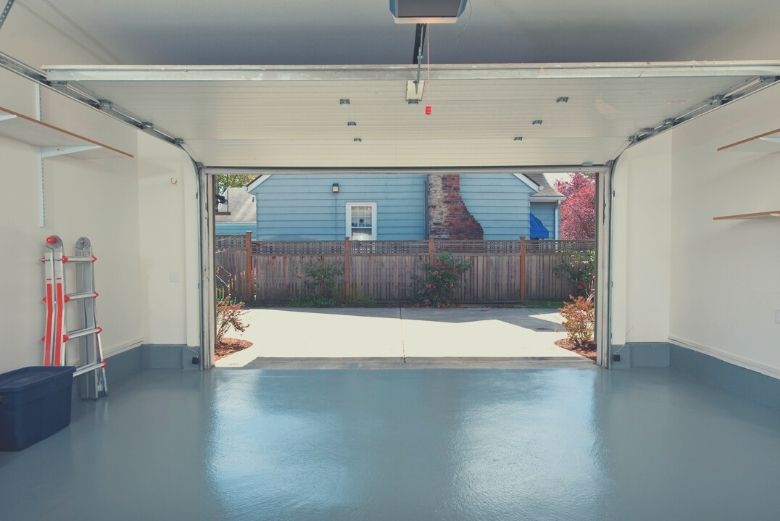 The best place to store your hardtop is indoors.
Hoists make this easy so you can do it by yourself. It sits up in the rafters out of the way and makes it easy to place the hardtop back on the Jeep when you are ready.
If you have the room, you can always use or make a rolling support out of some 2X4s and a pair of wheels. This will allow you to move your hardtop around the garage or shed as you need to.
Last, you can store your hardtop outside. There are lots of things to consider and think about before you do that (see my list of items above).
Store your hardtop outside only if you have no other choice.
You might also want to check your area for a hardtop removal and storage service.
Yes! There really are places that will remove and store your hardtop for you. They will return it and put it back in place when you are ready.
Conclusion
If you look for hardtop hoists, you are going to find hundreds of types and brands on the market.
You can narrow your search by knowing your exact model and how much your hardtop weighs, along with the ceiling height of your garage.
For those who have hardtops weighing less than 145 pounds, the Harken Hardtop Hoist is the perfect answer. There are more expensive Jeep hardtop hoists on the market, but this one does what you want for less money.
If you get the Harken Hardtop Hoist, spend the money that you saved on some other goodies for your Jeep.
I know you have a dozen other ideas in mind!