I've always found it interesting that the first thing most Wrangler owners do is run out and have a lift kit installed in their Jeep.
New tires and rims will follow shortly afterward.
Who doesn't want a lifted Jeep? Let's face it, they look amazing!
Unfortunately, I also see people who regret that they didn't do a bit more research before they purchased their selected lift kit.
One thing you should be aware of is that you get what you pay for. If you only want to lift your Jeep for aesthetics, then go ahead and buy that $200 kit.
Honestly, you will be fine.
But if you plan on going on some serious off-road adventures, you'll want to buy kits that have everything you need.
Do you plan on buying new rims and tires? If that's the case, then you need kits that also need to look at the axle clearance and transfer case drop.
If this all sounds a bit confusing, it can be.
But don't worry. I am going to solve half of your problems by telling you which lift kit is the best for your Jeep Wrangler TJ.
After that, you just need to have them installed and decide which rims and tires you want.
Best Overall
If you have been shopping around for lift kits, you've surely seen the Rough Country name. Rough Country is one of the biggest names in modifications.
They appear to have everything Jeep owners could want.
NOTE: This kit fits 1997-2006 Jeep Wrangler TJ and LJ. Always double check your application before purchasing.
This kit contains new coil springs and longer shocks so you can maintain your smooth, factory ride while still enjoying that aggressive look.
I like that Rough Country offers a lifetime replacement warranty on all items except the shocks, which have a generous 3-year warranty.
This is a terrific kit for the DIYer if you have a coil spring compressor. This kit is missing a few parts, such as shock tower sleeves and bottom bolts for the shocks.
Rough Country knows what Wrangler owners want!
The springs and shocks in this kit will give you a noticeable difference in performance both on-road and off-road.
If you have a spring compressor, many users state that this took two people about 4-5 hours to install. That means you can put this kit on your Jeep on a Saturday and head out for back roads on Sunday!
One last thing to note is that this product is made in Mexico, not China.
That generally means it has much better quality.
Pros
Easy for most people to install
Great value for the money
Offers noticeable improvement in performance
Cons
The kit does not come with a few smaller items, such as shock bolts
Some complain that if you don't install rear kits, the back of the Jeep sits lower
Vibrations may occur if you don't use a transfer case drop kit
Take note that some users stated that the ride was a bit stiff at first, but that the springs settled down and broke in within a few hundred miles. After that, the ride was excellent.
This is an excellent kit for the money and how can you go wrong with a lifetime warranty? Rough Country knows what you need, and this kit is simply awesome.
'84-'06 TJ
For those of you who want your Jeep to have a little lift to it for a more aggressive look, and you want to add larger tires but you don't want to do a full suspension modification, a body lift kit is perfect for your desires.
NOTE: This kit fits 1984-2006 Jeep Wrangler TJ and the Jeep Cherokee XJ and ZJ, 2 or 4-wheel drive. This will fit the front or the rear.
For a complete look (both front and rear lift) purchase 2 kits.
The Daystar brand isn't as well-known as some other brands.
These are made in the USA, which means excellent quality.
Made from high-density polyurethane, these are designed to be long lasting. These spacers are super easy to install and won't affect the handling or the steering on your Jeep.
You might find that a spring compressor helps to make installation easier. But most users stated that they installed these in a matter of hours by themselves.
Pros
This kit is easy to install
This one allows the use of larger tires without major suspension modifications
The kit is made in the USA
Cons
Some users complained that they were more difficult to install than they thought
It won't lift the Jeep the full 1.75 inches if you remove the factory spacers
You need two kits for both front and rear lift
Get the clearance you want without replacing a bunch of suspension parts with Daystar's 1.75-inch Body Lift Kit.
Front and Rear
Before I get started, take note that this kit fits 2007-2018 Jeep Wrangler JK and 2007-2018 Jeep Wrangler Unlimited JK.
This will work with both 2WD or 4WD, 2-door, and 4-door models.
Now, let's talk about the kit! If you want to go on some serious off-road adventures, this 3-inch kit is calling your name.
This kit will allow you to use 35-inch tires!
It's made in the USA with spring spacers that are made from steel. You know these are made to last! This kit includes front and rear shock mount extenders, front and rear brake line brackets, and easy to understand instructions.
American Automotive says that a single person can install this kit in 3 hours. But if you are inexperienced in this area, you might want to bring a buddy on board for this installation. A spring compressor isn't required, but it will definitely make installation easier.
Pros
Great quality kit made from steel
Easy to install for most DIYers
Very affordable for a 3-inch lift kit
Cons
Some users complained that the instructions weren't clear
A few complaints that the rear brake extensions didn't work on some models
Inexperienced persons may find that this takes 6 hours or more to install
The higher the lift, the more expensive the kit. A steel 3-inch lift kit at this price makes the American Automotive 3-inch kit a big winner, hands down.
Does lifting a Jeep affect gas mileage?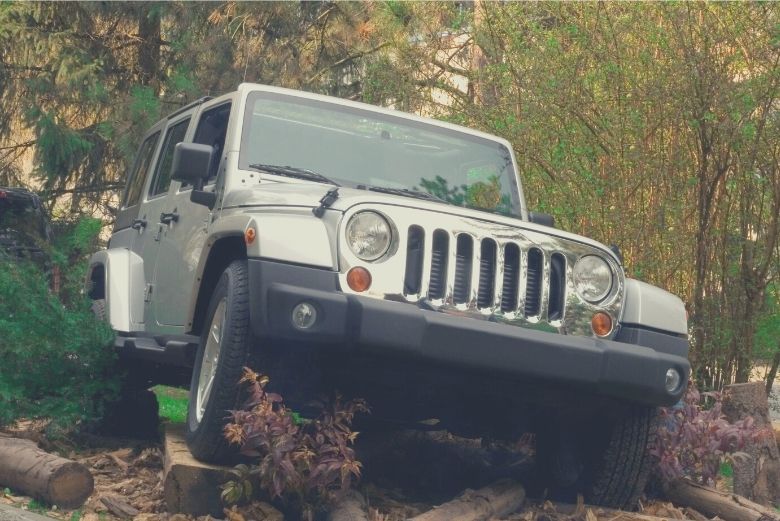 This is one of those "yes and no" questions.
Lifting the vehicle itself will not affect your gas mileage. So why do you hear stories that it will? Because nearly everyone who adds a lift to their Jeep will add larger tires and rims. It's the larger tires and heavier rims that will affect your gas mileage.
If you lift your Jeep more than one inch, you will increase the drag on your Jeep, making it less aerodynamic, which also hurts fuel mileage.
How much? That will depend on how high you lift your Wrangler, how much weight you are carrying, and how fast you are driving.
In general, most people find that their mileage drops between 1 and 5 MPG. That's not per tank, but per mile.
How much does it cost to install a lift kit on a Jeep Wrangler?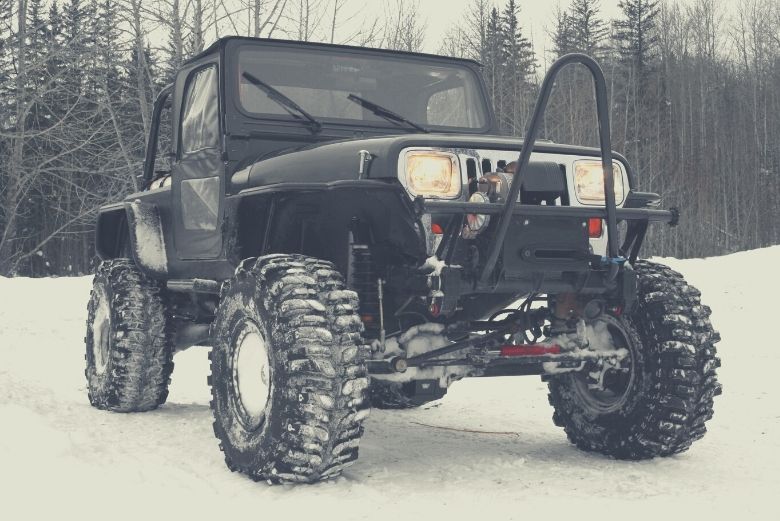 Of course, this will vary depending on where you live, the size of the lift, and which product you have chosen.
On average, a small 1 to 2-inch body lift kit can cost you as little as $300, installed.
A suspension kit between 1-inch and 3.75-inches can cost you at least $1,000.
Lower suspension lifts will require new coil springs and shocks. However, higher lift kits will require you to change many suspension parts.
For lifts higher than 4 inches, you can expect to spend a minimum of $3,000 and we are NOT including the cost of tires and rims in that estimate!
Most suspension lift kits for a Jeep Wrangler TJ will require longer control arms, slip yoke eliminator kits, as well as track bars, and a modification of the brake lines.
How do I choose a lift kit for my Jeep?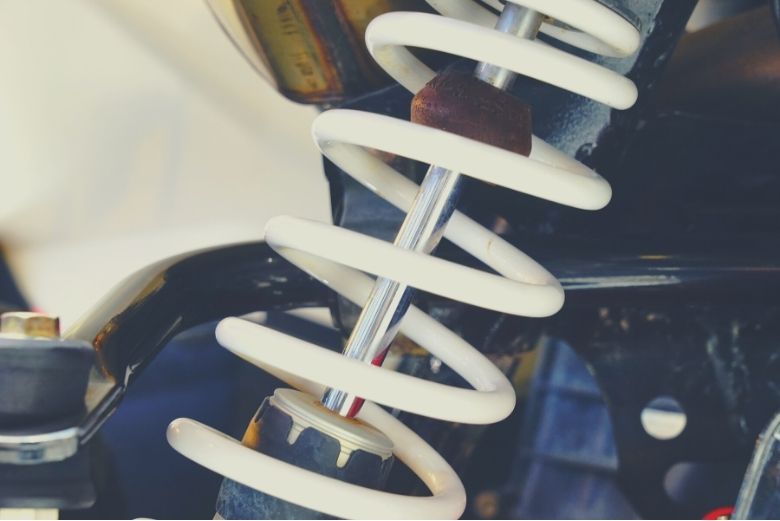 Ask 50 different people for their recommendation and you will probably get at least 30 different answers.
One thing to consider is how much you want to spend. Heights of more than 4 inches can be a bit costly (as much as $4-5 grand).
You should also consider what you plan to do with your Jeep. If you just want it to look aggressive, a 2-2.5-inch lift will enable you to get larger tires and rims that will give you the look you are trying to achieve.
If you want to take your Jeep Wrangler off-road, you need more clearance.
Getting a 3-inch lift kit or higher can give you the ground clearance you want and approach angles that will allow your ride to negotiate some extreme off-road scenarios.
Does a 2-inch lift make a difference?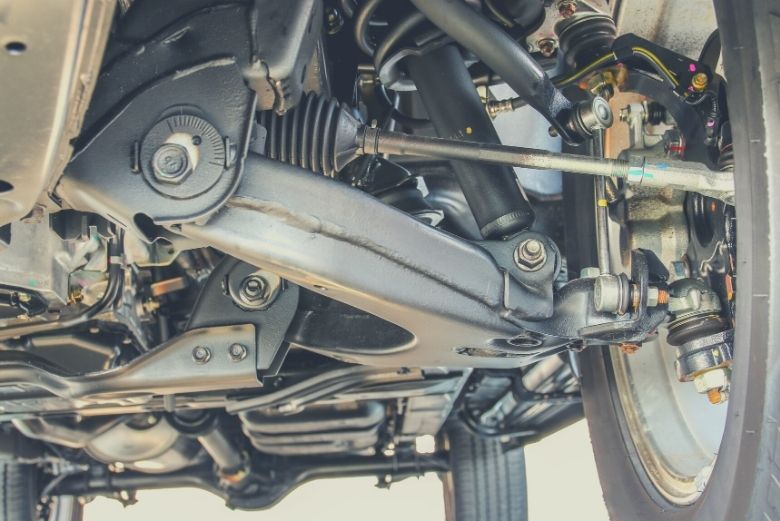 That would depend on your idea of what a "difference" is.
The truth is that a 2-inch lift is one of the most common sizes that people use when it comes to lifting their Wrangler.
If you plan on doing serious off-roading, you will most likely want to get lifts that are higher than this. But for looks and a bit of extra clearance, a 2-inch lift is very common and practical.
You will need to change a few other suspension parts including new shocks. But you won't have to do a major overhaul of the front end.
A 2-inch kit can allow you to fit some 31-inch tires but still make no changes to the driveline angle.
These are quick and fairly easy to install, giving you the extra room you might need and that "tough guy" look you absolutely want at a price that is easy on your wallet.
The Winner
There are probably hundreds of lift kits on the market.
If you want a kit that will give you an easy 2.5-inch lift with very few modifications required, you want the kit from Rough Country.
Easy is one of my favorite words.
Most users claimed that they installed this themselves in less than one day. Rough Country is a well-known name in suspension lift kits, and they offer that incredible lifetime warranty! The shocks only have a 3-year warranty, but heck, most people go through shocks every 3 years anyway!
If you want a lift that is just perfect not too high, but not stock low, then the Rough Country 2.5-inch lift kit is the one you want.
Rough Country also has excellent customer support if you run into problems. Numerous users talked about how helpful their support hotline was. I believe they also have online videos to help with installation questions.
A 2.5-inch lift on a Jeep Wrangler TJ is nothing short of awesome, both in looks and in performance. If you agree, then check out the Rough Country 2.5-inch lift kit for your Jeep Wrangler TJ.