Perhaps you are getting ready to give your car, truck, or SUV a good wash and wax before old man winter really gets settled down in your area.
Did you pull everything out only to discover that your microfiber towels aren't looking so fresh and clean? Maybe they aren't soaking up the water as they once were.
If your microfiber towels are looking ready for the rag bin, you might be wondering what's new, if anything, on the market?
What is the best microfiber towel when it comes to drying your ride? Should you go for those soft, plush towels that look super absorbent, or is the waffle pattern the one that really soaks up water like a sponge?
There is nothing to compare to a microfiber towel when you want scratch and lint free car drying. These towels are known for being extremely absorbent and durable.
I've done the research for you so all you need to do is choose which option suits you best.
There is nothing to compare with using a fresh, new microfiber towel! Why not indulge yourself and pick up a new set?
My Winner
Once you put your hands on this microfiber towel you will never let anyone borrow it.
This 5.5 square foot towel (which is 20 inches by 40 inches) feels so good, you might consider using it as a bath towel.
Okay, maybe that's a bit too much.
This is hands down the most awesome microfiber towel I have ever tried.
I love the edging on the Cobra towel. Many other towels seem to have a rolled edge which can cause them to curl. The Cobra lies completely flat. This means that you can use every single inch of this towel.
The Guzzler is about 20% thicker than others. It contains polyamide which makes the towel incredibly soft and improves its polishing abilities.
Pros
It's made from super absorbing materials which allow the towel to hold 7 times its weight in water
The polyamide material allows this towel to really make the finish shine
The quality materials make this a very durable towel. Some users say that it still works like new after weekly uses for more than 2 years
Cons
It can be difficult to wring out
You may need two towels if you have a large car, truck, or SUV
I'm not sure why this towel won't really wring out. It's probably due to the materials it is made of. But that is only a problem if you own a large sized vehicle. Even then, you can simply buy two towels. Problem solved!
I'm really particular about the items I use on my SUV. This is one that I use regularly. You will wish that you had bought one earlier!
Best For Black Cars
Everyone knows the Chemical Guys! They make great quality items for washing, waxing, and drying your ride.
This is a set of 3 black microfiber towels. Each towel is 16 inches by 16 inches. A set of three should be enough for most cars, trucks, and SUVs. I can usually dry my entire SUV with two. That leaves me one for the windows.
The Chemical Guys say they use 350,000 strands per square inch.
That makes this towel softer than you can imagine.
Completely machine washable and safe to put in the dryer, this towel is the perfect solution for black cars.
This towel is "edgeless" which means no seams or edging material is used. It's also free from any tags so you don't need to search for a pair of scissors.
The Chemical Guys say this is a "unique" blend of microfibers, but they don't list the materials used.
Pros
It's completely free from lint
It's super absorbent
I always get a terrific shine with it
They are high quality towels which typical of the Chemical Guys products
Cons
Some users say that 16″ X 16″ is too small
Thinner material means wringing the towel more often
Some users complain that the dye fades quickly after washing
You can count on the Chemical Guys to give you quality products. These towels are really no exception. It would be nicer if they were a bit larger. But many people seem to find this size easier to work with.
If you have a black or navy blue car, truck, or SUV, you should be very happy with the Chemical Guys Monster Edgeless Black Microfiber Towel multi-pack.
If you thought Mothers only made wash and wax products, think again!
Mothers is another name that you probably know and trust. This giant sized waffle weave towel is not only super absorbent, but it has an excellent price tag as well!
I love this towel because, at 25 by 36 inches, it is the perfect size for me to handle. I also love the sweet little edging on the sides that makes it lie flat. The waffle weave is the perfect pattern for absorbency.
This towel holds up to 4 times its weight in water.
Like the Cobra, this towel also contains polyamide fabric. Just less of it. It is super soft and comes at a price you can't ignore.
It's completely lint-free and safe for all finishes, including clear coats and matte paint.
Pros
It's made from high quality materials
It's very durable and lasts most people a while
It's very easy to wring out
Cons
Some users complain about snagging on bumpers and other parts
It might be a bit large for some people to handle
A few users stated that the edging came off after a few washes
If you want a high quality microfiber drying towel AND you want to pay a micro price, don't pass up this sweet drying towel from Mothers.
What is the Best Microfiber Drying Towel?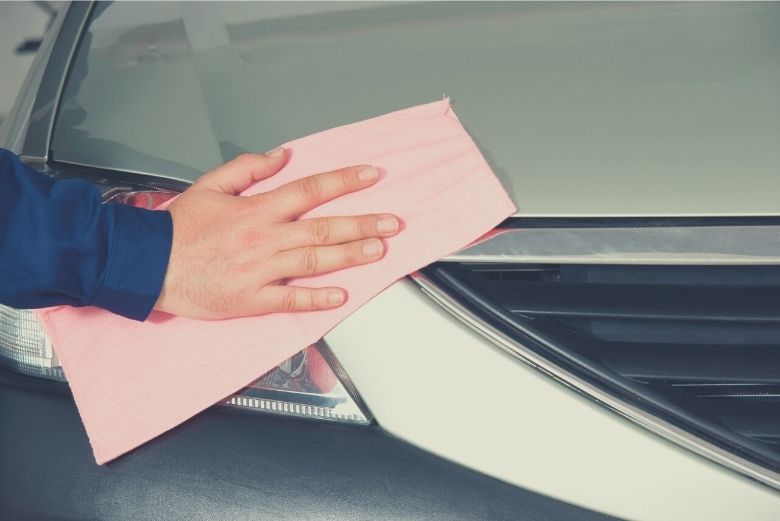 When it comes to drying your ride, a microfiber towel will give you the most polished finish possible.
These towels are more than just absorbent. Clean microfiber towels won't damage the paint, scratch the windows, or cause any damage to your vehicle.
Choosing the best drying towel is a matter of preference though. Ask 50 people this question and you will likely get at least 30 different answers.
Ask some professional detailers. They often recommend a high quality microfiber towel that is large but not oversized. They will also recommend one that has a waffle weave pattern and one that is highly absorbent.
This is why I recommend the Cobra Supreme Guzzler. It meets all of the qualifications that detailing professionals spell out.
Be sure that you wash new towels before you use them. Store dry towels in a location where they are free from dust, dirt, and other types of material that may mar or scratch the finish.
Are Microfiber Towels Good for Drying Cars?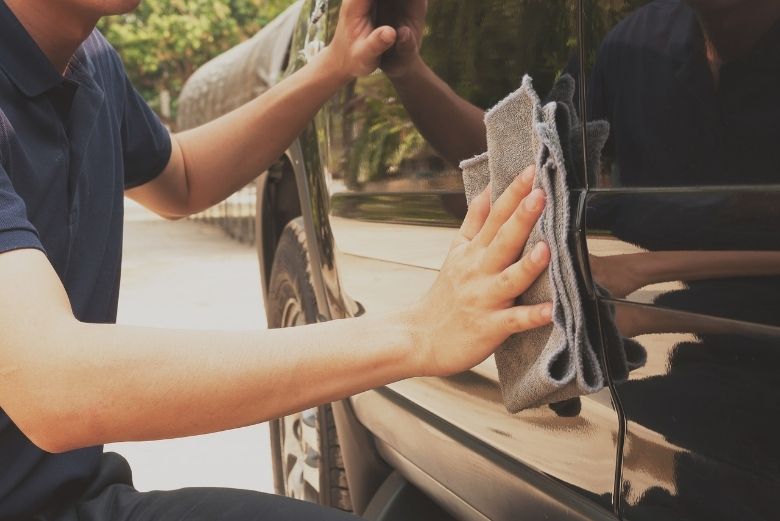 Ask any professional detailer and they will tell you that when it comes to removing water and any residue from wax or other cleaning products, a microfiber towel cannot be beaten.
Microfiber towels are non-abrasive (clean ones, that is), durable, and they absorb water like crazy. They also do not leave lint or any shred of fiber hanging from the bumper or mirror, the way terrycloth towels can.
In most cases, you can dry the average car, truck, or SUV with two or three towels without having to wring them out. If you should need to wring the towel, take a quick look at it and be certain that it hasn't picked up any grease, dirt, or other contaminants.
I always wash my towels after I have used them just to be sure that they are clean and ready to be used the next time. I store mine in a box, then place it in a cabinet in the garage to prevent anything from contaminating them.
Microfiber towels are great for giving your car the best possible shine without waxing. If you don't see a finish that you are proud of, that might be a sign that your car is ready for a fresh coat of wax.
Which is Better Chamois or Microfiber?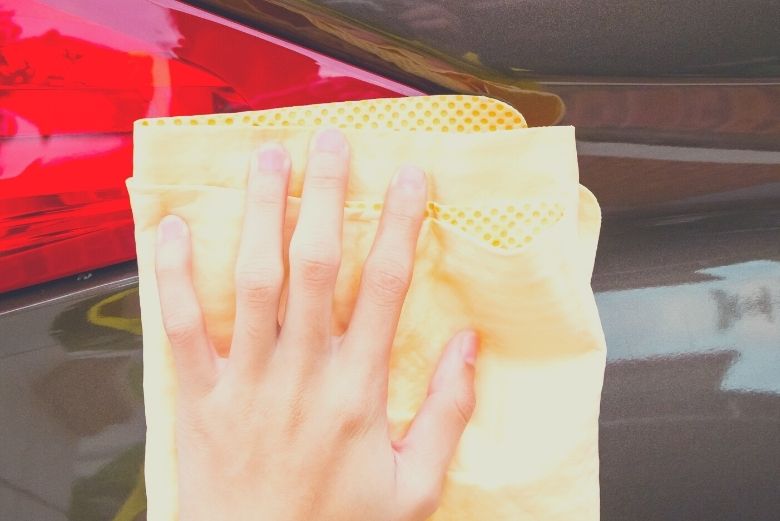 Chamois have long been the go to option when it comes to drying cars. While chamois are super absorbent, they won't leave behind that shiny finish that you are probably looking for.
If you want to remove water from your car (such as after a rain) then a chamois is an excellent choice. Synthetic chamois, like this one from CleanTools, are actually better at picking up and holding water than a natural chamois. They are also the less expensive option.
Unlike microfiber towels which you can hang outside to dry or toss in the dryer, a synthetic chamois works best when it is kept in an airtight container to keep it moist.
Microfiber towels are great because they can be used on just about anything. When they have seen better days, they make terrific rags.
This isn't true with a chamois.
For the best drying experience and overall usefulness, you can't beat a good quality microfiber towel.
Do Microfiber Towels Scratch Cars?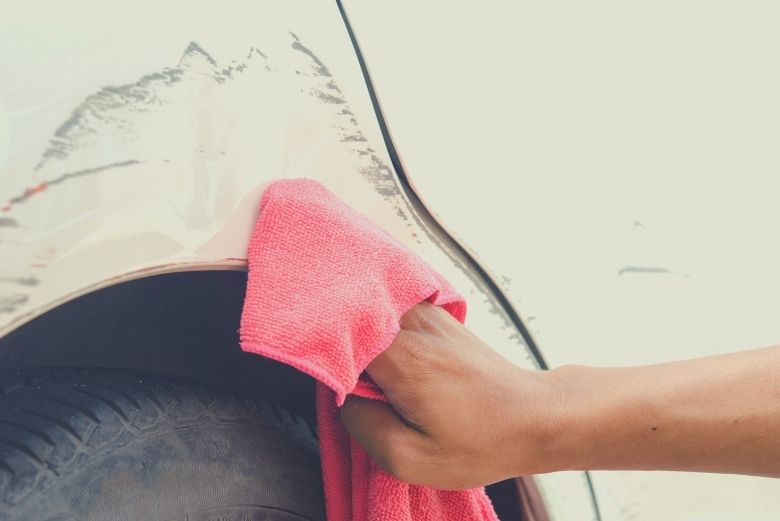 A microfiber towel will not scratch a car if it's clean and free from dust, dirt, rocks, or other debris.
Microfiber towels are made from a combination of nylon and polyester. These fibers are interwoven. That makes them excellent for picking up water, wax, and, unfortunately, dirt.
This is why you must be certain that your microfiber towel is 100% clean before rubbing it over the finish on your car.
These towels are not only good to dry the paint on your car, but also for the windows and mirrors. They don't leave lint or fibers behind. Use the towel dry and buff the glass or mirror for the best results.
Rounding out this Round Up
There are microfiber towels and then there are towels that make you stop and look them over because they work so well.
The Cobra Supreme Guzzler is THAT towel.
As I mentioned, I personally love the edging on the towel. It is a perfect size. While it is extremely difficult to wring out, I've never really had to since one towel does my entire SUV.
This towel is 20% thicker than others and I believe it! You can't help but bunch up this towel and rub it on your face, it is THAT smooth and thick.
I love the super absorbency along with the softness that really brings out the luster in the paint.
Don't take my word for it, buy one and try it for yourself! Use it once and you won't want to use any other type of microfiber towel.
In fact, you might as well buy 2 and get it over with because you are going to find 100 other places to use this towel. If you have two, then you can save one just for drying your car.
You might find yourself hiding the Guzzler, so no one accidentally uses it for something else or so no one "borrows" this towel.
It is that outstanding!