If you love going off-road, chances are that you don't care if the terrain is nothing but mud covered bogs. I have friends who enjoy mud filled bogs and actually go out of their way to look for them.
One thing about mud is that no matter how much ground clearance your truck or Jeep might have, if you don't have the right tires, you are going to do more spinning in the mud than moving.
This is where having mud tires is a huge advantage.
Mud tires have a larger area between the tread. That allows mud and rocks to be kicked out much quicker, giving you traction, not sliding action.
If you only see mud once or twice a year, you should stick with an all-terrain tire.
But if you love the bogs and live for those muddy close encounters, nothing will give you a better ride and better traction than a mud tire.
Look for the "M&S" symbol on the tire.
These are designed for mud and snow. Tires that have a mountain symbol with a snowflake inside are designed for freezing and below freezing temperatures.
I want to talk to you about which is the best mud tire for your off-road experience so you can tackle anything with confidence.
My Winner
Here's a tire brand everyone knows and trusts, BF Goodrich!
I can't stop staring at this tread pattern (I'm a tire nerd, what can I say?) This tread not only looks awesomely aggressive, but you can visualize in your mind how it will throw mud and rocks right out!
This tire has a speed rating of Q, which is 99 MPH. It has an unbelievable tread depth of 18/32nds, and offers CoreGuard Max Technology.
As BF Goodrich puts it: this tire is made to mud!
BF Goodrich says that this tire has a 27% stronger sidewall and a 5% better mud traction based on mud traction testing.
This is about the burliest mud tire that is still street legal. It gets high marks for looking super tough but being quieter on the highway than most other tires.
Pros
It comes in a huge variety of sizes to fit nearly anything
It has a quieter ride on the highway than most other mud tires
The super tough sidewalls can really take off-road abuse
Cons
It's a premium tire with a premium price
At 74 pounds, this tire will definitely impact gas mileage
It has a questionable warranty
If you are a serious off-roader who only wants the best possible tire, the BF Goodrich KM3 is the best option.
If it's tough enough for the Rubicon Trail, it's tough enough for your adventures.
For Jeeps
Jeep lovers are a breed unto themselves. They love their Jeeps, and they want the best.
If you are really into off-road adventures (and what Jeep owner isn't?) then you should take a look at the Nitto Trail Grappler.
The two things you will notice right off about this outstanding tire is that it not only has a load capacity of 3,195 pounds (which is just a bit shy of 2 tons!) but it has the deepest tread depth I have ever seen on any mud tire: A whopping 21/32nds.
With a 3D tapered groove, this tread has an incredible bite to it that can't be matched. A reinforced shoulder gives a strong performance, while the stone ejector technology speaks for itself.
Nitto has a treadwear indicator for safety and clocks in at 79.4 pounds.
The weight alone tells you that this is one tough mother! That really makes you appreciate free shipping on tires from buying online!
This tire is also engineered to have less road noise than other mud tires, combined with steel belts for added stability.
Pros
It has a super long tread life with 21/32nds of tread
It's has a quiet highway ride
It's easy to balance
Cons
It comes at a premium price
It's listed as 35 inches but actual tires size is more like 34 inches
If you own a Jeep and you want the best mud tire possible, you want the deep tread and stability of the Nitto Trail Grappler.
For F350's
Ford F350 owners know that their trucks are tough enough to handle anything if they have the right set of tires. The Firestone Destination is a very solid option.
Designed to provide maximum traction for those off-road adventures, this tread includes L.L. Carbone for better performance in the mud and on wet roads.
The outstanding tread depth of 20/32nds tells you that this tread will last longer than some wimpy off-road tire.
For better pulling power in the mud, this tire has a 23-degree angle.
That gives the tire outstanding power to climb through ruts and muddy terrain.
For those of you who live in areas of heavy snow, this tire can accept metal studs. The rim guard has ribbed sidewalls to prevent rocks or debris from coming between the rim and the tire bead.
Pros
It has a long lasting tread life
It has great handling even on dry pavement
It also has superb traction in mud, sand, and snow
Cons
It's a premium tire at a premium price
It can be noisy at highway speeds
The Firestone Destination tire ranks among the best in its class when it comes to performance in mud and off-road terrain.
For Ford F350 owners, you know when you see the right tire and this one is just for you.
Worth A Look
Ok, the truth is that while the Goodrich, Nitto, and Firestone tires above are head and shoulders above the crowd, not everyone can afford (or wants to) pay those kinds of prices for a mud tire.
You still want to go off-roading and play in the mud of course. But you don't always want or need a top of the line tire.
Hankook is a name that wasn't well known until the last decade or so.
Since then, they have built a solid reputation for making great tires at a reasonable cost. These factors apply to this DynaPro Off-road tire.
At 3,415 pounds, the load capacity of this tire is equal to more expensive brands and the aggressive tread design gives you the traction you want and need. This also has an impressive tread depth of 20/32nds, making it equal to many other mud tires that cost more.
Pros
Side protection blocks that shield the sidewalls from possible damage
The wide tread grooves that release mud for improved traction
It has incredibly competitive pricing
Cons
It doesn't have great traction in heavy snow
It has long lasting tread – but several users complain of sidewall blowouts
A few users complained about steel belt failure
If you have 18-inch rims and you want a good mud tire, but you don't want to pay through the nose, the Hankook DynaPro is right up your mud alley.
What is the best cheap mud tire?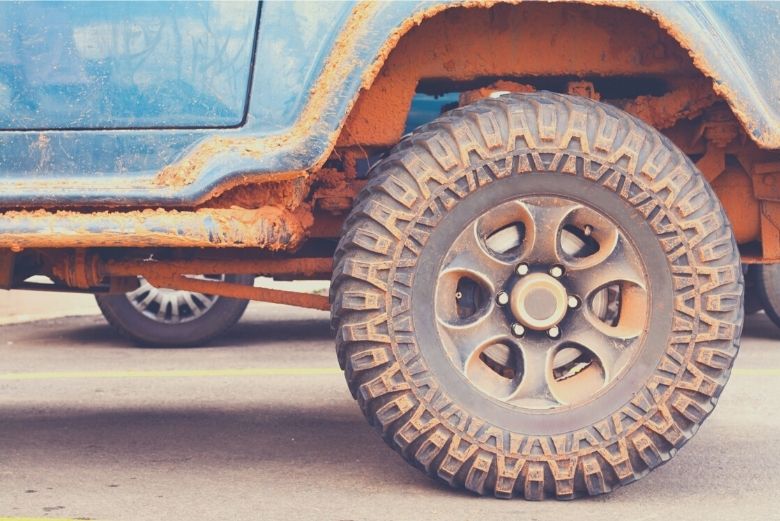 What do you do when you want a mud tire so you can have some fun, but you don't have a lot of cash? You buy the TreadWright Claw!
This mud tire is rated for 40,000 miles! For this price, you can't beat that kind of mileage! The aggressive tread design has excellent mud and rock clearing capabilities. The sidewalls are remolded and reinforced, so you get added strength where it counts.
You know this tire is pure quality since it is made right here in the USA. Note that this is a remolded tire (sometimes called a retread) which is how this tire can be offered at such a low price.
TreadWright has been remolding tires for more than 30 years. They have a solid reputation with lots of users saying that their customer service was nothing short of outstanding.
Like all mud tires, these will make some noise on the highway. But don't let a bit of road noise stop you from getting a terrific set of mud tires.
If you've got some 18-inch rims, and you are looking for a bargain, look no further than the TreadWright Claw.
Who doesn't want new tires? If the price is an issue, you should definitely check out the Claw Mud tire from TreadWright.
The warranty and customer service alone is worth the price.
Do mud tires wear faster?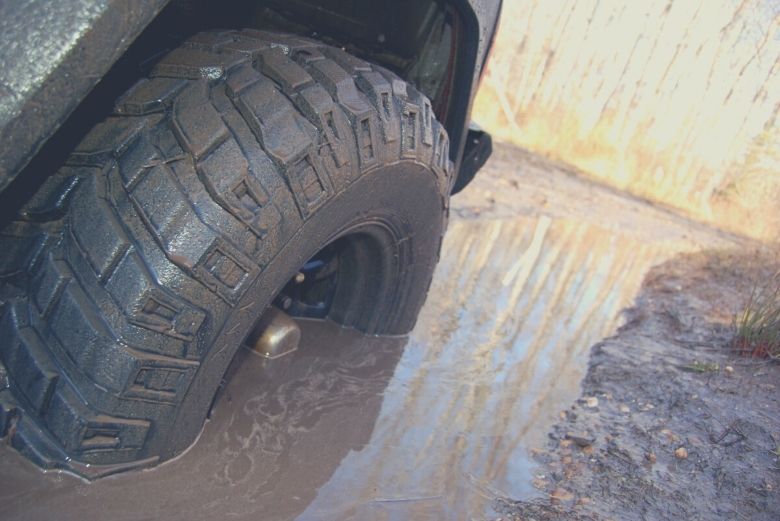 The short answer here is, yes, they do.
One of the features that make a mud-tire so awesome is the use of softer rubber compounds. The softer the rubber, the better the grip. Unfortunately, the softer the rubber, the faster they wear down.
This is where owners need to take a good hard look at their driving habits. If you have a Jeep that you really only use off-road or as a backup vehicle in case your regular passenger car breaks down, a mud tire would be a smart choice.
But if you have a Jeep that you use for everything from commuting to buying groceries, and then take off-road on the weekends, you might want to re-think your decision to use mud-tires.
Perhaps you can afford to replace them every 40,000 miles or so.
You also have the option of keeping a set of mud tires in the garage and putting them on when you decide to go off-road.
Many people only go off-roading in the spring and summer or summer and fall.
Similar to how snow tires are used, you could keep a set of mud tires just for those off-road seasons.
Are mud tires good for the highway?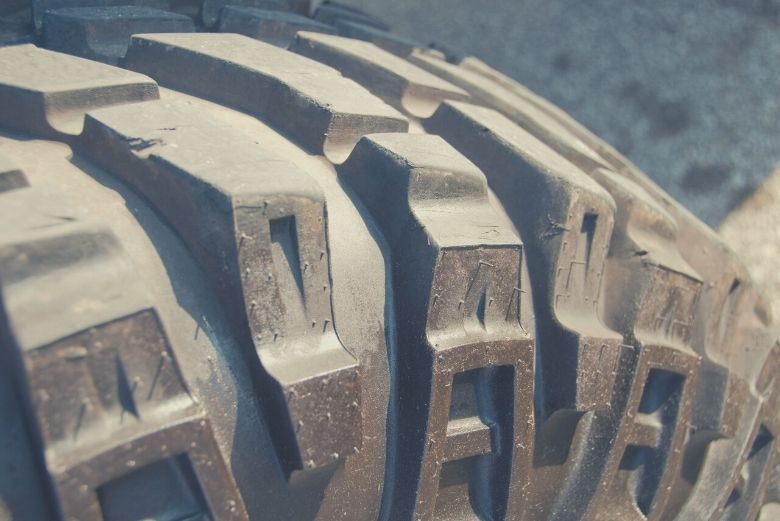 That would depend on your definition of "good".
Nearly all mud tires are street legal and work simply fine at highway speeds. But as someone once said, just because you CAN do something doesn't mean that you SHOULD.
There is nothing wrong with driving your ride down the highway to get to your off-roading spot. However, for daily commuting, you might not want to drive a vehicle with mud tires.
First off, the space between the tread, while it's great for kicking out mud and rocks, they make for awfully noisy tires when driving.
Second, mud tires are softer than regular tires and they wear out much faster.
While the tread might be made of a softer rubber, the sidewalls are made much thicker and tougher than all-terrain tires. This can cause an awfully hard, firm ride.
Mud tires can also be difficult to keep balanced. This means that they can cause severe vibrations that can keep your steering wheel shaking like a hula dancer.
And last, but not least, while mud tires look awesome, they also decrease your gas mileage.
Let's talk more about that in our next point.
Do mud tires decrease MPG?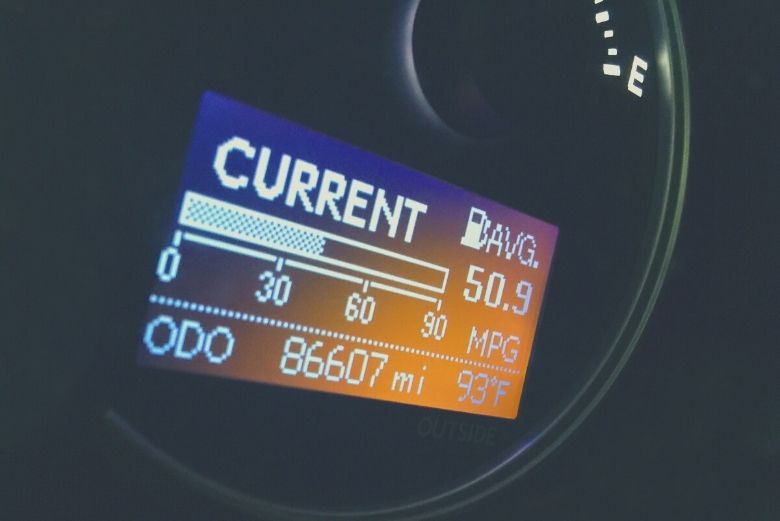 The short answer here is yes.
The OEM tires your truck or Jeep came with were designed to be the most fuel-efficient tires possible. This is necessary to meet federal fuel standards.
Many owners switch their tires to all-terrain tires. These will reduce your gas mileage, but not a substantial amount, perhaps 3% on average.
Mud tires are larger than all-terrain tires. The sidewalls are hard and stiff, which means they are harder to move. The more energy your engine has to use to get the car rolling means the more gas the engine will use.
Compared to all-terrain tires, mud tires will drop your gas mileage another 3%. This means mud tires will cost you 3% more in gas than all-terrain tires and 6% more than the tires that came with your vehicle.
This is speaking on average, of course.
Other factors go into gas mileage calculations, such as modifications (lifts or winches), the weight that your ride might carry, if you have a heavy foot on the gas pedal, and other factors.
Conclusion
If price is no barrier, the BF Goodrich KM3 wins over the other options. The brand is well known and one of the major tire manufacturers in the USA.
It's one of the most aggressive, it fits the widest variety of rims, and is quieter than others on the highway. Mud tires aren't quiet, but this one is not as loud as others.
The BF Goodrich KM3 can't be beat.