Chances are, you are reading this headline and thinking "All oil filters are the same. You just pay more for a brand name."
A great many people believe this. But the fact is that oil filters are very, very different.
The problem is that the difference is on the inside. You can't see if you've got a cheaply made piece of junk or a truly decent oil filter.
It's true that on the outside oil filters look the same except for the color. The average OEM filter uses a cellulose fiber that should trap about 97.5 percent of particles that you don't want circulating in the motor.
I've known people to buy a $2 filter from the dollar stores or online. If that's all you can afford, I understand. But the fact remains that by paying a bit more, you can get a quality oil filter that will last.
In the "old days", manufacturers called for oil and filter changes every 3,000 miles.
Today, you know that nearly every manufacturer says that oil changes aren't necessary for 7,000, 15,000, and some tell you to wait until the "idiot light" on the dash says its time to change the oil!
Who knows how long that is!
I will be the first to tell you that price isn't everything.
Having said that, I am also known for saying that you get what you pay for. In some instances, price doesn't matter. But when it comes to oil filters, you definitely get what you pay for.
Best Overall
Let me tell you this right off the bat. You do NOT have to use synthetic Mobil 1 oil to use or benefit from this filter.
Now I can tell you just how great this oil filter is! Not only can it withstand 9 times your car's normal operating pressure, but it also prevents dry starts. It does this by stopping the internal leakage that happens when you turn the car off.
The Mobil 1 filter can hold up to 28 grams of junk. Read the statistics for other filters and I bet you find that they are only rated for 14 or 10 grams.
This means that you shouldn't have any problem going 15,000 between oil changes if that's what your car manufacturer recommends.
Those cheapie Chinese knock-off filters use plain old cardboard or paper. The Mobil 1 filter uses a high-temperature synthetic polymer woven into a honeycomb mesh.
That's the good stuff that you can't see from the outside!
Users rave about this filter nearly as much as I just did! You will notice a big difference in the oil and even in the way your car runs.
If you have an older car, you can still feel comfortable changing this filter every 5,000 or 7,000 miles. Look at the motor oil in your car and you will be shocked to see that it is still clean-ish looking after 7K.
There were a few users who said that it came loose and started leaking, but this is the exception.
If you seriously love your car, spend a little extra and get this filter. You can thank me later.
Best Oil Filter for Mercedes
Hello Mercedes owners!
Let's talk truth here. You paid a lot for your set of wheels, so it only makes sense that you want to keep it in the best possible condition. One way to do that is to use a premium oil filter.
This filter is for models that use a cartridge type of oil filter. With optimal protection for the engine, this features a long-life media filter and the 5 sealing rings you need when you replace the oil filter.
This filter takes the OEM standard and improves on it, so you know that your Mercedes is getting the best cleaning oil filter on the market. This is a fleece type filter, which is what the manufacturer recommends.
The Mann-Filter is rated to last 15,000 miles. You don't need to worry about changing the oil sooner and costing you more money in the process.
I don't own a Mercedes, but I've heard from many users that this is the only filter they will use. One user states that he changes the oil every 10K, and the oil still looks somewhat clear! That's a darn good recommendation in my book.
There are a few users who say they received the wrong O-rings in the box or that they didn't necessarily think there was anything special. But users such as these are hard to find.
When you have an oil filter that gives you these kinds of glowing recommendations, you can feel really confident using this oil filter on your Benz.
Don't risk your expensive beauty with a cheap oil filter from China! Use this Mann-Filter and treat your ride the way you want it to be treated.
Best Oil Filter for Honda
There is one thing I know about Honda owners. They really, really love their cars.
It's no wonder since Honda's always seem to come out on top of the fuel MPG ratings and the engines simply seem to last forever. I bet you know someone who has a late 1990 or early 2000 model Honda that they still drive every day.
I'll tell you another thing I know about Hondas. They can be particular when it comes to their replacement parts. Honda's don't like cheap replacement parts, including their oil filters. That's one reason why that if you own a Honda, you really should stick to OEM parts as much as possible.
This makes a lot of sense if you think about it. Car manufacturers, such as Honda, spend hundreds of thousands of dollars engineering a car that will get great gas mileage, be durable, and look good. Those engineers didn't get paid to put a piece of junk on something as important as your motor!
The A02 replaces the old A01 part number and it still fits thousands of vehicles. Double-check your application before purchasing to ensure a perfect fit.
You will find a few users (aren't there always) who didn't think this a "genuine" Honda filter or that they saw some minor changes (remember that this filter changed part numbers and it might have some improvements) that they didn't like.
If you love your Honda, take my word from it after working at a Honda dealer for a decade; buy an OEM filter. You won't regret it.
Best Oil Filter for Toyota
Toyota owners may not be as loyal as Honda owners. But they are terribly realistic and they expect parts that last.
It is not uncommon to hear about Toyotas hitting 300K and still going strong. To get this kind of reliability you must be strict with maintenance, including choosing the right oil filter.
With so many crappy filters on the market, do your Toyota a big favor and stick with the real thing. This genuine Toyota filter fits an incredible number of makes and models, so be sure to check and see if it will fit yours before purchasing.
One thing I love about OEM parts: you know it will fit and it will fit without "adjustments." You know, none of that "I had to file down one edge just a tad so it would clear the muffler bearing" type of thing. If it's OEM, it's going to fit and work like a charm.
For anyone new at car maintenance and you worry that you might not get the right part, stick with OEM parts. You can't go wrong.
Nearly all users were very happy with this oil filter. They often bragged about the long life they got from this filter.
A few users complained that the filter didn't fit. But chances are that they didn't have the right information on the vehicle. That caused them to order the wrong filter.
Toyota doesn't just make great cars, they make great oil filters as well.
Best Synthetic Oil Filter
For all you synthetic oil users, you've probably been smiling inside knowing that you aren't changing your oil for at least 15K miles.
But did you know that if you are using an every day (read inexpensive or cheaply made) oil filter, you actually aren't doing your motor much good?
Here is one of the best oil filters for synthetic oil on the market.
Rated to go a full 20,000 miles, this oil filter from Fram has dual layers of synthetic media that are reinforced with a metal screen. This helps trap at least 99 percent of all contaminants in your motor oil.
I like the "SureGrip", an anti-slip feature which prevents the oil filter removal tool or your hands from slipping off the filter. Some of us have butterfingers, you know?
Nearly all users say that this is a superb oil filter. One user saying he sent a sample of his motor oil at 7,200 miles and that it was reported as being in "nearly new" condition.
I did manage to find a few users that claim the filter was only good for 5,000 miles or that they leaked after less than 1,000 miles.
If you use synthetic oil, you owe it to yourself to give the Fram Ultra Synthetic oil filter a try.
Best Oil Filter for 6.7 Powerstroke
If you've been browsing through this review, you will notice that I often recommend OEM filters. What can I say other than experience has taught me that some vehicles do just fine with aftermarket filters or parts, and others…. not so much.
The Ford F-series truck with the 6.7 Powerstroke engine is one of those vehicles. I have no doubt that there are cheaper versions on the market. But I can guarantee you that even if you find one that will fit, it simply won't do the job the way this OEM filter does.
Don't take my word for it. Ask around and check online. You will quickly discover that most Ford Powerstroke owners won't use anything else.
Most oil filter casings are made from aluminum, but the Motorcraft filter is made from steel. What does that tell you about the quality of this filter?
Like other quality filters, this one has the anti-drain back valve to prevent engine damage when starting the vehicle. This one is made from silicone. That's far superior to the rubber or nitrile rubber mixture found in most oil filters.
There have been a few complaints about filters that were damaged (dented) in the shipping process. But those should be replaced wherever they were purchased, and this isn't a quality issue from Ford.
Listen, you spent a fortune on your truck. You want to keep that baby running strong for decades. Why risk possible engine damage simply to save a buck or two on an oil filter?
How do I choose an oil filter?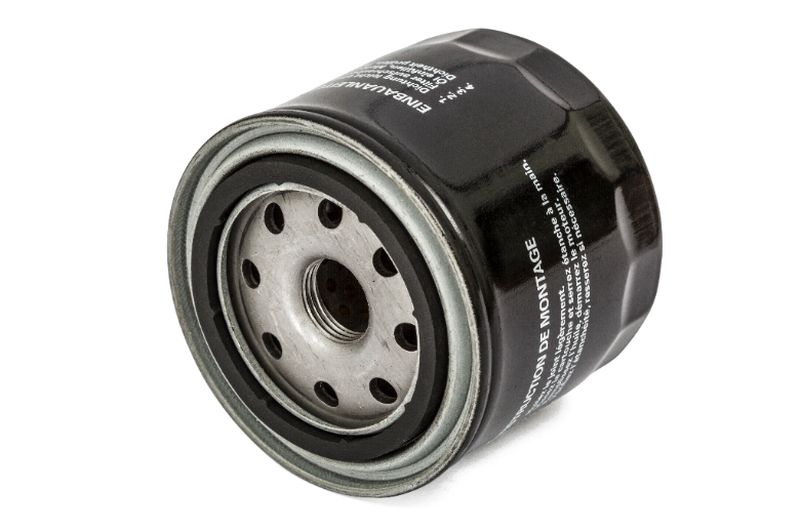 Chances are that no one ever told you how to choose an oil filter.
I'm betting that you went to an auto parts store and someone looked up the appropriate number that would fit your car. Then you started looking for the best price or you just picked up whatever was recommended.
The major enemy when it comes to your motor is dirt. Tiny, nearly invisible (to the naked eye anyway) pieces of dirt that can, over time, cause serious damage to the internal parts of the motor.
Cheap oil filters use nothing more exotic than "cellulose", which means paper. Better filters use a mixture of cellulose, polyester, and glass synthetic blend. That removes the microscopic dirt particles.
Find an oil filter that has the quality, synthetic inserts that will truly protect your engine from dirt and other contaminants. Yes, these filters will typically cost a few dollars more, but they are so worth it in the long run.
What makes a good oil filter?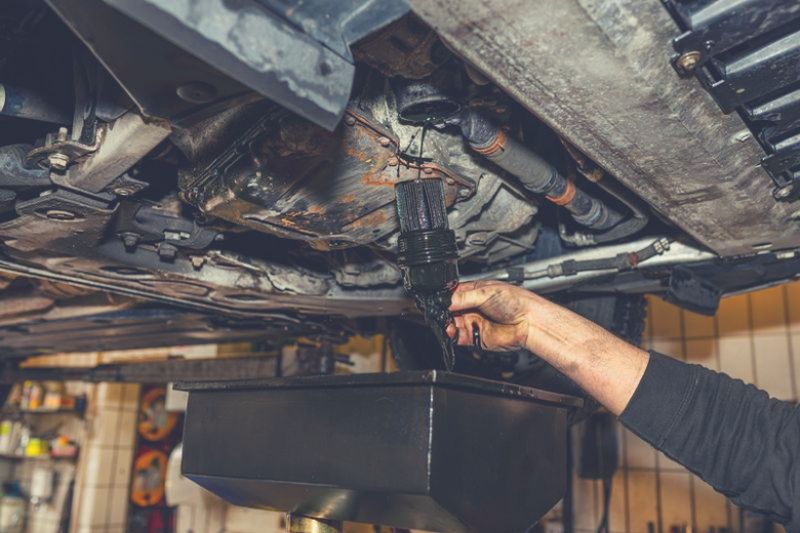 When it comes to oil filters, quality matters a great deal. As I mentioned above, use an oil filter that has a quality (usually synthetic) interior. Evenly spaced pleating and an anti-drain valve are also important.
When it comes to quality oil filters, you can expect to pay more. But it's not an excessive amount, just a few dollars. But isn't the protection your engine will receive worth it?
As a mechanic I once worked with said "You can pay for the good stuff now or you can pay me to fix it later."
Are cheap oil filters OK?
How about I make this one short and sweet?
Are cheap oil filters OK?
No. Cheap oil filters are not ok for the long term health of your engine.
Unless you have a beater or don't give a crap about your car, then go ahead. But otherwise, don't use cheap filters. Just don't.
Conclusion
The best thing you can do for the longer term life of your automobile is to change the oil regularly. If you skimp out on a cheap oil filter it can have an impact later in your car's life. No, you wont' see any effects immediately. But a quality oil filter is a great way to extend the life of your vehicle.