With the scorching heat of the summer and water becoming an ever more precious resource, you may have found that your local city or county has enacted ordinances that prevent you from using the water hose to wash your car.
No one wants to go around with a dirty car. The dirt damages the paint as well. But without water, how are you supposed to wash your car?
This is where waterless car wash products can be super helpful.
These products are designed to lift off the dirt and dust from your vehicle so you can simply wipe it off with a rag.
It doesn't get much easier than this.
If you've never used a waterless car wash, you might be skeptical. But once you try one, you'll wonder if you ever really need a few buckets of water ever again.
Waterless car washes are chemically formulated so that they lift off the dirt and hold it in the liquid until you wipe it off. The advances that have been made in chemical engineering have created formulas that older generations could only dream of.
How do you know which one is the best waterless car wash and is going to do the job?
Ready? Let's take a look and get started.
My Winner
This is perhaps the best waterless car wash product ever made.
I don't say that lightly.
Ultima is a concentrate. That makes it super cost-effective costing about one dollar per wash. Depending on the size of your vehicle, you might need only 15 – 20 minutes to "wash" the entire car.
If you use a spray bottle, you can easily get 50-100 car washes from this concentrate. I think they should sell this along with a spray bottle.
But heck, I bet you have at least half a dozen old spray bottles lying around the garage.
You can even use this on the interior, including plastic and vinyl parts.
Only half an ounce of solution in a 22-ounce spray bottle is all you need.
So you can throw away that Armor All. It leaves no greasy or oily residue, has a nice "soapy" smell, not a flowery one, and it leaves a natural, clean shine.
This product will not scratch the paint when used as directed. You don't need to use a great deal of pressure either. Simply spray it on, wait a minute, then wipe it off with a clean microfiber cloth.
I've usually used this in the morning on a day when I know I won't be driving and it was warm and sunny.
Pros
This is a concentrate so it is very cost-effective
It works both inside and outside, so one less product you need
It leaves behind an impressive shine that looks great
Cons
They don't provide a spray bottle
It can leave streaks if you don't follow the directions
There are tons of products on the market that scream "new" or "best." It's rare when you find one that is truly impressive and stands above the rest.
Ultima Waterless Car Wash Concentrate is one of those.
Best Wash for Ceramic Coatings
If you have a ceramic coating on your car, you want to take care of it. If you are wondering if a waterless car wash will work for you, the Proje Quick Coat is the one you want to use.
This is a top of the line product that removes dirt and dust. It levels out minor imperfections, adds a great shine, and protects your ceramic coating all in one easy step.
The company claims that this is 30 times stronger than clear coat using their nano Si02 particles. Si02 is pH neutral and you can use this on the windows, plastic, or rubber parts of your car as well.
This is a one-of-a-kind type of technology that breaks down surface dirt and encapsulates it.
That allows you to simply wipe it off without any damage to the ceramic coating.
Pros
It leaves an amazing shine
It's very easy to use
It lasts for a few weeks and through several car washes
Cons
It isn't cheap
You can only do very small sections at a time or it will leave streaks
For those who have made an investment with a ceramic coating on your ride, you want to use the best possible waterless car wash.
Proje is top of the line and if you demand the best, then this is the perfect answer for you.
Best Waterless Car Wash Kit
When you see the name Chemical Guys, you know its got good stuff going on. This is one of the biggest names in the car wash/wax industry and I have never been disappointed in one of their products.
For those of you who are like me and enjoy buying kits designed for a specific purpose, you will like this waterless car wash kit. This is a complete waterless detailing system, including a spray-on wax.
The 16-ounce bottle of car wash concentrate makes two gallons of waterless car wash product.
It can be used on the wheels, windows, and plastic trim. The spray bottle uses a small hand-operated pump to pressurize the product. That makes it more of an atomizer than a spray.
Simply pour the amount of car wash needed into the spray bottle, give the bottle a few pumps, add water, and apply to one section at a time. Allow the product to work for a few seconds, then use the supplied microfiber towels to wipe it off.
This is a waterless wash and liquid carnauba wax that leaves a really nice shine behind. I like that they include plenty of microfiber towels that can get the job done.
Pros
This is a complete kit, no guessing, and no looking for clean towels
It's economical so it's light on your wallet
It works much better than expected
Cons
To get the results you want you must use their spray bottle
Some users claim that their spray bottle stopped working after one or two uses
This is a terrific kit that has everything you could ask for. The Chemical Guys know what consumers want and their Drought Buster Waterless Car Wash really delivers.
Do Waterless Car Washes Scratch?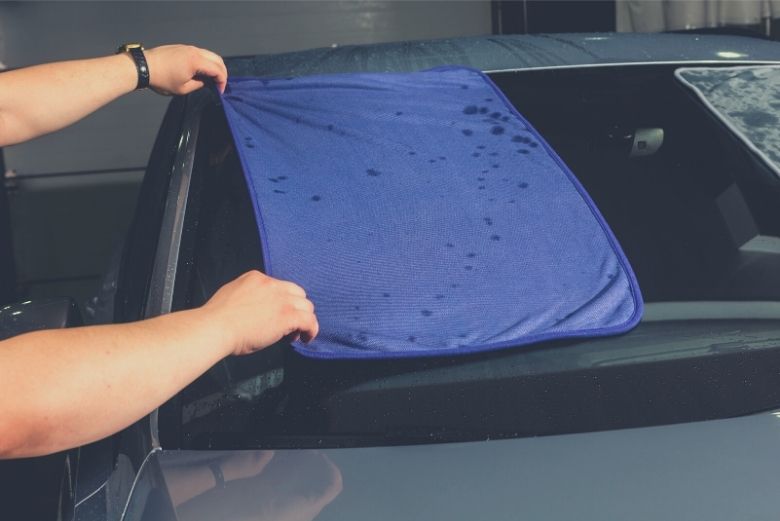 Imagine that your car is made of wood. What would you use to remove the dirt and dust? Chances are you would drag out that can of Pledge furniture polish, right?
Have you ever seen a scratch on your wood furniture and thought "It must have been that Pledge?" Of course not. Unless the rag you were using was dirty or had a rock in it!
Waterless car wash products are really no different. You spray the car with the liquid, wait a moment, then wipe it off.
Waterless car washes work by using compounds that loosen, dissolve, soften or encapsulate the dust and dirt. This means that all you need to do is wipe it off with a clean microfiber towel.
Using a waterless car wash product really isn't any different than dusting furniture with furniture polish. If you have a clean microfiber towel, you aren't not going to scratch your ride.
Can You Use a Waterless Car Wash on Windows?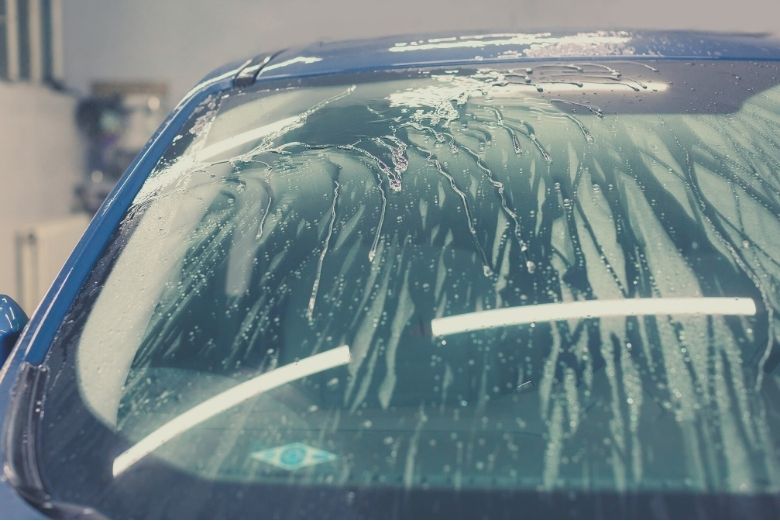 Yes, you absolutely can use a waterless car wash on windows!
Waterless car washes state that they can be used in the sun. But I have found that you get far better results, especially on the glass, when you have the car parked in the shade.
Spray the product onto a clean, slightly damp microfiber towel. Wipe it across the windows, then use a dry microfiber towel to dry and buff the window before the product dries.
I love using waterless car wash products on the glass because it's almost like waxing them! Dirt and dust don't stick to the surface very easily and water just beads right off.
If your windshield has a lot of bugs, you might need to spritz the waterless car wash product right on those suckers as a sort of a pre-wash. Rub them off, then clean the window as I mentioned above.
Is a Waterless Car Wash Better?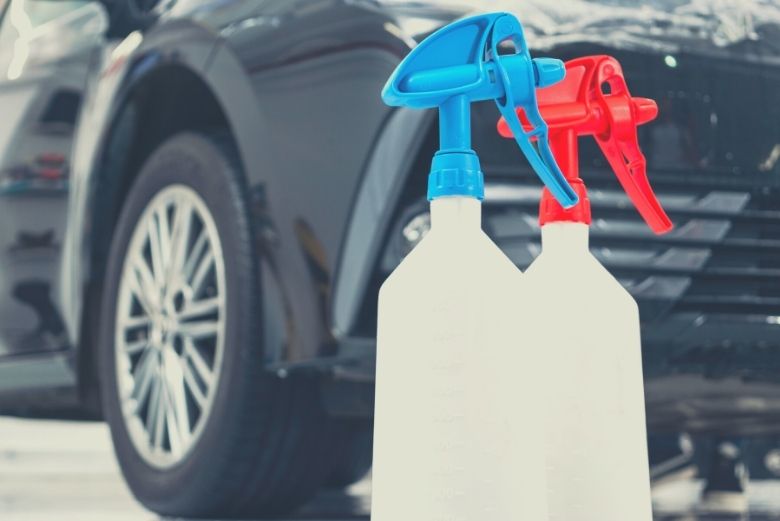 This is really going to be a matter of opinion here, but if you ask me (and you did ask) I believe they are.
Waterless car wash products are far more advanced than a plain car wash or soap products. They compensate for a lack of water and use advanced chemicals to force dirt and grime to either dissolve or become suspended.
This makes waterless car washes far more efficient in most cases.
Of course, this is when I must add that no waterless car wash will remove road tar, for example. But the same could be said for car wash soap!
I don't know why waterless car washes are not used more often!
Can You use a Waterless War Wash on Ceramic Coating?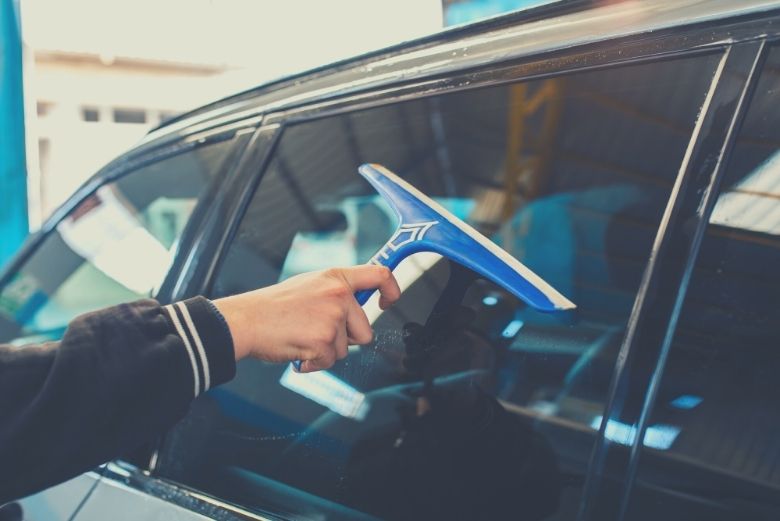 Yes, you can use a waterless car wash on ceramic coating!
Some car washes specifically state that they are safe for ceramic coatings, such as the Ultima and Proje brands, but nearly all waterless car washes are safe for ceramic coatings.
One of the best things about using a waterless car wash product on your ceramic coated car is that nearly all of them leave a protective coating behind. Whether it's a liquid carnauba wax or synthetic wax product. This adds to the protection of your ceramic coating.
One of the other advantages of using a waterless car wash on your ceramic coating is that you know it won't scratch the finish. You will also have a water spot-free shine without the hassle of using buckets of water.
Conclusion
There is a big difference between "liking" a product and being amazed by a product. Ultima Waterless Car Wash Concentrate will leave you amazed. It sure did leave me amazed.
I've mentioned that it is very economical. If you use it both as a car wash and as an interior cleaner, the savings become even more pronounced.
This is also super portable. Mix up a spray bottle and you can take this product with you anywhere! Those of you who are really into a clean car, or those with children who tend to make a mess of the interior, you can put this in the trunk and wash your car anytime you like. It's also great for touchups in between car washes.
I like this product because it is super safe. The lubricating, emulsifying, and cleaning agents prevent damage to the finish while making your car look like you just washed and waxed it! If you have ever washed your car and then used a spray wax, then you understand the shine that this will leave behind in one single step.
Don't take my word for it! This offers everything you could ever want in a waterless car wash, so why not try it for yourself?
Be prepared to be amazed at the outstanding job Ultima Waterless Car Wash Concentrate will do on your ride.